Students, Faculty, and Staff Aid Puerto Rico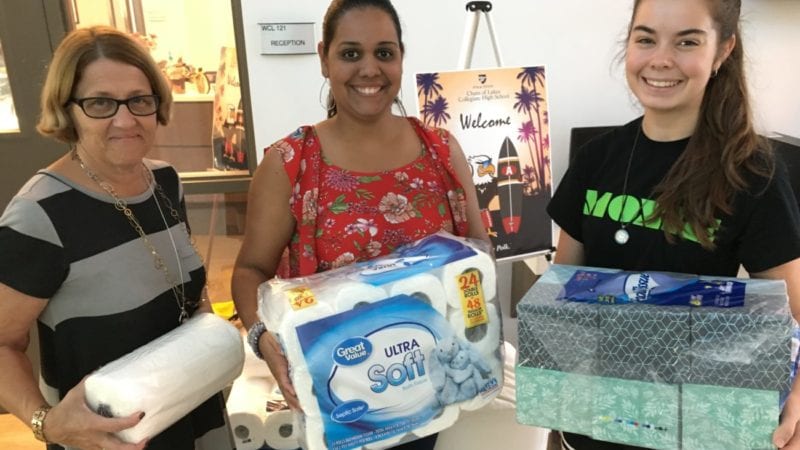 Polk State Chain of Lakes Collegiate High School senior Kiara Adorno recently heard from her brother in Puerto Rico. He hasn't eaten in four days.
Adorno's entire family lives in Puerto Rico. Since Hurricane Maria ripped through the island as a Category 4 storm with 150 mph winds, Adorno has heard from her dad's side of the family, but not her mom's.
"I'm worried they are running out of supplies. They are running out of food," Adorno said. "I hope people continue to donate and that those donations reach the people who need them, like my family."
It is stories like Adorno's that has sparked donation drives by Polk State Chain of Lakes Collegiate High School and the Student Activities & Leadership Office to help people in the aftermath of Hurricane Maria in Puerto Rico. SALO is working in partnership with the Puerto Rican/Hispanic Chamber of Commerce of Polk County.
Polk State Chain of Lakes Collegiate High School is accepting donations through Monday, Oct. 2, in its main office. SALO is accepting donations until Friday, Sept. 29, at drop-off boxes set up near the information desk in the Winter Haven Administration Building (WAD) and in the Lakeland Student Center Game Room.
"It is really important, especially during Hispanic Heritage month, that we come together to help those Hispanic populations that are in need right now," said Winter Haven SGA President Gonzalo Gutierrez.
Water, non-perishable foods, canned goods, first-aid kits, hygiene products, and more, have been flowing in from students, faculty, and staff, their families, as well as local businesses, and community members.
Milcah Bentley, Polk State Chain of Lakes Collegiate High School's Spanish teacher, started the donation drive at the school Monday after she heard from her family in Puerto Rico. Her grandmother, parents, brother, and nephews live in Canóvanas.
"Because we are able to contact them, we know what supplies they need," Bentley said. "We are sending bulk items – such as paletts of water and 10-lb bags of rice – to areas that we know are complete disasters, and smaller items –  such as jugs of water, smaller bags of rice, and personal hygiene items –  to my family to hand out to their local area."
The items will be shipped through Mendez & Company, which has given Polk State Chain of Lakes Collegiate High School an entire shipping container.
Most of the donations thus far have been from students and their families, Bentley said, but the school has also received donations from McDonald's and the Dundee Citrus Growers Association, which is providing a warehouse to store the donations, boxes to package them up, and manpower to get them to the shipping container. PalletOne Inc is also providing pallets.
The donations will be packed up and sent out Tuesday, Oct. 3, and are expected to arrive in Puerto Rico by Thursday, Oct. 5.
"It started with one little bag of rice and now we have all of these donations," Bentley said. "Every little bit has helped and will continue to help."
"They're on an island so they can only go so far for resources," she added. "We are literally their lifeline right now."
Principal Bridget Fetter said she is very appreciative to students, their families, and all of the donors.
Emily Mathis, a junior, dropped off cans of Campbell's soup Thursday morning to add to the growing collection of donations.
"I know the people in Puerto Rico really need this," Mathis said, "so we just went through our cabinets and picked out all of the extra things we had to get them to people in need."
Gutierrez called the amount of donations SALO has received for its drive encouraging.
Gutierrez has family in Mexico. They were unaffected by the recent earthquake, but SALO is also encouraging students, faculty, and staff to make cash donations to The Salvation Army to help Mexico relief efforts.
"It is our duty as a College to come together to help people who have been affected in both Puerto Rico and Mexico," Gutierrez said. "I want students to know that although the world is in turmoil right now, this is a great way to come together to do what we should be doing – helping each other."