Respiratory Care Alumna Says Program Allowed Her to Start a Career and Family on Her Terms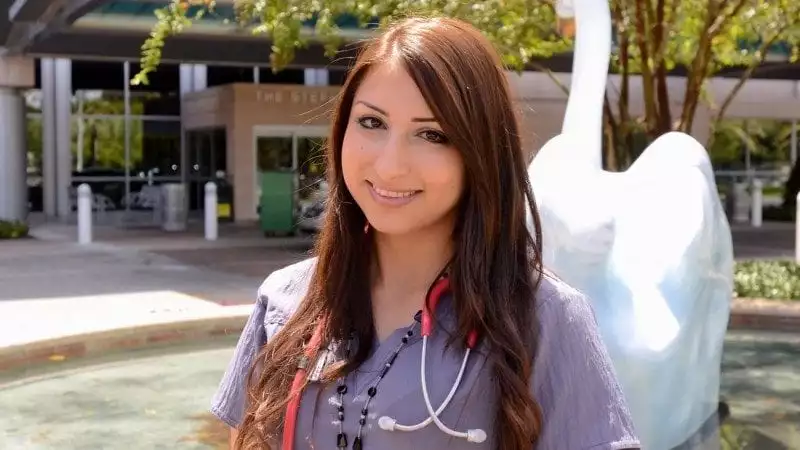 Ammany Shihaibar knew where she wanted to end up in life, and with help from Polk State, she got there, right on time.
"If it hadn't been for Polk State and the Respiratory Care program," she said, "I probably would have lost the momentum to go to school. I might not have ever gone."
Shihaibar, 26, immigrated to the United States from Jordan when she was a junior in high school. She settled in Brandon, where she had extended family, and spent the next year acclimating to American life and learning English as fast as she could.
As proof that love waits for nothing, in the midst of all those huge changes in her life, Shihaibar also met the man who would become her husband.
They were married soon after Shihaibar graduated from high school, and like newlyweds so often do, started dreaming about a family.
But, first, Shihaibar had to get her education and start a career.
She had decided long ago to do something in the medical field. As the youngest of nine children, she couldn't remember a time when her parents — now in their 80s — weren't checking their blood sugar or blood pressure. The medical equipment had always fascinated her. Whenever she visited a clinic or a hospital, she felt excited and inspired by the important work the nurses and doctors were doing.
Polk State, with its suite of Health Sciences programs, was her first choice for higher education.
"My husband went to Polk State," Shihaibar said of Mike, who earned his Associate in Arts degree and went on to study at the University of South Florida. "He told me that the people here were really helpful and would help me figure out what to do."
Shihaibar remembers the day when she first visited Polk State's Lakeland campus. She met with Senior Academic Adviser Karen Walfall, who asked if she'd ever considered the Respiratory Care program.
"I was like, 'what is that?'" Shihaibar said. "I'd never heard of it. But then Karen explained about how respiratory therapists give breathing treatments — just as one example — and how there's a lot of demand for them. I liked what she told me, so I started looking into it more, and I decided that it would work for me."
One of the most appealing things for Shihaibar: "Respiratory care is about the waist up. I don't do really good with certain bodily fluids."
The two years she spent in the Respiratory Care program were far from easy. The program is known for its rigor, requiring students to complete four clinical rotations, and for Shihaibar, it was even more difficult. At that point in her life, she was still learning English. To understand the medical terminology in her books, she spent a lot of time translating words into her native Arabic.
"I would write the Arabic words over the English ones," she said. "It took a lot of time, but it was the only way."
Those two years were tough, but what carried Shihaibar through was imagining her graduation day.
"My friend, who also went through the program, and I would always have to drive by Lake Elbert (near Polk State Winter Haven)," she said. "I would always tell her, 'When we graduate, we're going to come here in our caps and gowns and take our pictures.' And that's what we did."
Shihaibar, like 100 percent of graduates from the Respiratory Care program since 2008, passed the National Board for Respiratory Care's Registered Respiratory Therapist exam on her first try. She was also able to parlay her clinical training at Lakeland Regional Medical Center into a full-time position there shortly after graduation.
Her shifts in the intensive care unit at the hospital are busy, exciting and fulfilling. There are ventilators to maintain, blood gas tests to administer, breathing treatments to give. Patients "code" — meaning they suddenly can't breathe — and Shihaibar goes running to their bedside.
"My days go by so fast. It's always so different. I'm always seeing something new," she said.
"The thing that stays the same is I help people when they can't breathe. That's a very scary moment for them, and I'm the one who gets to help them."
Shihaibar now works two days a week at LRMC, a schedule that also allows her to care for her two children, ages 4 and 4 months.
Everything has gone just according to her plan.
"Polk State gave me the chance to start a career on my timeline, a job that I enjoy and that helps me support my family. Plus, I didn't go into any student debt," she said. "It gave me the chance to do something that I love — helping patient s when they need it most."
In addition to Respiratory Care, Polk State's Health Sciences Programs include Cardiovascular Technology, Diagnostic Medical Sonography, Emergency Medical Services, Nursing, Occupational Therapy Assistant, Physical Therapist Assistant and Radiography. Students in these programs regularly outperform their peers in the state and nation on required licensing exams.
Polk State College's history is rich with stories of alumni who have gone on to make impacts, whether in the classrooms and laboratories of prestigious universities, the rough and tumble of commerce, or the halls of political power. Over the years, thousands of Polk State graduates have leveraged their education and experiences at Polk to transform their own lives and the lives of others. This transformation is the essence of what it means to "be Polk." Whether in big ways or small ways, Polk State alumni embrace the challenge of living lives that matter. News@polk regularly profiles these alumni. Their story is the story of Polk. They are The Pride of Polk.