Polk State, local organizations showcase careers in manufacturing to local students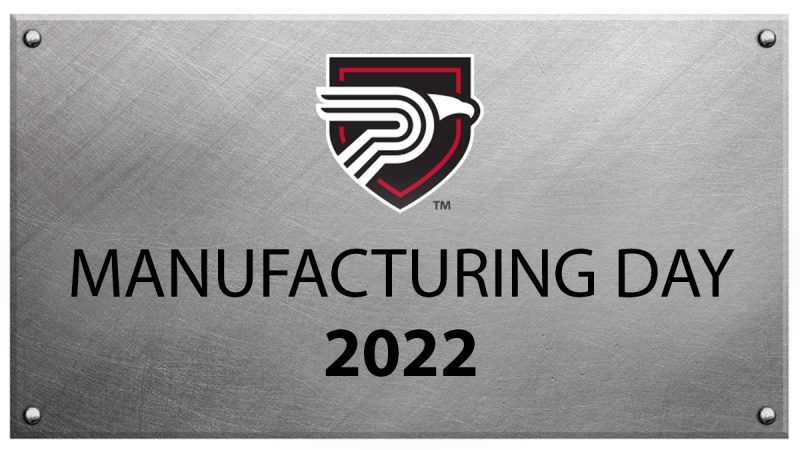 Earlier this month, more than 10 organizations, including Polk State College, informed local high school students about the opportunities and benefits available in manufacturing.
This year's Manufacturing Day Virtual Tour had more than 300 high school students participate online. Twelve Polk County Schools were represented.
"We're here because we want to talk about careers," said Polk State Corporate College Program Manager Jamie Rowan. "What is the next step for you after high school?"
The tour is given annually during October, which is Manufacturing Month. In 2021, the manufacturing sector contributed about $2.56 trillion to the U.S. economy – about 11% of the nation's gross domestic product, according to the International Trade Administration.
"I actually believe it should be manufacturing year, but we get a month," said Patti Gander, the tour's moderator. "We'd love to have you in manufacturing, and we'd love you to spread the word to everyone else why manufacturing is great to work in."
Showcasing Careers in Manufacturing
Sectors represented included food distribution, machining, packaging, and transportation, among others. Some have provided services locally for decades, such as Florida Caribbean Distillers. Founded in 1943 and the first fruit distillery in Florida, Florida Caribbean Distillers has three Polk County locations and makes wines and sangria as well as other products such as hand sanitizer.
"We can't get quality products out to our customers without quality employees," Wyatt Dube, recruiter and outreach coordinator for Florida Caribbean Distillers, told the students. "You guys really are the talent pipeline of the future. We can't continue to operate like we operate and make these stellar products without you guys coming to the market eventually."
Since 1967, DusoBox has created containers, boxes, and packaging for well-known brands such as Coca-Cola, Publix, Prestone, Johnson & Johnson, and more. It brings in more than $23 million annually and is currently hiring designers and engineers.
David Whittington, with Tampa Maid Foods, called his employer an industry leader in frozen foods such as seafood, vegetables, cheese, and more. With partners such as Zaxby's, Chili's, Applebee's, and Dairy Queen, Whittington noted the company has many well-paying jobs.
"We have several positions here at Tampa Maid that earn at or over $100,000 a year," he said. "There are a lot of good paying positions here. I'd encourage you to pursue what you're passionate about. You can do that through further education. What you do is just continue to build you skillset. There are companies who want you on their team."
Representatives from Campbell's Snacks and Saddle Creek Logistics said their companies are special because of the company culture. Campbell's Snacks' Lakeland facility has been operating for 35 years. Francy Arbonies said Campbell's abides by five values: Care, Character, Collaboration, Competitiveness, and Creativity.
Saddle Creek Logistics has career opportunities in warehousing, manufacturing, packaging, and more. The company has 54 locations in 18 states as far west as California and as far north as Cleveland and Chicago.
"Our company culture is something that we take very seriously," said Chris Bolen, senior distribution manager. "We work very hard to create a friendly atmosphere in all of our locations."
Nicole Lagone, director of operations for Coca-Cola's Auburndale location, said the national soft drink company has openings in logistics, maintenance, engineering, planning, and production.
Among its appeals, she noted, is the opportunity for furthering education, promotion, and working in a team environment.
"Being in manufacturing, the biggest thing for me is you're part of a team," she said. "We're always working hard together to make everything better."
Gander noted that the opportunity to move up is one of the big appeals for manufacturing in general. During her career, she saw that firsthand.
"Manufacturing is the industry where we promote within," she explained. "I came in working on an assembly line and I closed my career in manufacturing working as vice president of operations. That is not an unusual story. That is a typical story in manufacturing. If you want to do more, manufacturing likes to promote and likes to educate."
While large manufacturing plants can be synonymous with pollution, Amy Radke, Director of Operations with NuCycle Energy, said her company is working to fix that. With a facility in Plant City, NuCycle takes materials from companies such as Walmart, Publix, and Rooms to Go and repurposes them to make renewable fuel.
Getting There
When it comes to preparing for a career in manufacturing, Polk State Corporate College can help. Eight-week, 40-hour "boot camp style" certification programs are available to become a Computer Numeric Control (CNC) operator, or manual machinist at Corporate College. There is a 16-week course for CNC machining.
"We have a lot of great programs for students who need careers as quickly as possible," Rowan said. "One of the biggest is our CNC program. As you heard through the presentations, a lot of the manufacturers you spoke with have CNC programs."
JBT Corp and Createch were among the businesses present that are offering careers in machining. JBT, which manufactures for the food industry, offers careers in machining, fabricating, welding, finishing, and quality control. Createch works with automotive and aerospace companies and makes drilling and tapping machines.
"Quite a few companies we spoke with today have hired our graduates," Rowan said. "Our students are recognized throughout the community for their results."
Polk State Corporate College has several partners regionally and nationally, including NASA. Rowan said Corporate College has a 99% completion rate and graduates are working in the field almost immediately.
"Ninety-seven percent of our students graduate and have a job within a month," Rowan said. "Seventy percent of our students graduate on a Friday and start their job the following Monday."
Thanks to funding through organizations such as the Gene HAAS Foundation and the Metallica Scholars Initiative among several others, many of the programs can be completed at no cost to the student.
"We are currently sponsored by a number of resources, including Metallica," Rowan said. "These are great programs where you can get a college certification for free."
Also offered at Polk State is an Associate in Science in Supply Chain Management. Francisco Rodrigues, Polk State Professor, noted that the average entry-level wage in the supply chain industry is $48,000.
"There is no question that Central Florida has a tremendous demand for supply chain professionals," Rodrigues said. "For students looking to get into the workforce, this is a fantastic opportunity."
Christopher Yannes, Polk State Pathways Coordinator, said one of the misnomers that keeps students from enrolling is that it's unaffordable. Yannes encouraged students to do their research about what funding is available.
"If you think you can't afford any of these programs or to go to college, there's so many things," he said. "There are grants, financial aid, so much available money out there. Chances are that you can go for free."