Polk State Lakeland Collegiate valedictorian, salutatorian seize opportunity to achieve college degrees and more in high school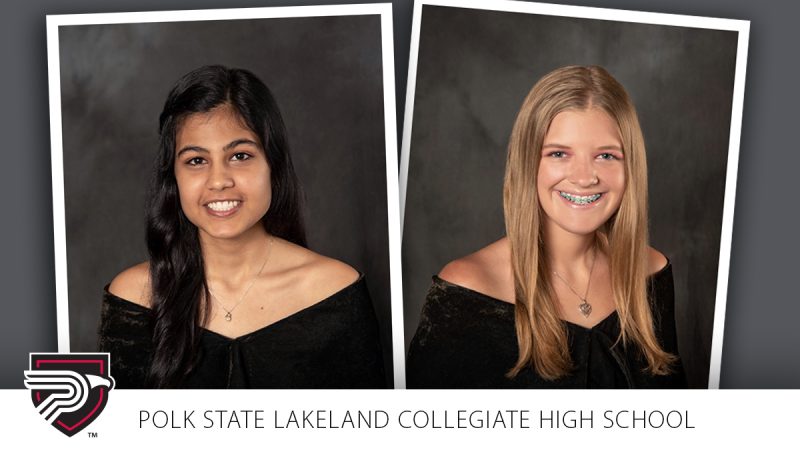 Polk State Lakeland Collegiate High School's valedictorian Divyanshi Saini and salutatorian Meghan Kendrick both aspired from a young age to achieve their college degrees and this week they are celebrating this accomplishment before they even have their high school diplomas in hand.
Saini, who has earned the top spot of Polk State Lakeland Collegiate's 2021 class with a 4.730 grade-point average, expressed sincerest gratitude to the high school's faculty and staff for helping to ensure her success and completion of a Polk State Associate in Arts degree.
"It is amazing to see how you can still be in high school and get a lot of your college done," Saini said. "Polk State Lakeland Collegiate has been very beneficial for me to gain not only college credit, but also some college experience."
"What is really special about the program is that the staff and professors are determined for you to get your AA and ensure that you have all the opportunities and support needed to get it," she added.
Polk State College's three collegiate high schools allow students to complete requirements for their high school diplomas while also earning college credits at no cost to them. Many students graduate from the charter schools with their high school diplomas and associate degrees simultaneously.
Saini also noted Polk State Lakeland Collegiate's extracurriculars and focus on community service. She participated in the National Honor Society and Interact Club and enjoyed representing the high school in a variety of community events including the Lakeland Christmas Parade. Additionally, she received Global Studies distinction on her diploma.
She will continue her education at the University of Florida, where she plans to study Computer Science. She is interested in programming and robotics.
"I'm motivated by how technology plays such an important part in our world," she said.
Kendrick, who is salutatorian with a 4.727 grade-point average, shares a similar drive to make the world a better place as she plans to study Early Childhood Education at the University of South Florida.
She is the recipient of a variety of scholarships including the USF Directors Award, Florida Academic Scholar Bright Futures Scholarship, and a scholarship from Lakeland Sister Cities International.
"I have worked with kids at my church for the last four years and after getting to know them and watching them grow up, it has inspired me to continue being a positive influence in their lives," she said.
Her passion for education is also inspired by her mother who serves as an adjunct faculty member for Polk State College. This introduced Kendrick to the opportunities available through the College's collegiate high schools at an early age.
"I would recommend collegiate because the schedule is really great, the professors are really nice, and it saves you a lot of money," she said. "It also prepares you for what college is going to be like by allowing you to make your own schedule and manage your work on your own."
Kendrick was involved in the National Honor Society, Youth in Government, and McKeel Academy's Basketball Program.
She enjoyed scheduling her classes some semesters that only required her to attend Monday through Wednesday, for example. However, she stressed the importance of time management skills as a piece of advice for collegiate students.
"Don't procrastinate and make sure you have enough time to complete all your assignments and to study," Kendrick shared. "Also know that there is a lot of help here. Staff and faculty are really helpful when you have questions, and they are here to help you succeed."