Polk State Lakeland Collegiate High School student's advice: Don't let the word "college" overwhelm you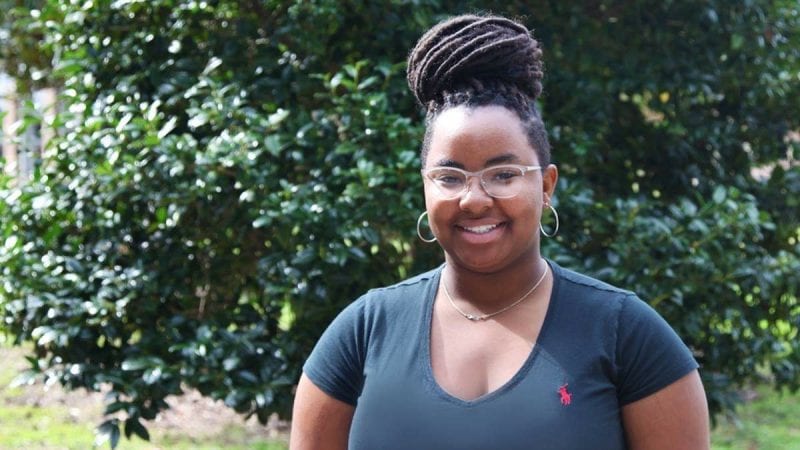 Blessing Lovelace admits that when she started her journey at Polk State Lakeland Collegiate High School, she wasn't sure the program was right for her.
"My brother graduated from Lakeland Collegiate in 2016, he was in honors, he was book smart, and wanted to become a doctor," said Lovelace, who aspires to become a fashion designer. "I was enrolled in a fashion design academy and thought making the switch to Lakeland Collegiate would be a waste of time for me when I was already in a program targeted toward my goals."
But with encouragement from her mom and brother, Lovelace dual enrolled at Polk State as a sophomore and applied to start at Polk State Lakeland Collegiate as a junior. Polk State Lakeland Collegiate and Polk State Chain of Lakes Collegiate high schools serve juniors and seniors, with most students achieving their Associate in Arts (AA) degrees simultaneously with their high school diplomas.
She soon experienced the go-getting attitudes of her peers at Polk State Lakeland Collegiate, becoming inspired to work harder toward an AA degree as she developed her education and career goals, taking her love for fashion design to the next level.
"Suddenly I felt the motivation to get straight A's and boost my GPA because I want to get into a good school to pursue my bachelor's degree," she explained. "I really began to find myself and realized that many people in the fashion industry don't have degrees in fashion, they have degrees in business and other areas that give them a boost in what they are trying to accomplish."
She now aspires to start her own business in which she will handle the design, marketing, and accounting of her own clothing line. She also wants to pursue a Master of Business Administration, noting the opportunity students have at Polk State's charter schools to complete requirements for their AA degrees in high school at no cost to them.
She is looking at Florida State University as well as some historically black colleges and universities (HBCUs) to pursue her education after graduation.
"Polk State Lakeland Collegiate has put me on an accelerated path to achieving my dreams, and I think all students can benefit from the opportunities here," Lovelace said. "You are surrounded by other students who are going to motivate you to be the best you can be, and it may be hard work, but it's not as overwhelming as people may think."
She stressed that although college courses may sound intimidating, they are doable at the high school level, and it is a great opportunity to get a head start on degrees that make students more attractive to future employers.
"Don't let the word 'college' overwhelm you," she offered as advice to prospective students. "You will gain so much by putting in the extra work to be the best you can be at Lakeland Collegiate."
Polk State Lakeland Collegiate is a high-performing, A-graded school with excellent academic programs and rewarding extracurricular activities. The class of 2018 achieved a 100 percent graduation rate, with 103 of 144 graduates achieving AA degrees. Students earned an average of 59.6 college credits, completed more than 25,000 community service hours, and received more than $2.7 million in scholarships.
Polk State Lakeland Collegiate will hold info sessions for sophomores interested in applying for the 2019-2020 school year on Jan. 31, Feb. 6, and Feb. 12 at 6:30 p.m. in LTB 1100 on the Lakeland Campus, 3425 Winter Lake Road.
The info sessions will allow prospective students to learn about the application process, receive tips on preparing for the Postsecondary Education Readiness Test (PERT), tour the buildings, and meet with current students, faculty, and staff.
To be admitted to Polk State Lakeland Collegiate or Polk State Chain of Lakes Collegiate high schools, a student must have a minimum unweighted, cumulative 3.0 GPA and be eligible for dual enrollment through their PERT score or an equivalent score on the ACT or SAT. Applications will be available Feb. 1 online at polk.edu/charter-high-schools.