Polk State Is a Tradition for Members of Lakeland Family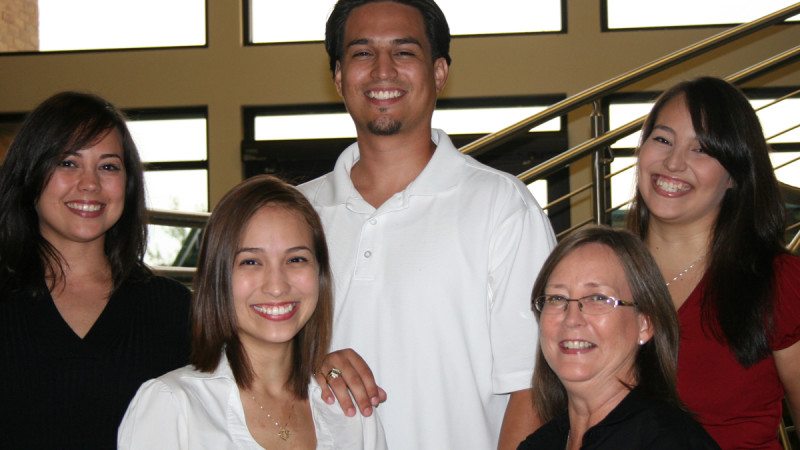 If their educational ambitions were the backing, their work ethic the batting, their earned degrees the patches, and the strength they've lent one another the thread, the Huron family of Lakeland could stitch a quilt of personal and collective triumphs.
The dominant colors of which would be Polk State College's red and black.
Five members of this family— mom Treasure and children Cheryl, Eric, Angela and Desiree — have all studied at Polk State, accessing every rung of its open-access model, and in doing so embody the institution's mission to transform lives through affordable, quality higher education.
The Hurons' first contact with Polk State came at the insistence of Treasure.
A Lakeland native who dropped out of Kathleen High School when she was 16 to earn her GED, marry husband Benito, and begin a family, Treasure began home-schooling her children when her second-oldest, Cheryl, was in middle school; her oldest child, also named Benito, attended vocational school.
"I fell in love with the idea of providing that one-on-one interaction and personalized instruction to my kids in the home," said Treasure, 50.
By the time Cheryl was a sophomore, Treasure sought to intensify her children's education, and turned to Polk State College's dual-enrollment program.
Polk State has long offered high-school students the opportunity to take college classes, completing courses that count both toward their high-school diplomas and college degrees. Within the last decade, the College has expanded the dual-enrollment concept with its two public, charter high schools, Polk State Lakeland Collegiate and Polk State Chain of Lakes Collegiate in Winter Haven, where students attend full-time, earning college and high-school credits simultaneously.
Cheryl began dual enrolling, her siblings followed, and while their educational and professional pursuits would vary widely, at Polk State they each found a college home, where reaching their goals would be affordable and convenient.
Polk State is the county's most affordable higher-education option and nearly 90 percent of students — like all the Hurons — graduate without student loans. It also has locations throughout Polk County, including the Lakeland and Winter Haven campuses, the Polk State Airside Center in South Lakeland, and in Lake Wales, the Polk State JD Alexander Center and Polk State Lake Wales Arts Center.
Swayed by its affordability and convenience, Cheryl chose to continue her education in Polk State's Physical Therapist Assistant Program.
PTA is one of several programs under Polk State's Health Sciences umbrella. Others include Cardiovascular Technology, Diagnostic Medical Sonography, Emergency Medical Services, Nursing, Occupational Therapy Assistant, Radiography and Respiratory Care. Polk State's Health Sciences students regularly outperform their peers in the state and nation on required licensing exams.
For Cheryl, 30, whose married name is Tanner, her decision to study in Polk's PTA Program was the beginning of a fulfilling career.
"I've been working in this field for nine years now and I think my experience at Polk State set me up to be a well-rounded physical therapist assistant. I'm very thankful for that," said Cheryl, who earned her Associate in Science degree in PTA and an Associate in Arts degree.
Next in line, Eric earned his associate's degree from Polk before heading to the Navy. Upon returning to civilian life, he re-enrolled at the College, earning his Bachelor of Applied Science in Supervision and Management in 2012.
Polk State launched its BAS in 2010 in response to employers clamoring for a more highly trained workforce. The BAS immediately surpassed enrollment projections, and the College followed up on its success in 2011 with the Bachelor of Science in Nursing. A Bachelor of Science in Criminal Justice has also been added.
Through his BAS courses, Eric, 26, became interested in business law, and he is currently studying for the LSAT (Law School Admission Test).
The next Huron, Angela, 25, discovered at Polk State her passion for teaching.
After earning her associate's from Polk, Huron completed her bachelor's in education at the University of South Florida, and is now working toward a master's. She is a teacher at Davenport's Horizons Elementary and won the 2011-12 Teacher of the Year award while working at Jesse Keen Elementary School.
Like so many Polk State transfers, Angela excelled at USF and felt prepared for university-level work. To be expected, considering Polk leads the state in terms of the first-year grade-point averages its students earn at the State University System.
"At Polk State, there were so many people who encouraged me to push myself," she said. "That made an impact on how I viewed the institution of education and it made me value higher education more. I saw the need to continue my education."
The youngest Huron, Desiree, recently earned two associate's degrees and has plans to one day start a business.
Attending Polk State was a cultural experience in addition to academic, she said. Like her family members, she engaged in student life, volunteering for Lakeland SALO — Student Activities and Leadership Office — and joining Phi Beta Lambda, International Circle, and the Philosophy Club.
The College's burgeoning student life includes numerous clubs and intercollegiate athletics.
"My experience at Polk State helped to open my eyes to the world around me," Desiree said.
As the Huron children earned their degrees, they encouraged Treasure to do the same. She relented, and at age 49 earned her associate's in Medical Office Administration.
"It was really exciting to graduate and walk across the stage," she said, crediting her husband for his support.
The Hurons, like generations of Polk County residents, each found what they needed at Polk State, but their connections to this institution are far from over — that family quilt, if you will, is a work in progress.
Angela aspires to teach at Polk. Polk is the top choice for Desiree's bachelor's degree. And each time a member of this family sees an Eagle-clad Polk State T-shirt, they think fondly of an institution that changed their lives.
As Angela said:
"Polk State is our common language. It brought us closer at a time in our lives when a lot of families grow apart."
A recurring tagline at Polk State would be an apt motto for the Huron family: "We are Polk."
This story also appeared in the  Lakeland Area Chamber of Commerce's 2013 Guide to Lakeland.