Polk State Grads Claim Top Ranking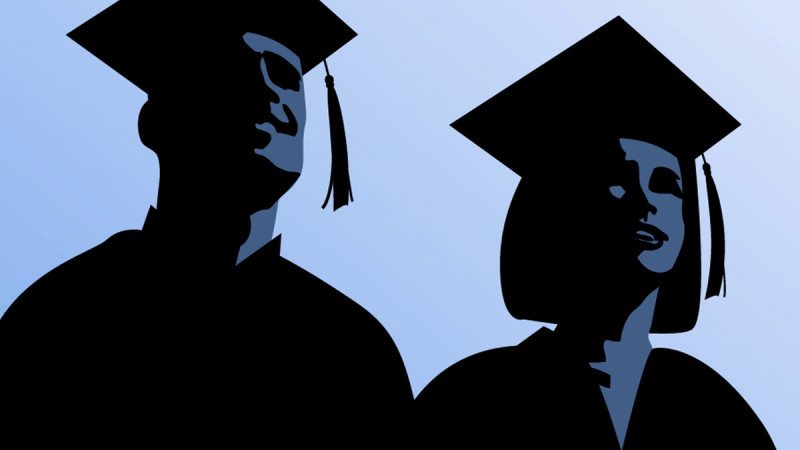 Recently released data show Polk State College is a leader in equipping its students to succeed at the university level.
A recently released Florida College System report compares the 28 state and community colleges in terms of the grade-point averages students earn in their first year after transferring to a State University System institution. And this year Polk State ranks first for preparing students who do not need academic remediation, with 88 percent of its SUS transfer students earning a first-year GPA of 2.5 or higher.
Polk State also ranks highly when looking at transfer students overall, with 84 percent earning a 2.5 GPA or higher in their first year at the SUS; Polk State ranks second in that category, just one-tenth of a percentage point behind the top-ranked college.
"Of course we are very, very proud," said Polk State President Eileen Holden. "Student success is our driving objective, and it is gratifying to see the achievements of our students in the SUS – and how those achievements reflect upon their experiences here at Polk."
The recently released Florida College System data is based on the first-year GPA of university transfer students during the 2009-10 academic year.
In explaining the year-to-year gain, Vice President for Academic and Student Services Ken Ross said that, as the economy has suffered in recent years, Polk State has increasingly become the first choice for students who previously may have gone straight to a university. Those students are drawn by the promise of an affordable, high-quality college experience, Ross explained.
At $103 per credit hour, Polk State is the county's least expensive higher-education option, and the vast majority of students — indeed 92 percent of 2011-12 graduates — graduate from Polk State free of student loan debt.
While kind to the pocketbook, Polk State still provides its students with small class sizes, intercollegiate athletics, flourishing student life opportunities, and strong academic programs sought by students from across Central Florida.
"I think we are attracting an increasingly competitive student body," Ross said. "With the economic challenges of recent years — and as universities are becoming more selective — we are becoming the school of choice for students in Polk County."
Polk State has long had a reputation for graduating prepared, university-ready students, even before the FCS's data quantified its efforts to do so.
"Comparatively speaking, we have always viewed Polk State as one of our most reliable transfer-student providers among all our prominent feeder institutions," said Jerry Collins, director of undergraduate studies at the University of South Florida. Seventy-five percent of Polk State's transfer students go on to pursue bachelor's degrees at USF.
"Polk State College students come to us well-prepared logistically and academically. Logistically, Polk State students have been provided appropriate advising and proper guidance with regard to undergraduate degree requirements, program prerequisites, and transfer processes. Academically, Polk State students have always been well-grounded in the basic skills, general education and specific disciplinary requirements, which are critical elements for every student's persistence, degree completion and academic success within the two-plus-two model."
Two-plus-two is the state's articulation system that allows students who first earn an Associate in Arts degree from a community or state college to transfer to a state university to complete a baccalaureate degree.
"The quality of Polk State's students is routinely evident, and I believe their success at USF can be particularly ascribed to their obvious logistic and academic preparation prior to transfer," Collins added.
Mulberry resident Christina Westcott-Childs graduated from Polk State in 2011 and is now pursuing a bachelor's degree in Business Administration from the University of Florida. The transition to UF has been easy because of the rigorous experience of studying at Polk State, she said.
"When I went to my orientation at UF, a lot of the current and former students came to talk to us about the program. I kept hearing them make comments about how much harder classes at UF are than at a community college," she said.
"But I haven't felt that way at all. My courses at Polk State were just like they have been at the university level. At Polk State, the professors didn't hold my hand, and they had the same expectations of me that my professors at UF do."
Lakeland resident Phillip Roddenberry graduated from Polk State in 2011 and is now majoring in business administration at Florida Southern College. He has a 4.0 GPA and often thinks back with appreciation to the time he spent at Polk State.
"All the teachers I had were very knowledgeable, and I had small classes and got to learn in a hands-on way. It was really easy to get help at Polk State when I needed it," he said.
While there is ample proof that Polk State graduates are equipped to excel at the university level, the College's affordability and quality are leading many to forgo universities altogether and continue at Polk State for their baccalaureate degrees.
Polk State offers a Bachelor of Applied Science in Supervision and Management, with specializations in Business Administration, Healthcare Administration, Public Administration and Public Safety Management. The College is also developing an additional specialization in Business Information Technology. In addition to its BAS, the College offers a Bachelor of Science in Nursing.
At $115 per credit hour, Polk State's bachelor degree programs are also the county's most affordable. Also of note is that those who graduate with bachelor's degrees from Polk State earn more than those who receive degrees from more expensive universities
Mulberry resident Tamera Dowdle earned her associate degree from Polk State in May and will begin classes in the BAS program this fall. With a teenage son about to begin his own college career, Dowdle said that if it weren't for Polk State's low costs and its tuition payment plan, which allows her to pay for her courses over time, she would likely have had to put her own education on hold.
"I probably wouldn't have been able to continue on, but because you do have those things, I can go to school. Because the classes at Polk are so affordable, I will be able to finish my degree faster," she said.
According to 2009-10 data from the FCS, the annual earnings of those who receive a bachelor's degree from a state college are $47,080, while university graduates earn $36,556.
The reason for that difference, Holden explained, is that state colleges design their bachelor's degree programs to fill specific workforce needs. Employers are clamoring for the knowledge and experience institutions such as Polk State provide, giving graduates every edge as they enter the labor market.
"Nothing we do at Polk State is random. Our bachelor's degrees are strategically developed to satisfy the demands of area employers. In turn, we graduate students who are prepared to land the job that will earn them the salary that will forever improve the quality of their lives. Student success — both here at Polk State and after our graduates move on to their careers — is truly at the center of everything we do," Holden said.
Ross added that the College is relentless in its efforts to improve the instruction its students receive, putting them farther ahead once they move on to the university system.
While the recent data from the Florida College System is based on first-year GPAs during the 2009-10 academic year, the College in fall 2010 implemented a Quality Enhancement Plan (QEP) to better prepare its future university transfer students.
The QEP aims to improve student performance in in Intermediate Algebra, a course that prepares students for higher-level math classes required by their courses of study.
Through the QEP, Polk State's math faculty members have adopted "learner-centered" teaching strategies — that is revamping the way they teach to engage students more fully with the material, their professors and their classmates.
College research shows that in fall 2011, the pass rate for students in QEP classes was 9 percent higher than students in non-QEP courses.
Ross said while the QEP is directed at one course in particular, those improved, "learner-centered" teaching strategies have spilled over to all math courses offered at the College, paving the way for students to succeed as they progress in their academic careers.
"The QEP has had a very positive effect. Our students are getting through those math courses that are the gatekeepers to other courses," Ross said.