Polk State Graduates Get Jobs at Highest Rate in Florida for Second Consecutive Year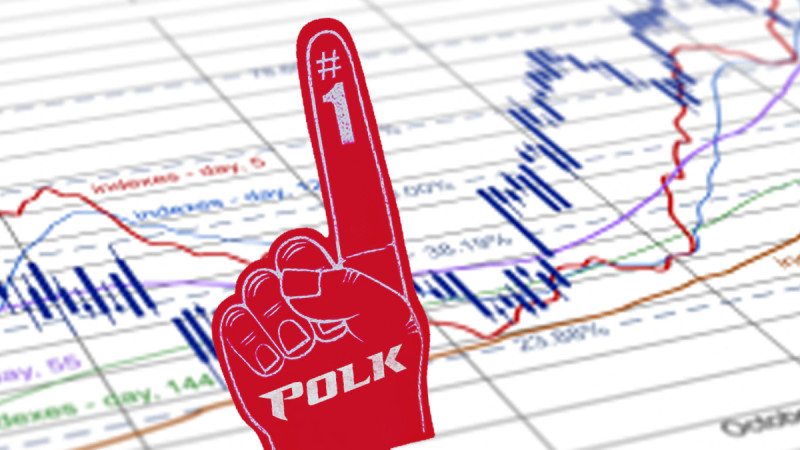 Polk State College is once again the state's leader in preparing graduates for immediate employment.
New data show that 86 percent of students in the College's workforce-based programs secured employment within just months of graduation.
Polk State outranked all other 27 Florida College System institutions, and is well ahead of the statewide job-placement average of 74 percent.
This is the second consecutive year that Polk State has led the state in graduate employment.
Polk State President Eileen Holden described the newly released data as quantitative evidence of the College's success in serving both students and employers.
"Every class we schedule, every program we offer, and every degree we confer is tied to meeting workforce needs in our community. We provide our business partners with the workforce they need to prosper and our students with the knowledge and training they need to enjoy gainful careers. This is the reason we exist, and it always will be, no matter where we rank on the list — but, yes, being ranked No. 1 in back-to-back years is very exciting," she said.
The data was released by the Florida Education and Training Placement Information Program (FETPIP). The data pertain to graduates in 2010-11, the most recent year available. Workforce-based programs include the Associate in Science degree, Educator Preparation Institute, and the many certificates the College offers.
Peter Usinger, director of institutional research, effectiveness and planning for the College, said that it is particularly striking that Polk State graduates were successful in securing jobs even during a period of steep unemployment.
During the last quarter of 2010, the average rate of unemployment in Polk County was 12.2 percent, higher than the statewide average during the same period of 11.1 percent, according to the Florida Department of Economic Opportunity.
By the fourth quarter of 2011 —at the end of the period examined by the recent FETPIP data — Polk County's unemployment rate had improved only to 11.1 percent, still well above the state's 9.5 percent.
"Polk County's unemployment is persistently higher than the statewide average. At the same time, Polk State's graduates are getting jobs at higher rates than graduates of any other public college in Florida. The data validate the education Polk State provides — there is real demand for our graduates," Usinger said.
Also significant is that Polk State workforce program graduates earned an average full-time wage of $40,864, according to the FETPIP data. That is well ahead of the county average of $35,243, according to the Central Florida Development Council.
Polk State's state-leading graduate employment is the result of the College's deep integration with the local business community, Usinger said.
Area employers serve on advisory boards for the College's degree programs, helping to guide and shape its curriculum to match the real-world expectations, and input from the business community is also vital to new degree development.
A recent example is Polk State Aerospace, which launched in January. The program allows students to earn associate's degrees in Professional Pilot Science, preparing them to receive their commercial pilot certificates from the Federal Aviation Administration. They are then ready to begin careers as pilots or flight instructors.
Polk State Aerospace was developed to address an international need for pilots — one study by Boeing showed 460,000 pilots will be needed in the next 20 years. The trend is particularly acute here in Central Florida, a worldwide hub for pilot training.
The College collaborated with the area aviation community in developing its Aerospace program, ensuring the training it provides is in demand and aligns with employers' needs.
Lakeland Linder Regional Airport Director Gene Conrad was one who supported the new program, and he said its creation presents a multitude of possibilities for Polk County.
Prior to Polk State Aerospace, students who wanted to study aviation had to leave the area, Conrad said. Now they're able to stay right here in Polk County, complete their higher education, gain hands-on experience at local airports and aviation-related businesses — and in the process, grow Polk County's aviation industry.
"Having the Polk State degree here is a massive piece of the educational pipeline and will help us attract additional aviation business to Polk County," he said. "When companies are looking at the area, one of the things they want to know is if there is a local talent pool."
Polk State's integration with the local industry — whether aviation, healthcare, or other sectors — and the resulting employment and earnings its students enjoy are all elements of the College's overall nearly half-billion-dollar annual economic impact.
Earlier this year, a study by Idaho-based Economic Modeling Specialists Intl., showed that Polk State boosts the area economy by $481.8 million each year. Of the total impact, $443 million is a direct result of increased earnings students and alumni receive because of their education, the study showed.
Polk State delivers its quality, workforce-based education at the county's lowest price point, and the study found students receive a 17.3-percent return on their investment in a Polk State education.
Business leaders across the county hailed the results of the EMSI study.
"The study quantified what we've always known — that Polk State's impact reaches far beyond its campuses and classrooms," said Steve Scruggs, president of the Lakeland Economic Development Council.
"Polk State helps to create a pipeline of more highly trained workers, which is invaluable in attracting new businesses to the area. At the same time, having a quality, affordable higher-education institution right here at home goes a long way in retaining talent in Polk County. Polk State is an invaluable resource in the economic development of our county."
Winter Haven Economic Development Council Executive Director David Petr added:
"Polk State College is one of the best tools I have in my economic development toolbox. When speaking with business leaders interested in moving to our area, they demand a highly skilled workforce to fuel their businesses. The dedicated faculty and staff at Polk State have created the ideal setting for success, offering exceptionally qualified job candidates to our community every semester."
For all the big numbers, and the far-reaching impact of its partnerships and programs, the College's success in helping graduates secure employment — and earn higher-than-average wages — is best told through the stories of its individual graduates.
One is Manal Awad.
Awad just graduated from the College's Nursing program in May and knows firsthand the difference a Polk State degree makes. When she graduated, she had already been hired as a full-time nurse at Winter Haven Hospital, making approximately $48,000 annually.
Even better, Awad said, is that she graduated free of any student-loan debt. Thanks to Polk State's affordability and financial aid, approximately 90 percent of Polk State graduates do not need student loans.
With her new salary and her lack of student-loan debt, Awad plans on buying her first new car and heading back to school for her Bachelor of Science in Nursing degree and eventually a master's degree.
"I'm going to spoil myself with a new car — probably a Camry. (Winter Haven Hospital) will help pay for my further education, but I'll be making enough to pay whatever isn't covered. Getting my AS at Polk helped me get my foot in the door at Winter Haven Hospital and will help me get where I want to go," she said.