Polk State Aerospace to Launch in January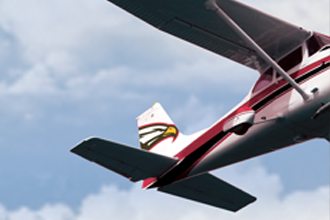 Polk State College's Aerospace Program will launch in January to meet the needs of local students seeking careers in the ever-growing field of aviation.
This new program will lead to an associate's degree in Professional Pilot Science, preparing students to earn their commercial pilot certificates from the Federal Aviation Administration and begin careers as pilots or flight instructors.
Whatever their intended path, students will find numerous opportunities on the other side of graduation. According to a study by Boeing, the world's airlines will need to add 460,000 pilots in the next 20 years. A study by the International Civil Aviation Organization also points to a persistent need for pilots. Here in Central Florida, an international hub for pilot training, the need for flight instructors is even more acute.
Polk State Aerospace will do its part to meet these needs on a local level, all while integrating cutting-edge technology, building a new educational pipeline, and providing an affordable higher education option for aviation-minded students.
"Everything we do at Polk State is about meeting workforce needs, and there is plenty of evidence that shows pilots are in demand. We are excited to enroll our first class and help aspiring pilots soar — literally," said Kenneth Ross, Polk State College's vice president for academic and student services.
The Polk State Program
In the cockpit of Polk State Aerospace is Program Director Eric Crump, an experienced aviator and educator who most recently worked as a chief instructor for Gleim Publications in Gainesville. Crump was also recently appointed to an FAA/industry working group tasked with rewriting the airmen testing standards for all pilots certificated by the FAA.
Like one would expect, Crump said, Polk State Aerospace students will experience a combination of classroom studies and flight training; classroom space is now in place at Winter Haven Municipal Airport and the College has contracted with Kissimmee-based SunState Aviation for flight training.
But what will set the program apart from others, Crump eagerly explained, is a practical, scenario-based approach to instruction and extensive use of flight-simulation technology.
"Everything in aviation is so much more advanced now. We can't train pilots like we used to," he said.
For generations now, pilots have been trained exclusively under the "maneuver-based" model, which was developed during wartime and certainly made a lot of sense — back then.
"The traditional pilot-training model goes back to World War II. It's basically going up in an airplane and practicing something. It was great for pilots during war because they would go up in the air, shoot something and come back down," Crump said.
"Practically every college aviation program and flight school has been using it ever since."
Crump himself is the product of a maneuver-based training program at MTSU; he holds a bachelor's degree in Aerospace with a Professional Pilot concentration.
Even during his studies at MTSU, Crump was aware of the shortcomings of maneuver-based training. He gave the example of learning to handle stalls — when a plane enters a potentially dangerous situation that could cause the pilot to lose control. Under the traditional maneuver-based model, students would simply go up in the air and practice correcting a stall — a scary proposition for those still earning their wings.
"I was scared to death. I didn't understand stalls at all," Crump said.
The Scenario-Based Model
In the ever-advancing field of aviation, research shows that effective training models incorporate not only the maneuver-based style but also scenario-based training.
In scenario-based training, students practice flying in realistic conditions, like through a thunderstorm, or at night or on a cross-country trip, rather than repeating one particular maneuver.
Flight simulators are perfect supports to scenario-based training as they can be programmed for any conditions one can imagine, and replicated as often as a student needs. During a recent demonstration at Winter Haven Municipal Airport, for instance, Crump programmed the facility's flight simulator for a night flight taking off from Narita International Airport in Tokyo.
Among the advantages of scenario-based training in a flight simulator is the elimination of the fear factor.  In fact, it was a form of flight simulation that helped Crump overcome his fear of stalls. He holed himself up in his dorm room and practiced the move on his laptop using Microsoft Flight Simulator.
"It's the most rudimentary simulation that exists, but it helped me understand," he said.
He practiced for hours, freed of the life-and-death fear of doing it in the air, and by the next time he was in the plane, he was prepared to practice the maneuver. He's since successfully used scenario-based training and simulation to help dozens of other students master stalls.
Crump recently wrote about the benefits of scenario-based, flight-simulation training for Flying magazine. In an article titled "Flight School: Fighting Fear," he says:
Ideally, the instructor can introduce slow flight and stalls in an aviation-training device (ATD) or a simple desktop simulation aid before putting the student in the airplane. This technique will build the student's familiarity with the airplane's behavior during these abnormal flight conditions. Student pilots, especially those with "roller coaster aversion," do not like the high angle of attack and sudden drop of the nose inherent in stall training. The certified flight instructor can help them conquer this fear by building their comfort level near the stall in the nonthreatening environment of the simulator.
Because of the advantages scenario-based training in a flight simulator provide, the military and commercial airlines have long since gone in that direction. General aviation — every form of aircraft that is non-military and non-commercial — has made the transition more slowly, but it is under way, Crump said.
When building a new aviation program, Crump said, it only made sense to build a scenario-based curriculum and incorporate flight simulation.
"We at Polk State College are very fortunate to be building a new program from scratch because we have the ability to adopt these new modern training techniques that are critical not only to prepare the pilots of the future but to train them for the jobs they are ultimately going to hold," Crump said.
The Future
Polk State Aerospace will create a college pipeline for students studying at Kathleen High School's Central Florida Aerospace Academy, which emphasizes science, technology, engineering and mathematics to prepare students for high-tech careers in the fields of aviation and aerospace.
Polk State is already a partner in the CFAA, allowing students to earn college credits while still in high school. With Polk State Aerospace in place, a clear pipeline is created for those intent on becoming pilots or flight instructors, allowing their high school work to count toward their future goals.
CFAA Principal Keith Smith said Polk State Aerospace will extend important opportunities to his students.
"Most of the colleges that have aviation are either half a country away or are $40,000 a year in tuition. Polk State College is going to offer its program at a reasonable rate so that our students will actually be able to pursue their careers right here at home," he said.
Crump estimated the total cost for the program will be about a third of that at other colleges. Part of the cost-savings is a result of the flight simulation because students will practice on the ground before getting into the air; training in a real airplane is considerably more expensive than in a simulator.
"We're reducing the cost of pilot training, and by using flight simulation, we're increasing the efficiency, scope and depth of the training," Crump said.
The College is also one of seven state colleges that have formed a partnership — the Florida State College Aerospace Consortium — to develop a bachelor's degree in aviation.
For more information, visit polk.edu.