Polk State Flight Team advances to NIFA nationals for first time in College history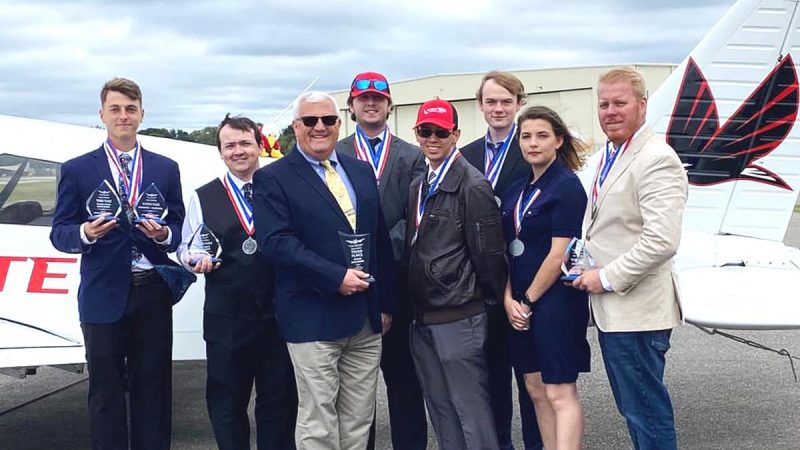 For the first time in Polk State College history, the Polk State Flight Team has earned a spot in the National Intercollegiate Flying Association (NIFA) nationals to be hosted at Ohio State University in May 2022. The Eagles finished third overall and second in flying events during NIFA Region IX Safety and Flight Evaluation Conference (SAFECON) competition Nov. 1-6 at Lakeland Linder International Airport (KLAL), home of the Polk State Aerospace Program. The Aerospace Center for Excellence and SUN 'n FUN Aerospace Expo served as the official hosts of the event.
"I'm so proud of our team's effort which is allowing us to compete in NIFA nationals for the first time in the history of our college," said Carl Valeri, coach of the flight team. "It is truly humbling to have this opportunity and all the credit goes to our team members who prepared diligently and performed at a high level to make this lofty goal a reality."
"Our team works hard, and they have proven themselves on a national scale as a real contender against much larger programs," said Eric Crump, Polk State Aerospace Program Director. "These students bring respect to our College and our program. I am very proud of and for them."
Polk State finished second in the flight events championship behind Embry-Riddle Aeronautical University and ahead of Auburn University, Jacksonville University, and Florida Institute of Technology. The team placed third in the ground events and third overall to secure the trip to nationals. Embry-Riddle and Auburn claimed the top two overall spots and will also represent Region IX in the national competition.
In the flying portion, Nik Schiaffo and Tyler Koonce placed second in traditional navigation. Armando Gonzalez placed fourth and Autumn Richarz finished fifth in short field landing. Ryan Main and Pierce Cody were sixth in unlimited navigation. Adrian Quichocho placed eighth, Nick Schulcz finished 11th, and Michael Pavlik was 14th in power-off 180 precision landing. Gonzalez finished eighth and Schiaffo was 10th in the top pilot standings.
In the ground events, Koonce and Pavlik finished runner-up for the competition safety award. Gonzalez placed fourth, Main was fifth, and Daniel Bontrager finished sixth in the ground trainer simulator event. Quichocho placed fourth, Schulcz was 10th, and Chance Jaffray was 12th in preflight inspection. Cody finished eighth, Main 12th, and Schiaffo 13th in computer accuracy. Pavlik was 11th in simulated comprehensive aircraft navigation. Isaac Castellanos finished 11th and Michael Franklin came in 14th in aircraft recognition.
Gonzalez was 10th in overall contestant scoring while Schiaffo placed 12th, Main 13th, Quichocho 19th, and Richarz 22nd.
Last season, the team finished in the top 20 in NIFA's national competition that included only ground events. This season's achievement marks the first time the program has ever advanced to nationals in flying events. NIFA exists to serve as a forum, competitive and non-competitive, for collegiate aviators and promotes safety through education and excellence through competition.
Polk State Aerospace is a Federal Aviation Administration (FAA)-accredited Part 141 aviation program offering Associate in Science and Bachelor of Science degree options in Aerospace Sciences, Professional Pilot Science, Aerospace Administration, and Aviation Maintenance.
Interested supporters can donate to the Polk State Flight Team through the Polk State College Foundation.
Follow the Polk State Flight Team on Facebook and Instagram and visit their website at www.polkstateflightteam.com.