Polk State Flight Team lands in top 20 at NIFA national competition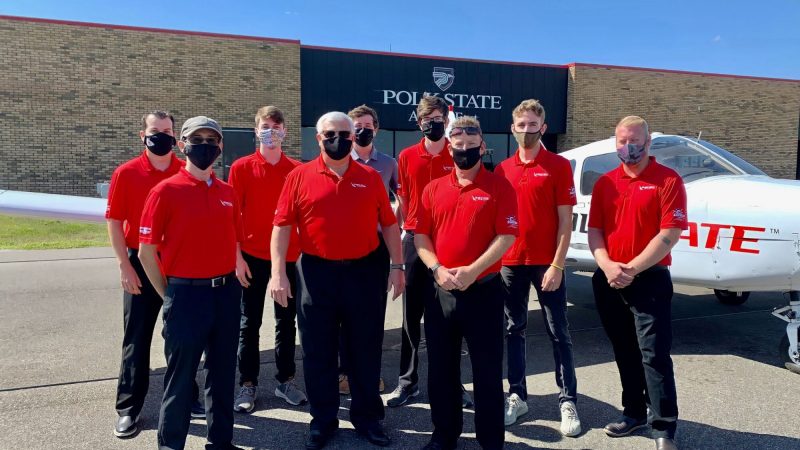 The Polk State Flight Team recently competed in the National Intercollegiate Flying Association (NIFA) Safety and Flight Evaluation Conference (SAFECON) national aviation competition. Polk State aviators placed 20th nationally while competing against the top collegiate aviation programs in the country.
"I couldn't be prouder of our team, and to finish top 20 in the nation is a huge accomplishment," said Carl Valeri, coach of the Polk State Flight Team. "This group had to overcome unique challenges amid the pandemic and persevered with outstanding showings in both the regional and national competitions."
The previously scheduled 2020 NIFA competitions were delayed until May 2021 and were held in virtual formats due to the COVID-19 pandemic.
Recent Polk State Bachelor of Science in Aerospace Sciences graduate Michael Perez Robinson who serves as an instructor with the program placed sixth in the country in the Certified Flight Instructor (CFI) portion. He also ranked among the nation's elite in the scenario-based segment.
"It was truly a team effort," Robinson said. "Our region is very competitive, and our team gets together every week to study as much as we can."
He explained that the competitions the Flight Team participates in are approximately 80 percent groundwork and 20 percent flight time – similar to careers in aviation, he said. Competitions include written exams that test the team's knowledge in areas including safety and preflight protocols such as fueling and planning for a flight.
"Being a part of a team itself is the greatest part," he added. "Being able to get together and not only talk about what we are working on but also about our careers and ambitions is an amazing experience."
Other notable top-50 national finishes were Landen MacFarland at 35th in preflight, Isaac Castellanos 44th in aircraft recognition, and Nick Schulcz 46th in simulated comprehensive aircraft navigation (SCAN).
Flight team members who competed in nationals also include Pierce Cody, Tyler Koonce, Ryan Main, Landen MacFarland, and Mike Pavlik.
Polk State Aerospace is a Federal Aviation Administration (FAA)-accredited Part 141 aviation program offering Associate in Science and Bachelor of Science degree options in Aerospace Sciences, Professional Pilot Science, Aerospace Administration, and Aviation Maintenance.
Interested supporters can donate to the Polk State Flight Team through the Polk State College Foundation.