Phi Theta Kappa Beta Upsilon Upsilon gets regional chapters thinking about technology, transformation, and more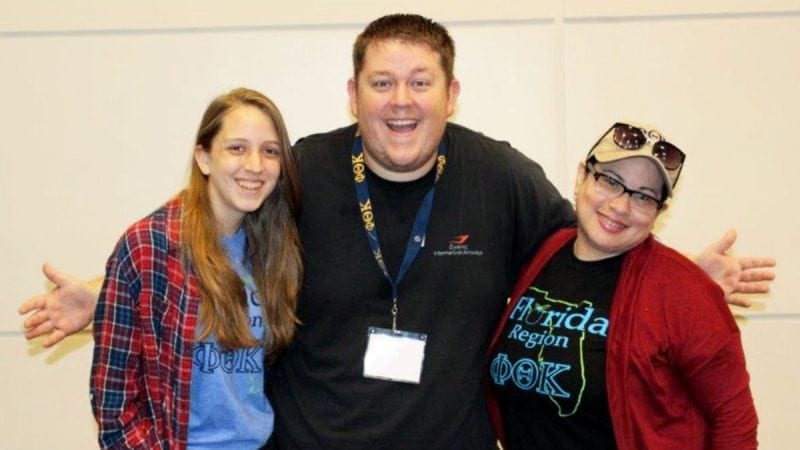 Polk State College's Phi Theta Kappa Beta Upsilon Upsilon recently hosted the 2018 Regional Honors Institute on the Lakeland Campus, where nearly 70 members and advisors from 15 chapters of the international honor society shared ideas to strengthen their research, service projects, and more.
The Polk State Lakeland chapter had the honor of hosting the event after being named the Regional Honors Chapter for the 2018-2019 academic year. Beta Upsilon Upsilon also ranked No. 7 out of 86 chapters in Florida and achieved Five-Star Chapter status, in addition to individual awards chapter members received.
"This was a great opportunity for us to step up to the plate and get involved at the regional level," said Beta Upsilon Upsilon President John Ford, who is enrolled in Polk State's Bachelor of Science in Aerospace Sciences Program. "Our overall goal was to network and share information about the new Honors Study Topic: 'Transformations: Acknowledging, Assessing and Achieving Change.' If someone hits a roadblock during the year with their research projects, we want them to know what to do next and where to find the resources they need to be successful."
The weekend-long Regional Honors Institute fostered conversations about technology, as well as Phi Theta Kappa themes including dynamics of discovery, channels of creativity, and networks of life.
Phi Theta Kappa chapters participate in two major projects each year inspired by the themes: an honors-in-action or research project, and a college-wide service project.
Although they are in the earliest stages of their projects for the 2018-2019 academic year, Beta Upsilon Upsilon has developed a research question to explore how technology is affecting today's youth and what that implies for the future.
"We wanted chapters to catch the spirit of technology – it ties into many of our themes," said Beta Upsilon Upsilon Advisor Penny Morris. "Whether or not they go on to participate in projects about technology, the discussions we had stressed the importance of selecting the question you want to answer and moving forward clearly and creatively in the research and development of an honors project."
Members participated in general sessions in which they listened to featured speakers before breaking off into smaller seminar sessions to discuss more critically the topics that were presented.
Professors Heather Childree and Carol Martinson each led a general session, with Childree facilitating a blackout poetry activity to promote creativity through the subconscious, and Martinson presenting a documentary that explores the ills of technology. While their sessions were vastly different, they each addressed the same theme: change.
Morris explained that the similarity was a coincidence, "but it was fascinating because a question posed by District Dean of Workforce Education and Economic Development, Dr. Orathai Northern, who gave the welcome Friday evening, asked 'Is change and transformation really the same?'"
"After some thought, the group's consensus was transformation is at a much higher and more intricate level than change," Morris said. "Ideally, change will lead to transformation, but that's not always the case."
Phi Theta Kappa recognizes academic achievement and provides students with leadership and community service opportunities. To be inducted, students must have at least 12 college credits and a certain grade-point average determined by chapter. For Beta Upsilon Upsilon, that's a 3.50 GPA.
Polk State's Winter Haven Campus is home to the Xi Pi chapter, which was ranked No. 1 in Florida this year. Together, Polk State's chapters serve about 500 active members.
Ford joined Beta Upsilon Upsilon in September 2017 and says the organization has not only opened up opportunities – it has also allowed him to open up himself.
"I went from being the student in the back of the classroom who didn't say anything, to being the master of ceremonies (at the Regional Honors Institute)," Ford said.
He is a regional officer for Phi Theta Kappa's Florida region participated in state, national, and even international events and conferences, including the 2018 Honors Institute in Villanova, Pennsylvania, which he attended with a scholarship from Phi Theta Kappa.
"Phi Theta Kappa is a great way to meet people, share ideas, and think outside of our individual areas of study to figure out how we can make the world a better place," he said. "Because I'm studying Aerospace Sciences, I am zoned to thinking about the aviation industry, but Phi Theta Kappa has opened my mind to thinking about the College, the greater community, and society as a whole."
Morris, who teaches mathematics, agreed and added that the organization has inspired her to get out of her "math bubble."
"It's rewarding to see students come out of their bubbles, too," she said.
Morris recognized the chapter officers and members who worked tirelessly to plan, organize, and host the event, including officers Paula Schwarz, Hope Pottieger, and Sergio Perez, and members Lizette Cruz and Stephanie Comerford. She also extended a special thanks to co-advisor Paula Celestey, the "behind-the-scenes glue that kept everything running smoothly."
Students interested in joining Phi Theta Kappa may contact Beta Upsilon Upsilon Advisor Penny Morris at pmorris@polk.edu or Xi Pi Advisor Anthony Cornett at acornett@polk.edu.