Phi Theta Kappa Xi Pi Chapter No. 1 in Florida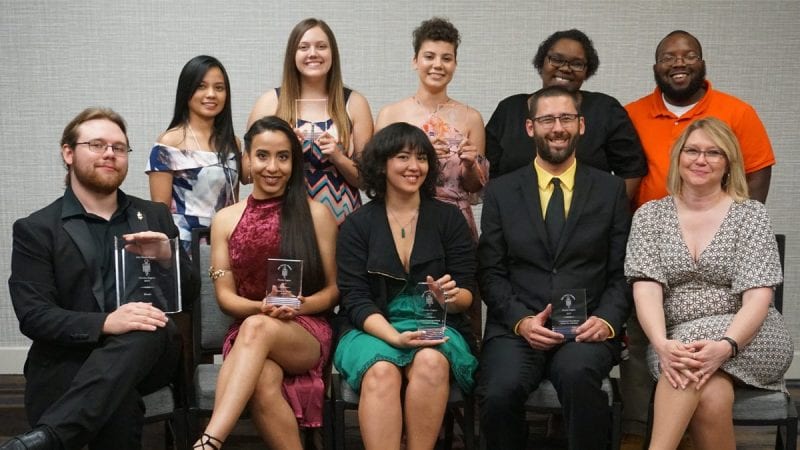 Phi Theta Kappa's Xi Pi Chapter ranks No. 1 out of 86 chapters in Florida for the second consecutive year and is awaiting its international ranking. Last year, the Polk State College chapter ranked No. 6 in the world out of 1,300 chapters.
The International Honor Society recognizes academic achievement and provides students with leadership and community service opportunities.
The Xi Pi Chapter nearly swept the awards ceremony at the March regional convention in Tampa, not only bringing home the top ranking, but also receiving a Distinguished Chapter Officer Award for Lianna Mae Smith, Distinguished Member Award for Andrea McNulty, Continued Excellence Award for Advisors for Anthony Cornett, and a Distinguished Honors in Action Project Award for the Polk Girls in STEM project.
"It took a lot of hard work," said Advisor Anthony Cornett, Professor of Biology. "We're a small chapter compared to others, but we are a very active chapter compared to others."
The Xi Pi Chapter includes students from the Winter Haven Campus, Polk State JD Alexander Center, and Polk State Clear Springs Advanced Technology Center. Phi Theta Kappa's Beta Upsilon Upsilon Chapter encompasses the Lakeland Campus and Polk State's other sites. Together, they serve nearly 300 students.
The Beta Upsilon Upsilon Chapter ranked No. 7 in Florida and was named Regional Honors Chapter. Beta Upsilon Upsilon also achieved Five-Star Chapter Status, and received a Hallmark Awards Participation Certificate and Regional Awards Participation Certificate. Member Nathaniel Taylor was awarded for his poetry and Advisor Penny Morris, Professor of Mathematics, received the Horizon Award, recognizing distinguished service.
To be inducted into Phi Theta Kappa, students must have at least 12 college credits and a certain grade-point average determined by chapter.
"These are students who are successful academically," Cornett explained. "Phi Theta Kappa emphasizes leadership, community service, and the importance of soft skills that will allow students to develop into well-rounded individuals."
Xi Pi's recognitions are based on two projects the chapter has taken on for the 2017-2018 year: a college-wide project and an "honors-in-action" project.
For the latter, the chapter partnered with the Science Department to coordinate activities and serve as mentors to young girls as part of Polk Girls in STEM.
Chapter members have also worked with Polk State administrators to spearhead projects that will fulfill College needs by:
Raising funds and assisting with the process to install solar panels in the Green House.
Raising funds and assisting with the process to install four electric car charging stations on the Winter Haven Campus.
Partnering with the Polk State College Foundation for Wise and Witty Women & Many Magnificent Men, where they made the desserts and served as guest speakers for the event, which raises money for student scholarships.
Xi Pi will participate in Phi Theta Kappa's International Convention this month in Kansas City, Missouri, where the organization was founded. Phi Theta Kappa is celebrating its centennial this year.
Chapter members and their advisor, Professor Cornett, encourage students to get involved.
Chapter President Lianna Mae Smith, a botany major, called joining Phi Theta Kappa a no brainer.
"I wouldn't have had the opportunities and experiences to volunteer, especially in areas related to my major and interests, without Xi Pi," she explained. "The organization opens a door for students to get involved, help their college and community, and make new connections they wouldn't make anywhere else."
Cornett, who was a Phi Theta Kappa member when he was in college, echoed a similar sentiment.
"The organization is a great way for students to buff up their resumes by participating in leadership development activities and community service opportunities," he said. "Joining may seem intimidating at first, but the investment of time is immensely beneficial, as students develop skills and create connections they will carry with them for a life time."
Students interested in joining Phi Theta Kappa may contact Advisor Cornett at acornett@polk.edu or Advisor Morris at pmorris@polk.edu.