From nurse to patient: Graduating student overcomes debilitating illness to achieve BSN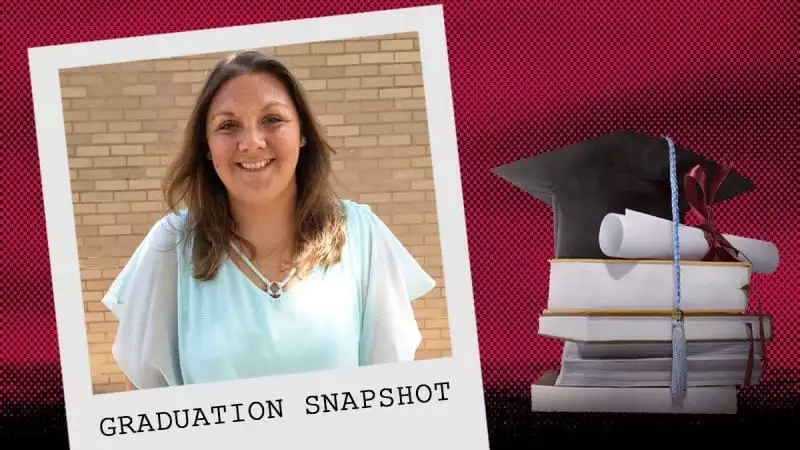 Amber Price has dedicated her life to helping and healing others, but soon after starting her career as a registered nurse at Winter Haven Hospital, she was forced to switch her role to patient as she battled an unexplainable disease.
In 2016, she began to experience dizziness, tremors, and fatigue that made it nearly impossible to function day to day. She was later diagnosed with post-viral myalgic encephalomyelitis – an incurable illness that affects less than 1 percent of the U.S. population.
"A virus attacked my immune system, my heart, my nervous system, and nearly every part of my body," she explained, "but doctors can't explain the onset of the disease."
Price, who received an Associate of Science in Nursing from Polk State in 2015, was working on a Bachelor of Science in Nursing at the College.
"I traveled all over Florida for treatment, bringing my homework with me everywhere I went," she said. "I wasn't going to accept my fate, and I wasn't going to give up on my goals."
Price will walk across the stage on May 3 with Polk State's 118th graduating class to receive her diploma. She will graduate with honors, and as a member of Phi Theta Kappa International Honor Society and Alpha Delta Nu Nursing Honor Society.
"Two years ago, I thought there was no way I would be able to physically walk across the stage. I thought there was a possibility that I would be bed ridden or bound to a wheel chair for the rest of my life," she said. "Getting my degree means everything to me. It feels like I died and I have come back to life."
"Getting my degree means everything to me. It feels like I died and I have come back to life. Two years ago, I thought there was no way I would be able to physically walk across the stage."
Price suffered two cardiac ablations, two lumbar punctures, a cerebral spinal fluid leak, and stroke-like episodes that left her with severe muscle weakness. Due to her physical condition, she could no longer work her dream job in the hospital's oncology department.
She went through the entire grieving process, she explained – denial, anger, and ultimately acceptance.
"Nursing is in my blood," said Price. Both her mother and grandmother are nurses.
Now she aspires to work in quality improvement at a hospital to ensure patients are receiving the care and treatment they need. Her experience as a patient taught her that it's the "little things" that truly matter during a hospital stay – a smile or a warm touch. She plans to pursue a master's degree in Nursing and ultimately wants to become a nurse practitioner specializing in hospice.
While pursuing her bachelor's degree, Price racked up 32 hospital bracelets and underwent numerous medical procedures. Getting to class was difficult due to her muscle weakness and extreme vertigo, and she experienced extreme post-neural exhaustion.
"I would drag my right leg across campus to get to class, and after writing a paper, I would need days to recoup," Price explained. "My physical strength and my concentration were gone."
She also faced challenges financially, losing her insurance, but she was able to receive financial aid and a scholarship through the Nursing Program to assist with the cost of her education.
Price credits her Polk State instructors for giving her the opportunity to succeed.
"My instructors and nursing friends in this program are absolute angels and have treated me like family," she said. "My advice to other students experiencing challenges is to not suffer alone. Reach out to your professors because they are here to help you."
Price has persevered through the challenges presented by her mysterious illness thanks to the supportive people in her life, she explained.
Her biggest motivator is her 6-year-old niece, Lilly, who plans to walk in Price's footsteps. She wants to be a veterinarian or a doctor when she grows up, and has proven to be a natural caregiver, staying by her aunt's side and serving as her guiding force through this journey.
"This degree defines my life now. It shows that I can overcome and achieve anything. I hope to use my experience as a testament of hope and courage in the lives of my future patients."
"I never want to give up because I want to remain a role model for my niece, who has been my everything throughout this entire process," she said.
Price is also thankful for the support and encouragement she has received from her mother.
"I lost who I was and was fighting to stay here on this earth," she said. "My mom always told me that it's all about how bad you want it."
"This degree defines my life now. It shows that I can overcome and achieve anything," Price added. "I hope to use my experience as a testament of hope and courage in the lives of my future patients."