Father, daughter receive Polk State degrees side by side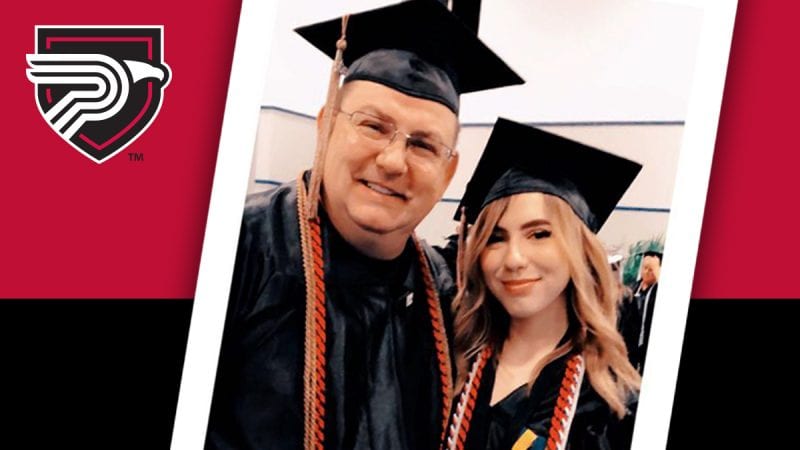 Robert and Maria Chencinski's undeniable father-daughter bond got a little stronger May 2 when they received their Polk State College degrees side by side.
Graduation cumulated nearly two years of hard work and friendly competition for 48-year-old Robert Chencinski and 18-year-old Maria Chencinski, who was proud to share in the milestone with her father.
"He was actually set to graduate a semester before me, but he held off so that we could graduate together," she recalled.
"I wanted graduation to be her time – I didn't want to take away her special moment," Robert Chencinski said. "But she insisted that we walk across the stage together, and I could not be more honored."
The safety coordinator for the City of Lakeland received his Polk State Associate in Science in Business Administration with a concentration in Risk Management and Insurance in December 2016 and received his Bachelor of Applied Science in Supervision and Management with a concentration in Public Administration with Polk State's 120th graduating class.
Maria Chencinski achieved her Polk State Associate in Arts (AA) degree before receiving her high school diploma from Polk State Lakeland Collegiate High School. She graduated Summa Cum Laude at both the high school and college levels and is heading to Florida State University to study Marketing with a Bright Futures Florida Medallion Scholarship.
Robert Chencinski enrolled at the College in 2012 to advance his career in risk management, noting that the accessibility of a Polk State education through its affordability, proximity to his home in Lakeland, and flexibility with online, in-person, and hybrid courses made attaining his degrees possible.
"I'm always trying to improve and gain more knowledge, and Polk State offers the opportunities to do that," he said.
Maria Chencinski has inherited this thirst for education.
She learned about Polk State Lakeland Collegiate High School from a friend and was attracted to the opportunity to accelerate her college pursuits at no cost.
"I wanted to get a head start on college because I believe in seizing any opportunity that comes before you," she said. "There is nothing to regret from something you learn from."
Her father recalled orientation at Polk State Lakeland Collegiate High School, where they learned that most students in Polk State's collegiate high school programs graduate with their AAs.
"It seemed like a lofty goal and I assured Maria that it would be OK if she didn't achieve her AA – not because I didn't believe in her, but because I wanted to protect her from any possible disappointment," said Robert Chencinski, whose fatherly instincts came into play. "But she was certain and she achieved what she set out to accomplish."
He guided her along the way, recommending professors and courses to take.
"It encouraged me to keep going because I was leading by example," he said.
The race to their degrees added a "fun spirit" to their college experiences.
"I wouldn't really call it a competition," Robert Chencinski explained.
"It was more like we were always feeding off of each other's results," Maria Chencinski said. "We both motivated each other to do our best."
Now Robert Chencinski and his wife, Nilda, are preparing to be empty nesters when Maria moves to Tallahassee in the fall.
But the soon-to-be Seminole will first spend her summer participating in the Florida YMCA Youth in Government Civic Fellows Program closer to home at the University of South Florida St. Petersburg. She has participated in the organization for four years, rising to the statewide Presiding Officer position Chief of Staff, accumulating more than 2,000 hours of community service.
"It's going to be a rough adjustment not having her here day to day, but we're extremely proud of her," Robert Chencinski said.
"I'm proud of my dad too and thankful for the support system I have in my entire family," Maria Chencinski said. "Getting his degree was a very admirable thing to do and it was a wholesome experience to be a part of."