College Community Shocked, Saddened by Loss of Student Vernon Aguirre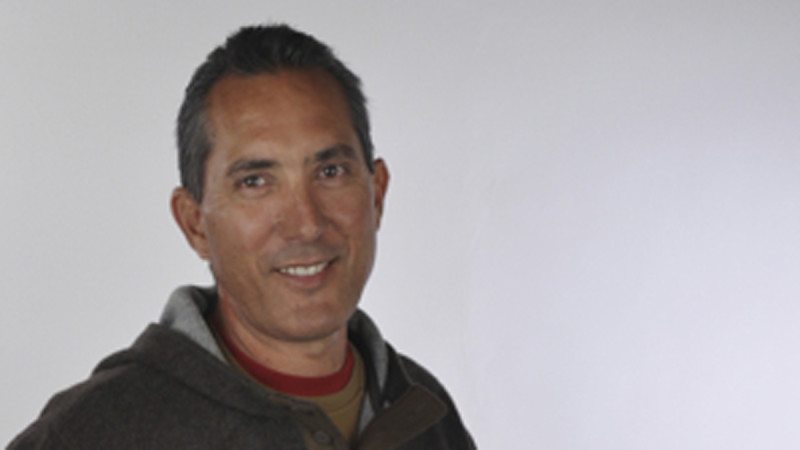 Vernon Aguirre, who came to Polk State to pursue a second career as a filmmaker and became a student-leader whose impact transcended campus boundaries, died Saturday after sustaining injuries in a fall.
The loss was described by Polk State President Eileen Holden with a single word: "Devastating."
Aguirre had earned his Associate in Arts degree in December but remained at the College to study in its Digital Media Technology program. He planned to continue his education at the University of Central Florida.
According to Holden, the grief spans the entire College community.
"Vernon was one of those special students who identified with Polk – everything we mean when we say 'We are Polk.' And he touched the Winter Haven campus as well as the Lakeland campus, faculty and administrators, as well as classmates."
On Monday, many who knew Aguirre were still struggling to come to terms with his sudden death, but all agreed with Holden's assessment.
"I've been teaching for 20 years, and I have rarely met his equal in terms of his enthusiasm and creativity," said Richard Joyce, professor of computer science.
"He was just a great student and a great friend."
According to Joyce, Aguirre had been a sailboat captain for 25 years, experience that presented itself daily even after Aguirre enrolled as a student at Polk State in 2010.
"He knew how to plan ahead — that's what you do before you get out on a boat," Joyce said. "He was a great team organizer and planner. He was really good at communicating with everyone.
"And he had great stories, as every sailor does."
A copy of Aguirre's resume shows he was a member of Phi Theta Kappa, the international honor society for two-year colleges. He was also president of eaglezeye.org, a student-run news site, from 2011-12, and a member of Studio 1308, a student production team.
Most recently, Aguirre made his mark by organizing the Digital Media Technology program's first student showcase. The event took place in May at Polk State Lakeland and was totally student-driven — with Aguirre at the lead.
The event was a forum for students to share their photos, video clips and other projects with the public, with the finale being the premier of Cantastic, a 12-minute film that Aguirre produced and directed, collaborating with several of his classmates.
"We haven't really had a venue for our work to be seen. It means a lot to us to be able to show it to the public and our peers," Aguirre said in early May. "We hope to inspire other students and artists. As an artist myself, I know that seeing other people's work always inspires me."
The film — and the event — both stand as examples of Aguirre's creativity and hard work, said fellow classmate and Digital Media Technology program lab technician Robin Jenkins.
"He did such an amazing job of coordinating everybody and delegating roles," she said. "Everybody respected him greatly for his leadership."
Added Digital Media Professor Gregory Johnson: "He had a can-do attitude. There was nothing he couldn't do. No matter how big the thing, he was willing to give it a try. I admired his zest for life. He was so alive. That always impressed me."
In the last year, Aguirre had also taken a lead role in filming the College's Voices of the People performing arts series and a first-of-its-kind student conference on aesthetics by the Polk State Philosophy Club.
Humanities Professor Derek Menchan, who organizes the performing arts series and advises the Philosophy Club, said he was always impressed by Aguirre's professionalism.
"He was very energetic, passionate about the educational process and leadership, and very conscientious, industrious and diligent," Menchan said.
While his work with Menchan, Cantastic, and the student showcase  — which Aguirre envisioned as the first installment of an annual film festival at the College — are a legacy in themselves, so are the friendships that Aguirre forged with so many at Polk.
"As soon as I met him, I felt like I'd known him for years," Jenkins said. "It was such a comfortable fit."
Jenkins described herself as shy and introverted, but not with Aguirre. The two met about a year and a half ago when they both became lab assistants in the Digital Media Technology program.
"I don't think I've ever worked with someone who was so easy to get along with. I really adored him. He was a great friend and emotionally supportive," she said.
"I'm grateful to have met him and have him in my life for the short period of time that I did."
Digital Media Technology program student Ashley Bramwell, who contributed to the script, audio and props for Cantastic, said she was constantly inspired by Aguirre's curiosity and desire to learn new things.
"We tend to limit ourselves, but he was always willing to try something new," she said.
"We have so many opportunities given to us, and he showed me that we should say 'yes' more often."
Added Annalisa Harris, also studying in the Digital Media Technology program:
"He was always there to offer help in any way that he could. He was an all-around good person."
As a student in the Digital Media Technology program, which is based in Lakeland, Aguirre made his impact at that campus — but he was certainly not limited to one location.
In his resume he described himself as "an activist for the arts, for tolerance, and for connectedness within our one human family" — and he was intent on connecting with Polk State as a whole, not just a single campus.
Polk State Designer Mo McCourt, who works in Winter Haven, described Aguirre as extremely knowledgeable about filmmaking and photography, but also genuinely excited about life.
"He was happy about the things that were happening in his life," she said.
"He would have been a good mentor."
Polk State Art Professor Gary Baker, also based in Winter Haven, had Aguirre as a student more than a year ago, but the two had remained close ever since.
"Many times, when I was under a little extra stress, it was almost like something psychic would make Vern say, 'I better go visit Baker, better swing by to bring him some good cheer," Baker said.
"He had an infectious personality and energized people."
Polk State Photography Professor David Woods, who is also based at the Winter Haven campus, said Aguirre's death is so difficult to accept because he was so full of life.
"I thought that he would live forever," he said. "He was so confident and so sure about everything he did."
That confidence and zest for life were what struck College administrator David Steele, who, like many at the school, was on a first-name basis with the student activist.
"Vernon had a vision for the world around him and an extraordinary sense of perspective. He made himself a factor, and his confidence and leadership made others factors who maybe wouldn't have been otherwise," he said.
According to Steele, whose team is responsible for communications and branding at Polk State, Aguirre was "the essence of the brand. There were many, many times that I would ask myself, as we worked on a student-related project, 'What would Vernon think?' — and I'm sure Vernon's friends and loved ones will be asking that for a very long time."
As Holden put it: "He was unforgettable, and he made us all better."
The College provides counseling services to students, faculty and staff in need. Those wishing to share a memory or sentiment via Facebook can do so at the Polk State Facebook page.
UPDATE:  Aguirre's family asks that those wishing to honor the life of Vernon make a donation to the Make-A-Wish Foundation. Students studying in the College's Occupational Therapy Assistant program have established the Vernon Aguirre Memorial Fund at Wells Fargo to benefit Aguirre's family. Donations may be made at any Wells Fargo branch location. The account number is 9748407567.