Polk State's Lynsay McCaulley Wins Charter School Teacher of the Year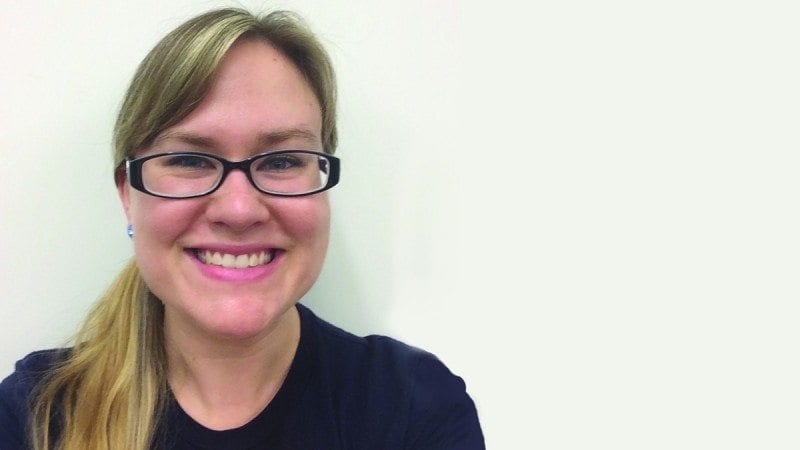 For the second consecutive year, a Polk State Chain of Lakes Collegiate High School teacher has earned the top honor from the county's charter schools.
Lynsay McCaulley was named the 2014 Teacher of the Year by the Polk Association of Charter Schools during a ceremony last week at Fantasy of Flight.
McCaulley teaches English, reading and film studies at Polk State Chain of Lakes Collegiate High School, one of three charter schools the College operates.
"To me, it means that all of my achievements, every hour that I've worked, all the hard work I've put in, other people who are also educators acknowledge all of it," McCaulley said. "It was so humbling to be in a room with people who all do great things, but they picked me."
McCaulley holds bachelor's and master's degrees in English Literature from Florida Southern College and National University, respectively.
Prior to becoming a teacher, McCaulley worked as an administrative assistant, but soon changed gears to education. She joined the faculty at Polk State Chain of Lakes Collegiate in 2008.
"Ever since then, I go home feeling like I've done something positive. Every day is a new adventure. No two school years are the same. The students are fantastic and I've never had a team of people I get along with as much as I do my faculty and staff. I feel like I've done good in my life because I've been a teacher for Polk State Chain of Lakes."
In addition to teaching, McCaulley is the adviser for the school's yearbook staff and National Honor Society chapter. Each year, she also supervises students in knitting scarves for the area's homeless.
Polk State Chain of Lakes Director Bridget Fetter said McCaulley is an inspiration to both her students and colleagues.
"This is the thing about Lynsay, she is so enthusiastic about everything, and all her lessons vibrate that," Fetter said. "You go into her classroom and it just comes to life. She is so good with the kids. Not only can she teach journalism and reading and English and film, but she is also such a good mentor to her students."
McCaulley was eligible for the countywide award after being named Teacher of the Year at the school level.
A year ago, Polk State Chain of Lakes Collegiate's Suzanne Ramjattan Halverson received the Teacher of the Year award from the charter school association. Halverson teaches anatomy and physiology.
Both McCaulley and Halverson earned their teaching certifications through the College's Educator Preparation Institute, an accelerated program for those who hold non-education bachelor's degrees but want to become teachers.
The back-to-back charter school Teacher of the Year wins come after other exciting news for EPI. Earlier this year, an EPI graduate won the Polk County Public Schools' School-Related Employee of the Year award and nine other graduates were nominated for the Polk County Public Schools' Teacher of the Year award.
EPI Director Beverly Woolery said it is exciting to see EPI graduates achieving such high levels of success in their new careers.
"EPI applauds Lynsay and Dr. Halverson graduated from the EPI program at the top of their class, earning straight A's in their coursework. Their hard work and dedication to the teaching profession paid off as they have been recognized and honored for their outstanding teaching qualities," Woolery said.
In addition to Polk State Chain of Lakes, the College operates Polk State Lakeland and Polk State Lakeland Gateway to College. All three are public, charter high schools that allow students to simultaneously fulfill the requirements for their high school diplomas and associate's degrees.
The Educator Preparation Institute is designed for professionals who hold a bachelor's degree and want to teach, but did not major in Education. The program is offered in both a hybrid — combination of online and face-to-face instruction — and fully online formats. Students complete seven month-long courses, two 15-hour field experiences in a K-12 school, and three Florida Teacher Certification exams. Once these requirements are completed, students are eligible for a permanent teaching certificate. Polk State EPI graduates are teaching in K-12 schools across Polk County and in surrounding districts.