Polk State's Halverson Garners Another Teacher of the Year Award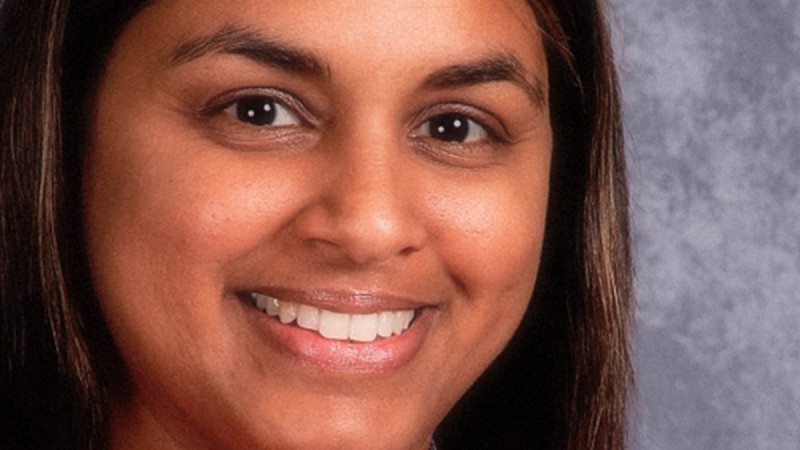 Polk State College Professor Suzanne Ramjattan Halverson has added another teaching accolade to her list of distinctions — the 2013 Teacher of the Year award from the Polk Association of Charter Schools.
Halverson received her award earlier this month at the Auburndale Civic Center.
The award comes after Halverson was also named the 2013 Polk County Teacher of the Year by the Central Florida Chapter of the Air Force Association and Teacher of the Year at Polk State Chain of Lakes Collegiate High School.
Halverson is a professor of anatomy and physiology at the high school.
"This award means that I have achieved a milestone in my career. I was able to really show what I have been doing for the past six years at Polk State and Chain of Lakes Collegiate High School. The recognition shows I've been able to help inspire kids to go above and beyond in STEM education and the Health Sciences," Halverson said, crediting her colleagues at the College with supporting her work for students.
"I feel that I've been very blessed to be where I am right now. If I didn't have the support from my colleagues, family and friends, I wouldn't be able to do what I do. This award shows what everyone has been supporting me in doing for six years."
Halverson holds a master's degree in Exercise Physiology and a doctorate degree in Health Science. She is currently completing another master's in Biology.
She joined the faculty of Polk State Chain of Lakes Collegiate in 2006. Since then, she has developed a STEM Research Enhancement Program, which provides students with academic advising and support, as well as a STEM Research course, all to prepare them to major in a STEM discipline when they enter college.
She also developed the Polk State Chain of Lakes HOSA Chapter, allowing students to participate in medical-skills competitions, and started the school's National Honor Society.
Halverson has also helped the College forge a partnership with Winter Haven Hospital's Robotics Institute. As part of that partnership, area high school students may participate in the summer Scholarobotics Academy, which delivers instruction on medical terminology as well as hands-on experience with the hospital's da Vinci robotic surgery system.
Polk State Chain of Lakes Director Bridget Fetter said that everything Halverson does — and what sets her above other teachers — is about capturing the imaginations of her students and inspiring them to continue learning.
"She shows students that there really is a real-world component to STEM and that there are jobs out there that they could hold one day," Fetter said, adding that Halverson's extensive education inspires her students and epitomizes what it means to be a "lifelong learner."
Also honored at Polk State Chain of Lakes Collegiate this year was Program Assistant Gwen Simmons, who was named the school's Support Staff of the Year.
"She is the most helpful person on this planet," Fetter said. "She does everything with friendliness and a spirit of fun. She has the best smile, and I think that attracts the students to her. They know they can always come to her."
Polk State College operates two public, charter high schools, Polk State Lakeland Collegiate and Polk State Chain of Lakes Collegiate in Winter Haven. The schools serve juniors and seniors, allowing them to fulfill requirements for their high school diplomas while also earning college credit — all at no cost. In many cases, students graduate with both their diplomas and associate's degrees. A third high school, Polk State Lakeland Gateway to College Collegiate, will open later this year to serve students facing the most difficult circumstances, allowing them to earn a diploma and college credit.