CALEA Accreditation
CALEA Accreditation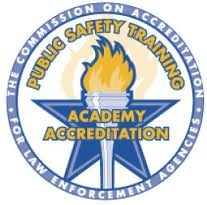 Accreditation Manager:
Stephen Bucklin
863.669.2907
sbucklin@polk.edu
CPS-222
Accreditation Process
On March 17, 2007, the Institute of Public Safety was awarded initial accreditation through the Commission on Accreditation for Law Enforcement Agencies, Inc. (CALEA). The IPS has become the first community college criminal justice training academy in the nation to earn accreditation through CALEA.
Accreditation is a coveted award that symbolizes professionalism, excellence, and competence. The IPS takes pride in knowing we represent the very best in public safety training.
Accreditation is voluntary, and the IPS continues the accreditation process. A successful reaccreditation is contingent upon the academy's ability to demonstrate continued compliance with applicable standards during the period being reviewed. This is accomplished by providing consistent reaccreditation maintenance, tracking academy performance, and identifying changes to academy procedures.
In March of 2016, the Polk State College Institute of Public safety was awarded re-accreditation with Excellence under the "Gold Standard" for accreditation. We continue to improve our processes to stay ahead of the standards in providing world-class training.
The purpose of the Public Safety Training Academy Accreditation (PSTAA) program is to promote superior public safety training academy services and to recognize professional excellence. This is accomplished by establishing standards derived from the best practices of professional public safety training agencies and institutions. A process is implemented to verify that the standards are met and that public recognition of professional excellence is provided.
The PSTAA's 182 standards were developed through a series of meetings of law enforcement and public safety trainers and executives. Many of the proposed training standards and process are similar to the Law Enforcement and Public Safety Communications Accreditation programs. There are also a significant number of new and specialized training related standards.
The PSTAA program is designed not to conflict with national or state POST authorities or groups like the International Association of Directors of Law Enforcement Standards and Training (IADLEST). As with other CALEA programs, the standards, where possible are general and describe what needs to be done giving the local CEO the most flexibility to implement the standards.
What is Accreditation?
The components of an accreditation program include professionals, who act with discretion, in the public trust, to standards set by experts in the field. An independent process is designed to implement the standards, verify compliance and award recognition.
Accreditation is a coveted award that symbolizes professionalism, excellence, and competence. Accredited agencies can take pride in their department, knowing it represents the very best in public safety training academies.
Determining Agency Eligibility
Proposed eligibility is limited to governmental organizations, accredited colleges and universities, and non-profit organizations that meet one of the following criteria:
• Are authorized by appropriate outside authority to provide a comprehensive basic law enforcement training program.
• Have the responsibility for the development and/or delivery of advanced or in-service broad scope public safety training.
• Have been determined appropriate by CALEA Commissioners.
Generally, short-term specialty training, whether provided by public or commercial organizations, would not meet the intent of this program.
Agency Size
The PSTAA program applies to all agencies and institutions regardless of size.
There is a provision for a "unique" agency that because of its mission, size, location, or other factors may not fit the paradigm.
Agencies that seek accreditation are required to comply only with those standards that are specifically applicable to them. Applicable standards are categorized as mandatory or other-than-mandatory. Agencies must comply with all applicable mandatory (M) standards and 80% of applicable other-than-mandatory (O) standards. If an agency cannot comply with a standard because of legislation, labor agreements, court orders, or case law, waivers can be sought from the Commission.
The information listed above is an excerpt from the CALEA website. For more information, you may click on their link at calea.org