Young mother and daughter of migrant workers becomes first in her family to achieve degree – a Polk State Bachelor of Science in Nursing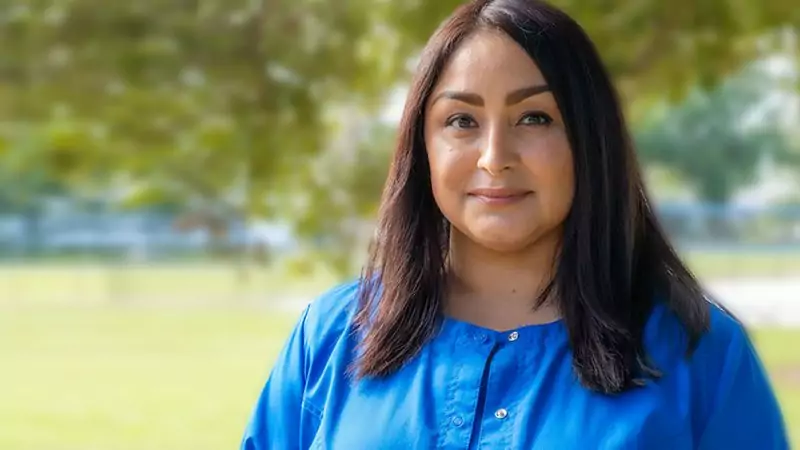 Maricela Morales comes from a family built on a strong work ethic. Her father, from Mexico, went to school only one day in his life before his family needed him to stay on the farm to work. Her mother dropped out in the ninth grade, and when Morales was growing up, she and her four siblings would migrate north for the summers with their parents to pick fruit in the fields.
"I am very proud of the work ethic that was instilled in me. However, I don't remember the word 'college' ever being mentioned. As I continued through school, I found myself feeling lost. I didn't know how to ask for help, and that led me to eventually drop out in the ninth grade too," said Morales, who tried to go back to high school two more times after finding out she was pregnant at 16.
She didn't complete high school and had her second child at 19. She was working in a grocery store when her mom invited her to take a General Educational Development (GED) course. They both dreamed of becoming nurses, but her mother didn't complete her GED because she struggled with math. It wasn't until Morales was 26 and celebrating the retirement of a coworker at Walmart that she decided to start her higher education journey after achieving her GED.
"She encouraged me to do something bigger; she said I wouldn't want to be there when I was her age," Morales recalled. "I knew I did not want to do that for the rest of my life. Just like my mom, I also had a dream to become a nurse. But how would I do that? I feared the unknown and had no one in my environment who could help me."
So, she enrolled at Polk State College where she could receive both the quality education and assistance she needed as a first-generation-in-college student close to home and at an affordable cost. Approximately 33 percent of Polk State's students are the first in their families to attend college.
"This was a scary time for me. I had two young children, worked at Walmart, and people around me saying that I would not make it," Morales said. "This only added fuel to the fire within me."
She began with intermediate algebra and struggled. She worried that math would be a barrier for her like it had been for her mom, but with the support of her advisor and by "living in the TLCC" (Teaching Learning Computing Center) where she benefited from tutoring, help with homework, and a quiet place to study, Morales saw her grades improve.
"Every A helped to build my confidence up more and more," she said. "I realized I could really do this."
As she accomplished her general education requirements and neared the start of prerequisites for nursing, Morales decided to enter the healthcare field to gain real-world experience while she continued her studies. She took a semester off to enroll in Ridge Career Center's Certified Patient Care Technician Program.
For 10 years, she worked full-time in Winter Haven Hospital's Endoscopy Department while she went to an evening nursing school, chipping away at her associate degree one or two classes at a time.
"It was a life-changing experience by providing me with the environment that I needed," Morales explained. "Everyone I worked with had been to school, they knew what it would take to achieve my dreams, and they encouraged me and normalized for me that it is OK to focus on my dream to become a nurse. They showed me that it was OK to do all the running around, balancing being a mom, an employee, and a student."
When she became a registered nurse, she transitioned to the Cardiovascular Intensive Care Unit and she now serves in Winter Haven Hospital's Bostick Heart Center in Cardiovascular Surgery. When it was time to start on her bachelor's degree, coming back to Polk State was a no-brainer for Morales.
"Polk State was close to me, affordable, made resources available, offered the courses online and in person, and had the BSN program that I wished to pursue," she explained. "I have had a great experience at Polk State. I have been able to grow both personally and professionally because of my professors. The online platform has been easy to use, and assistance has always been accessible when needed."
Now she is graduating with her Polk State Bachelor of Science in Nursing degree with honors and will celebrate with her family at the College's 125th Commencement Ceremony on December 9.
"I know my parents are proud and now because of what I have done to break the cycle in my family, my children are on their paths to college degrees and careers," Morales said.
Two of her children are attending Polk State – one in the Diagnostic Medical Sonography Program and the other in the Physical Therapy Assistant Program. Her third child is attending Texas State University to pursue a law degree.
"I am proud to have set that bar for my kids and to serve as an example for them," added Morales, who may possibly pursue a master's degree, but only after she takes a well-deserved year off after nearly 13 years in school. "I thank my husband and family for being so supportive."
Reflecting on her time at Polk State, she added that of the many faculty and staff members who helped her along the way, one contributed to a life-changing exercise for Morales.
"Professor LaTonnja Key played a huge role in my journey. During my prerequisites in our Human Development class, she had us write about our life from before birth and through death, predicting how life would turn out," she explained. "Everything that I wrote has come true so far."
"Making the decision to further my education at Polk State College has allowed me to give my children a better life and set the bar for them," she added. "I did it for them, but most importantly, I did it for me."