Volunteerism Event Offers Chance to Get Involved, Reap Benefits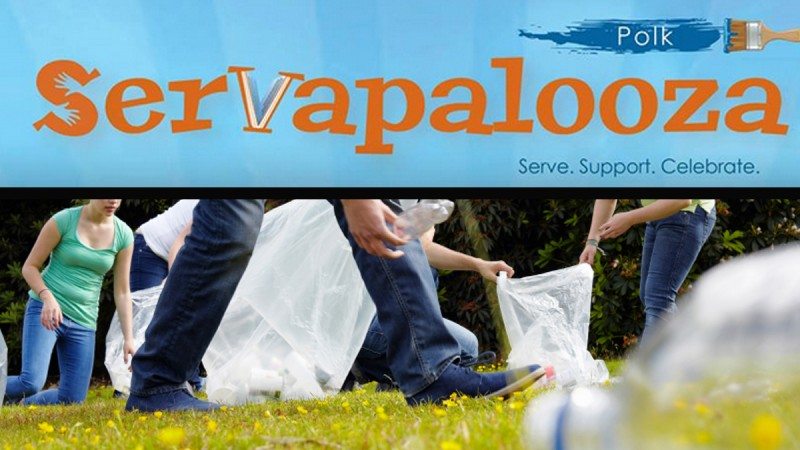 An event with Polk State connections takes place this weekend, the message of which is this: If you're not volunteering in your community, it's time to start.
Servapalooza Polk is planned for 9 a.m. to 2 p.m. Saturday at SUN 'n FUN, 4175 Medulla Road in Lakeland. It is free to attend and open to the public.
Hosted by Volunteer Polk, Servapalooza will feature on-site service projects, including pre-constructing walls for Habitat for Humanity projects and writing letters to military service men and women.
There will also be a Volunteer Expo spotlighting more than 80 organizations and community service projects.
Servapalooza is part of the National Day of Service and Remembrance campaign, launched in observance of the 9/11 attacks.
About 30 members of the College's Eagleteers, a student volunteer organization, will be participating in the event, running a donation drive-through to collect everything from clothes to groceries.
In addition, Enrollment Services and Outreach Coordinator Matina Wagner, Student Activities and Leadership Coordinator Allison Walker, and student Ryan Darley have all served on the event's planning committee — voluntarily, of course.
Wagner described Servapalooza as a must-attend event for anyone with even the slightest interest in volunteerism.
"Servapalooza is all about educating people about the many ways they can get involved and benefit the community," Wagner said.
"Whether it's helping the homeless, cleaning up local parks, or mentoring children, there are so many ways to make a difference. This event makes it easy to find the organization that inspires you."
If the opportunities to contribute are boundless, and Servapalooza will make it easy to connect with service organizations, the ultimate question becomes why someone — a busy student especially — should make time to volunteer.
College officials said there are lots of reasons, from the financial to feelings you just have to experience to understand.
Starting with the former, Polk State Foundation Director of Finance Lynn Wilson said every hour of volunteer work gives students an edge when vying for scholarships.
"The Foundation administers several hundred scholarship funds, and many of them have a community service requirement," he said. "The more a student is able to document their commitment to community service, the greater their potential to receive funding to pay for their education."
Getting an education is all about landing a good job, but in this ever-competitive labor market, it takes more than a degree to stand out to potential employers, said Internship Coordinator Lynn Chisholm.
Volunteer work is often the "it factor" for hiring managers.
"Volunteering can provide students with a variety of benefits as they prepare themselves for the workforce, and can be a great first step in building an experience base and developing community contacts," she said.
Through volunteering, Chisholm explained, students can familiarize themselves with the work, setting or individuals in a particular field. Volunteering is also a great way for students to begin building their professional networks.
Perhaps most importantly, volunteering is a way for students to prove their sheer desire to work — even when there's no pay involved.
"Volunteering can offer a student without much work experience the chance to develop a body of work experience and display a solid work ethic. It can offer them a way to 'get noticed' and sometimes leads to a job opportunity," she said.
"As students are getting started with their career, volunteering is one of the most important steps because it prepares them for more skilled career opportunities, such as internships, and helps them build their resume."
Aside from the possibility of more money for college and the chance to make professional connections, Polk State Academic Success Counselor Cate Igo said the intrinsic rewards are reason enough to volunteer.
"Volunteering is one of the most valuable things a student can do outside the classroom to grow academically, socially and spiritually. Whether acting as mentors, office support, or guides, students who volunteer always tell us they learned so much from the people and organizations they served," she said.
Igo added she's always taken by the change she notices in students who choose to volunteer as mentors.
"It's pretty amazing to talk with a student returning from their first mentoring sessions. It's really like a light has gone off for them. You can see in their eyes the new understanding that their time and efforts are really making a huge difference in someone else's life. You can't give a student those feelings of pride, accomplishment and community in the classroom. They can only come from the experience of servant leadership," she said.
Wagner, who has served as adviser of the Eagleteers since the organization began in 2009, said time and again she's seen students transform through the power of volunteerism.
"They realize that they have a lot of value and worth," she said. "They have a sense of belonging to something bigger than themselves."
For more information on Servapalooza, call Volunteer Polk Manager Janet Bartuska at 863.534.5580 or volunteer1@polk-county.net.
For more information about the Eagleteers, contact Wagner at mwagner@polk.edu, or visit facebook.com/psc.eagleteers.