New Internship Coordinator Comes Full Circle at Polk State
For newly hired Internship Coordinator Lynn Chisholm, working at Polk State means coming full circle. And she couldn't be happier about it.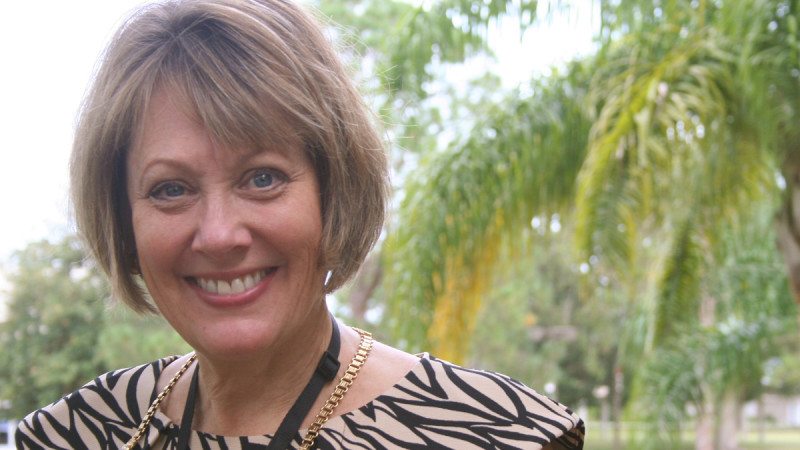 "Without Polk State, I wouldn't have gotten a start on my own career. I feel honored to be working at my alma mater," she said.
Polk State's Internship Services program was developed in the past year, and like everything the College does, it is rooted in demand from the business community.
"Internships are, of course, tremendous learning opportunities for students, thrusting them into the professional world and making their classroom studies take on real-life meaning. For the businesses, too, interns add tons of value, as they contribute to an operation's productivity and help move it forward," said Polk State President Eileen Holden.
"Polk State lacked a coordinated process for connecting students and employers for successful internships. We listened to our business partners — as we do in every decision we make at the College — and created the Internship Services program as a way to meet their needs and broaden the horizons of our students."
In her role as coordinator, Chisholm will act as a liaison between the College's students and area employers, helping to create internship experiences that benefit both parties.
It's a mission with much personal relevance for Chisholm, having seen in herself — and time again in others during her career — the growth that comes from internships.
"Everything I've done through the years has all come together to bring me back here to Polk State and do this job," she said.
Her Winding Road
After graduating from Lakeland High School, Chisholm enrolled at what was then Polk Community College, earning her Associate in Arts degree in 1978.
She then went on to the University of Central Florida to earn a bachelor's in Communication Disorders, and Boston University, to earn a master's in Speech-Language Pathology.
It was during her studies at BU that Chisholm spent the summer interning at a veterans' hospital, an experience that affected her in ways she can't undo — even if her career took her far from her field of study.
"Most of the veterans in the hospital had been in Vietnam and had been exposed to Agent Orange (an herbicide used to kill vegetation during the Vietnam War). Many were dealing with substance abuse and their inner demons. It made a big impact on me. It was an eye-opening experience about the respect we need to show our veterans and the need to treat them better," she said.
When she graduated from BU, Chisholm embarked on what she describes as a "straight and narrow" career course. She worked in hospital and school environments, working her way up to clinical director and educational program specialist at the University of Georgia Speech-Language and Hearing Clinic.
In 2000, seeking to return to her family and Lakeland, she veered from her career path. Parlaying experiences she'd had in her previous jobs in facilitating internships, she landed a position in human resources and workforce development at the City of Lakeland. Among her duties during her 12 years at the City was to manage its Municipal Internship program ­— just one of several duties that helped prime her for her new position.
"Polk State is so lucky to have Lynn in this position. Her experiences in human resources and running an internship program obviously directly align with our goals for this new program. Also, Lynn's training in a workforce field — speech pathology — makes her familiar with academic workforce programs. It's a perfect match," said Patricia Jones, district dean of academic and student services.
The Polk State Program
After the twists and turns of her own career, Chisholm is excited by the opportunity to help others find their way.
"I was excited about the fact that Polk State has big plans in the area of developing internships. It was an opportunity for something to be developed from the ground up," she said.
"For students, I think it will be nice to see someone like me. I'm proof that you never know where you might end up."
Chisholm is currently cultivating relationships with employers throughout the county, gauging their needs and goals for Polk State interns. As the program ramps up, students will contact her office with their goals and interest in interning. Then, based on everything she's gathered, Chisholm will serve as a sort-of internship matchmaker.
Students will have to do much of the legwork on their own, of course, and go on interviews, but Chisholm will help narrow the opportunities that exist to the ones that best match their goals and programs of study.
"The goal will be to arrange successful internships for everyone involved. A successful internship will meet the experiential and academic goals of students, and provide the business with students who add value and help them further their business in some way," Chisholm said.
"It should be a learning opportunity for both the student and the organization, a chance for them both to learn from one another and both feel like they got something out of it."
Chisholm also envisions her office as a place students can go for professional experiences but not full-fledged internships.
"Not all students have time for internships. They may be working, going to school and raising families. But we can help them see that there are other ways of getting experience, like through volunteering. Volunteering can be a nice bridge between academic studies and the professional world," Chisholm said.
Jones said ultimately Chisholm's office will be a source for numerous other services as students embark on their new careers.
"Lynn will also work directly with students to help them prepare their resumes, develop interview skills and more. Internship experience, combined with an effective resume and interview skills, will give students a real competitive advantage as they enter the labor market," she said.
Chisholm, who anticipates making internship matches starting in the spring, can't wait to contribute to students' transformation from job-seeker to job-lander.
"I'm looking forward to providing a bridge between the student and their career goals. This is such a formative stage of their education, not simply from the perspective of being in the classroom, but from the perspective of setting a career course. Managing a career starts with an internship, it's often the first step in the pathway of landing that dream job one day. Internships help students form the career path that will take them where they want to go," she said.
For more information on the Internship Services program, contact Chisholm at lchisholm@polk.edu or 863.298.6897.