Ryan Darley Presses Life's 'Restart Button' at Polk State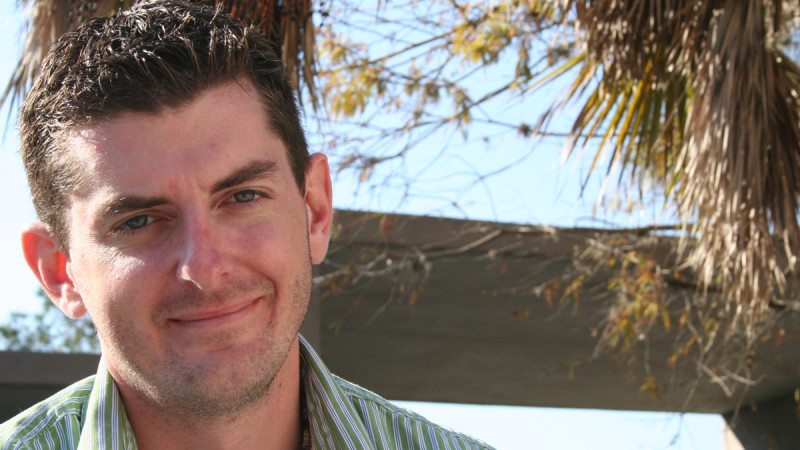 In many ways, Ryan Darley has lived two lives.
He served as a sergeant in the U.S. Army, completing two tours in Iraq, seeing — and risking — things that most people can't even imagine.
But now he's a student at Polk State, nearing the completion of his Associate in Arts degree, leading the Honors Program, and working in Enrollment Services & Outreach — all roles that are about as far from the front lines as he could get.
Yet, though his military career is finished, and while Iraq must seem a different world compared to a college that has become a second home, Darley is still a soldier at heart.
And one day, all the work he's doing as a student, he hopes, will make it easier for his fellow veterans to come home, to get an education, and hit the "restart buttons" on their own lives.
From Illinois to Iraq
Darley, 26, spent much of his childhood in Polk City, but graduated from high school in Illinois, where he watched on TV as America entered wars in Afghanistan and Iraq.
With every news report, every image of servicemen and women defending the country on foreign soil, Darley knew he had to join them.
"I knew there was a war on and it didn't feel right not doing my part," he said.
Darley, it seems, was simply born to be a soldier. His dad served in the Marine Corps — though Darley doesn't think that's what influenced his decision to enlist. Watching the soldiers on TV, he just knew deep down that he belonged beside them, that they — and the country — needed him.
"I didn't want to be 10 years in my future, trying to explain a war that I didn't fight," he said.
At 19, he left his family, his friends, girlfriend — a life headed, he said, for a "picket fence" — and joined the Army.
Darley's first tour of service in Iraq was 2005-2007, his second from 2009-2010.
He discusses both periods of time cautiously, but what it all comes to is this: Going to war changes someone in a multitude of ways that can't be undone.
"In Iraq, everyday you're above ground is a good day," he said.
When he returned home — his family had resettled in Polk County while he was in the service and he now lives in Auburndale — he spent a year feeling lost.
It was difficult to return to a life filled with trivial problems — cars not starting, a bad day at work. He couldn't be in large crowds of people, like at Wal-Mart. He'd spent years taking orders and now he was just drifting, not sure what to do next. Even worse, very few people understood what he was feeling —unless they've served, most people can't.
"I was an alien in my own country. That was strange," he said.
At the end of that first year back, he knew he had two choices: continue to drift — a choice that would only get harder to undo with each passing day — or go to school.
He chose the latter, enrolling at Polk State.
Pressing the Restart Button
With his military educational benefits, Darley certainly had plenty of options for his higher education. But when he visited Polk State, he felt welcome, like this was a place that could help him find his way.
"I walked into Student Services and (Enrollment Services and Outreach Coordinator) Matina Wagner made me feel like I was the only person on campus. She helped me get into classes and walked me through the whole process. She made me feel that I wasn't alone," he said.
He had a similar experience with Polk State Winter Haven Dean of Student Services Saul Reyes. Darley recalled Reyes staying late on numerous evenings, helping Darley collect his handwritten, hard-to-find transcripts from his small Illinois high school.
Since those early days, every staff member, every instructor he's encountered has helped him in some way.
"I saw the personal side of Polk State. This place helped me find my way," he said.
Wagner recalled her first exchanges with Darley, and said the growth she's seen in him since is remarkable.
"When I first met him, he couldn't be around crowds of people. Can you imagine not being able to be around crowds and coming to the first day of classes here? But now, he represents our College at events and other schools. He does tours on the campus," she said.
Darley added that for a veteran, Polk State's small class sizes were especially helpful.
"At a big university, I would have been in one of those big auditoriums with no personal connection. I would have felt alienated," he said. "It's the polar opposite here. Instead of feeling like an outsider, I feel like an integral part of Polk State."
Darley doesn't just "feel" integral at Polk State. He really is.
He is president of the Polk State Winter Haven Honors Program Student Council and serves on the board of My Brother's Keeper, a service to help needy students. Even just watching him casually interact with his fellow students, there's an obvious sense that he is an example-setter.
Robin Savage, president of Polk State Lakeland's Honors Program Student Council, said she's observed Darley's influence on other students numerous times.
"Ryan is very persuasive and has a lot of charm. He's had a lot of experience with leadership. I think people are equal parts intimidated and in awe of him," she said.
"He's in a unique position because he is both a student and an employee of Polk State. All his goals are about the school, about improving the programs. People know that when they need something done, they can call him."
At Polk State, Darley said he was able to do something that eludes many veterans in transition from the battlefield: press the "restart button" on his life, he said. He'd always planned on a long-term career in the military, but at Polk State, he began to see a new path.
He is studying for his Associate in Arts degree, following the Sociology advising track, and plans on continuing for a bachelor's degree.
Ultimately, he'd like to help Polk State expand its resources for veterans, creating a network that can help veterans connect with one another during the difficult transition from service to student life.
"I'm the exception, not the rule. Most veterans struggle in a lot of different areas. They're lost, floating, just waiting for people to show them what to do, waiting for someone to give them an order," he said. "Independence after the military is very difficult to achieve."
His passion for helping his fellow vets in their transition to college is one shared by Polk State administrators, including Student Financial Services Director Marcia Conliffe, who has worked to streamline and personalize the financial aid process for veterans.
"How can you not be passionate about helping people who have served in the line of duty to defend our country?" said Conliffe.
"It takes a special person to be a veteran, and our goal is to be of assistance to veterans every step of the way."
In helping other veterans, Darley said, he can give back to a place that has done so much for him.
"When I'm a part of something, I give it everything I can," he said. "I don't think this place will ever let me go."
Polk State's Student Financial Services offers specialized assistance to veterans and the College hosts several events through the year to help veterans make the transition to the classroom.