Taiwanese Visitors Impressed with Polk State's Offerings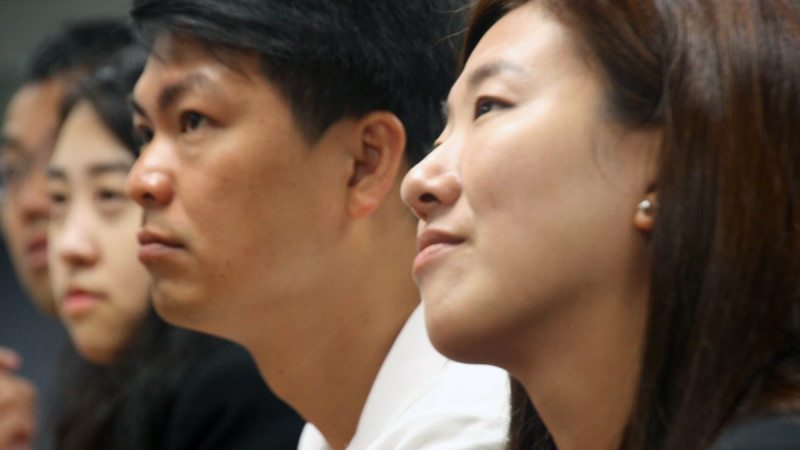 On Thursday, Polk State hosted six Taiwanese visitors who are in Central Florida as part of a Rotary International exchange program.
The group is three weeks into their tour of Hardee, Highlands, Hillsborough and Polk counties, and will head home later this month. The program, said Winter Haven Rotary member Tom Broadaway, gives young professionals the opportunity to learn about other cultures; a group from Winter Haven earlier this year spent more than a month in Taipei, the capital of Taiwan.
No tour of Winter Haven would be complete without a stop at Polk State College, said Broadaway, who described the College as integral to learning about the city.
The group included Vincent Kuan, the only Rotarian among the visitors and a director for a management services company; Jinny Chen, public relations manager for a resort in Taipei; Louie Chen, a police officer for the Taipei City Police Department; Grace Liu, who sells plastics used in the IT industry; Phillip Hsieh, executive secretary for the Association of Vocal Artists of Taiwan; and Synia Su, an occupational therapist.
Polk State Winter Haven Director of Student Life Carlos Parra led the group on a tour customized to each individual's professional interests. Highlights included the Polk State Kenneth C. Thompson Institute of Public Safety, Nursing department, Office of Communications and Public Affairs, Winter Haven Fine Arts Theatre, and Physical Therapist Assistant program.
Each stop was a learning experience, said members of the group.
Louie Chen, unsurprisingly, was most interested in the public safety institute, where he learned that law-enforcement trainees learn a wide range of procedures, from how to conduct traffic stops to investigative techniques.
"I am quite impressed that you teach the big picture," he said, explaining that in Taiwan officers are trained in one aspect of police work and carry out only specific job duties related to their training.
"I will be able to bring some new ideas to Taiwan based on what I've learned here."
Participants were also impressed by the Nursing program's patient simulators — which can cough, moan, and even register a blood pressure, all to help students gain a lifelike experience. Technology aside, they were also interested to learn that the program regularly outperforms the state and nation on the licensing exam for Registered Nurses.
Kuan said he texted a friend back home, a nursing manager, to share that he'd just toured a state-leading nursing program.
Jinny Chen said what stood out to her about the College is its variety of academic offerings.
"To be able to study public safety, nursing and the arts in one place, that is very new to me. You offer so much to your students," she said.