Register for Fall Classes Sooner Than Ever, Before Summer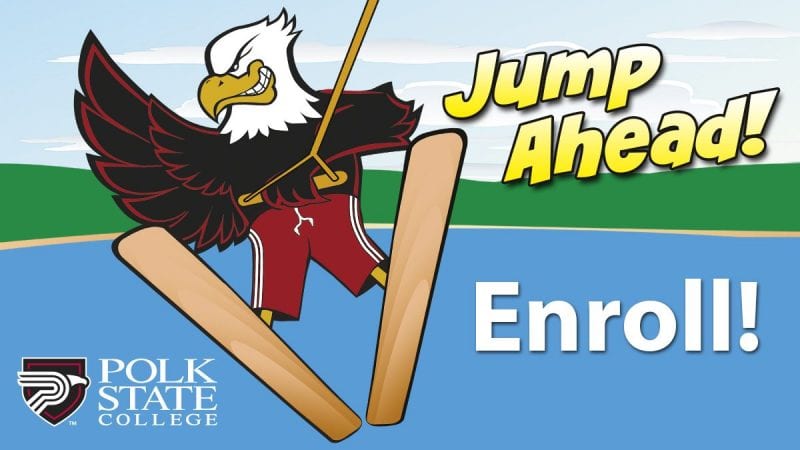 To ramp up student retention and ensure that students have access to the courses they need, Polk State College is giving students the ability to enroll for fall classes sooner than ever before.
Beginning April 9, current students will be able to enroll in courses for both summer and fall terms. Previously, fall registration began in June, after students started summer classes or left for summer break.
"This is a solution to 'summer melt,' or the phenomenon where, over the summer, college students lose the motivation to attend college," Interim Vice President of Academic Affairs Donald Painter said. "We want students to take advantage of this opportunity because it will allow them to leave for the summer without the stress of fall enrollment looming. It will also help to ensure that they come back to school for the next semester."
Students who have completed 30 credit hours or more and qualify for priority registration will be able to enroll for summer and fall classes even earlier on April 2. Students can check their credit-hour status and whether they qualify for priority registration on PASSPORT.
Prospective students will be able to register for summer courses on April 9. Fall registration will open for all students on June 4.
The summer semester begins May 9 and the fall semester starts August 20.
Why register early?
"Students will have the greatest availability of courses with the best chances of getting the classes they need at the times that fit into their schedules," Vice President of Student Services Reggie Webb said.
Plus, there won't be any changes to payment and financial aid.
"Register now, pay later," Webb said. "Registering early will only be a benefit to the students."
Polk State has continued to implement successful retention strategies, such as its First-Year Experience (FYE) Program, which introduces freshmen to the resources they need to be successful in college.
The program has increased the College's retention of its full-time freshmen each year since its inception in 2014. That year, the one-year retention rate for full-time freshmen was 58 percent. Nearly 70 percent of full-time freshmen who participated in FYE in Fall 2016 enrolled in Fall 2017 classes.
"FYE has been very successful and we started thinking, 'how do we make sure students continue to come back and complete their degrees on time?'" Painter said. "Earlier registration is the answer."
Currently enrolled students may register through PASSPORT. They should also check PASSPORT for possible holds on their accounts that may prevent them from registering so that those holds can be resolved.
For prospective new students, an online application must be submitted to Polk State. Information on how to complete orientation and register for classes is included in the College's admission letter, as well as online at Admission Steps. The application will not be available from noon March 16 to noon March 19 as the College transitions to a new system.
Students may complete orientation online through Admission & Aid, where they can also take their "personal snapshot" – an academic advising tool that allows students to assess their abilities in math, reading, and writing, as well as responsibilities outside the classroom, such as work and families.
Students are also encouraged to begin the financial aid process as early as possible. The first step is to complete the Free Application for Federal Student Aid (FAFSA). Assistance completing the FAFSA is available through the Office of Student Financial Services.
Throughout the registration and financial aid process, students should regularly check PASSPORT and their College email accounts for important registration and financial aid information from the College.