Polk's Newest Vice President: "Education Makes the Difference"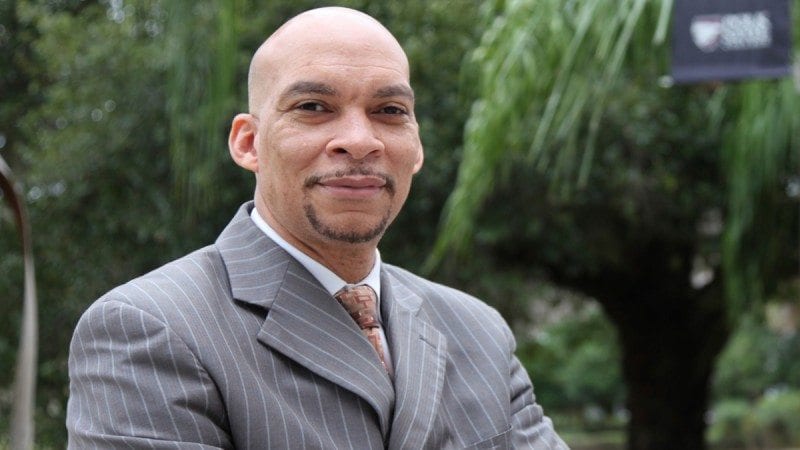 Sitting behind the desk in his new corner office, on just the second day of his job as vice president of student services, Reggie Webb thinks about what his life might have been.
He grew up poor. Drug deals took place just behind his backyard fence. Coming from those circumstances, no one would have been too surprised if he'd dropped out of school, gotten into trouble, taken a darker path.
The difference between what he might have been and what he's become, Webb says, has been education. Now, in his new position, every decision he makes will be driven by helping Polk State students get the same life-changing advantage.
"When students see me, I hope they see a person who is advocating for their success," Webb said, adding that his success is also due to his faith in God. "What I do every day, at its most basic, is remove as many barriers that might stand in their way."
Webb grew up on Sixth Street in North Lakeland. Beyond the four walls of his house, the potential barriers to his own success — crime and poverty — were rampant.
But inside Webb's home, even though money was always tight, his parents never stopped pushing their children to excel in school. Webb's mother worked at the Publix bakery. His dad worked at the phosphate mines. Both only had a high-school education.
"They would tell me every day, 'This is why you need to go to school, so you don't have to work the night shift and miss having dinner with your kids,'" Webb said.
Every night in the Webb household, homework followed dinner. The years went by — Webb moved from what is now Lincoln Avenue Academy to Southwest Middle to Lakeland High — and like his parents hoped, he never got off educational track.
After high school, he became the first of the family's eight children — six biological, two adopted — to go to college.
"That's when I realized we were poor, was in college," Webb said. "Before that, you don't know any different. You just know what you have."
He got his degree with help from scholarships, student loans and the federal Pell Grant program. He also worked as a cook at Morrison's Cafeteria.
He didn't have a car, so every day of college involved bumming a ride to get to between his job and class.
"We have some students here at Polk, who stand outside in the rain and cold to wait for the bus so they can come to class. We have students who need help understanding Pell. I can relate to all of those things. I've been where they are," he said.
In 1989, Webb reached the goal of a college degree when he earned his bachelor's degree in Accounting from Bethune-Cookman University. Four years later, he was on the commencement stage again, earning his Master of Business Administration from Nova Southeastern University.
Webb is a self-described "numbers guy," and after college, he went to work for a local bank. Just a year into that job, however, he applied at what was then Polk Community College, for a position as an academic advisor.
He started in September 1990, and by the following December, when he attended his first Polk graduation, he knew he'd found his calling — and a home.
"Students came up to me and shook my hand, and thanked me for my help. To me, I was just doing my job, but my job really made a difference. That was the moment I knew this was right for me," he said.
Webb went on to become an admissions specialist, director of enrollment management and dean of student services at Polk State Lakeland.
Being the "numbers guy" that he is, Webb likes to point out that he's 46 years old and has worked at Polk for 24 years — more than half his life. He's also sent two of his four children to the College; his two youngest children may well become Eagles, too.
"For all these reasons, when I think about Polk, I think about home. This place means so much to me," he said.
In his new post, Webb oversees the numerous components of Student Services, from advising and admissions, to financial aid and student activities.
Webb's position is a new direction for the College. Previously, it employed a vice president for both academic and student services, a position that has been held by Kenneth Ross for six years.
Ross remains as vice president of academic services until he retires later this year.
"Reggie has decades of experience that has prepared him for this job. On top of that, he's a genuinely caring and dedicated guy. He's the kind of guy who will work as hard as it takes to get everything done."
His ultimate goal, Webb said, is to consolidate Student Services for a "one-stop shop" effect. This will involve lots of cross-training, to ensure employees in various departments are sharing information and relaying consistent information to students, and closely examining processes in search of ways to ease and  enhance the student experience. He also aims to help increase the College's selection of online courses to expand its open-access model.
"Student success is really, truly at the center of everything at Polk, and Vice President Webb's position is another indicator of just that," said Polk State President Eileen Holden. "We recognized that to make the biggest, most positive impact possible for our students, we needed a member of our administration solely dedicated to all the various services that get them from 'prospective student' to 'college graduate.'"
Even as his career has taken him all the way to the president's staff, Webb said he remains closely tied to where he started. He often drives through his former North Lakeland neighborhood. His kids are always in the backseat, and he reminds them that no matter what obstacles they face, education can take them wherever they dream of going.
"Going back to the old neighborhood, it reminds me that it doesn't matter where you start, it's where you end up — and the difference between the two is your education," he said.
A reception to celebrate Webb's new position at the College will take place from 4:30 to 6:30 p.m. on Jan. 28 at the Polk State Winter Haven Fine Arts lobby. RSVP to Yvonne Velez at yvelez@polk.edu.