Polk State Dean Also Pastor of 400-Member Tampa Church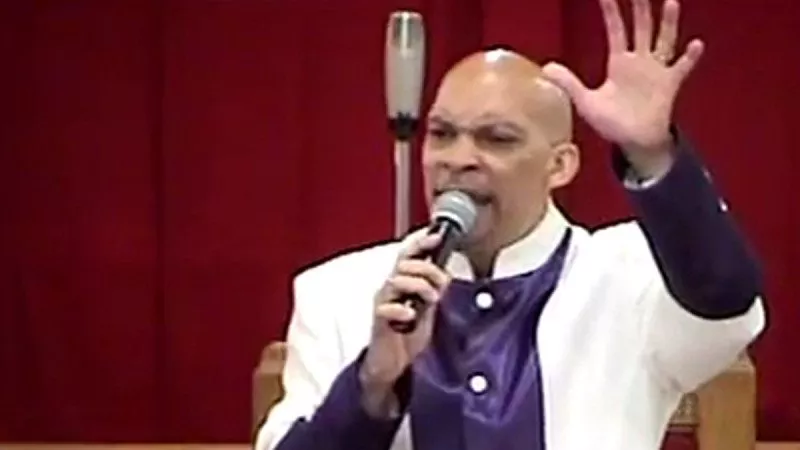 To know Reggie Webb is to know a man of two completely different identities — or so it would seem.
During the workweek, he is Polk State College's Lakeland dean of student services. He wears suits, works behind a desk and oversees everything from recruitment to retention, advising to testing.
Then comes Sunday, when Webb dons a long robe and takes to the pulpit as the pastor of Tampa's New Bethel Progressive Missionary Baptist Church. He pumps his fists, stomps his feet and delivers impassioned sermons punctuated by resounding "amens" from the congregation.
It's a professional duality that he maintains by always remembering what's most important, Webb said.
"I'm a man of God first, and I'm blessed to be a dean and a pastor," he said.
Attendees of the upcoming Fifteenth Annual Lakeland Mayor's Prayer Breakfast will have the opportunity to experience Webb as a pastor. He will be the guest speaker at the event, sponsored by the Citrus Center Kiwanis Club, planned for 7:30 a.m. on May 3 at The Lakeland Center.
The event's host, Lakeland Mayor Gow Fields, is a Polk State College alumnus and former Trustee.
Growing up in Lakeland, Webb attended Mount Calvary Missionary Baptist Church and dreamed of playing professional football for the Tampa Bay Buccaneers. He graduated from Lakeland Senior High School and went on to earn a bachelor's degree in accounting from Bethune-Cookman University. After college, he returned home to Polk County and soon started working at Polk State, climbing the ranks of Student Services. He married his wife of 17 years, Deborah, and became a father of four. He earned a master's from Nova Southeastern University.
Through it all, there was something missing, a void he couldn't ignore.
"I remember during my sophomore year of college, I was sitting in a church in Daytona Beach. The pastor was up there preaching and the Holy Spirit spoke to me, telling me that preaching was my calling," he said.
"In my senior year, I came back to Lakeland for a concert at a different church and someone called out to me and said, 'Hey, Preacher.' I told him that I wasn't a preacher, and he said, 'You'll be a preacher. I can see the calling on your life.'"
There were similar moments in the years that followed. Family friends and complete strangers would mistake him for a preacher. Increasingly, he felt there was a higher purpose he should be fulfilling.
In 1997, he gave in, enrolling at Dallas Theological Seminary's Tampa extension site.
"God reveals himself to you a little bit at a time. He showed me a little bit here and there and then it became a burning desire that this was something I had to do," Webb said.
His decision to finally pursue the ministry created a sense of relief in the family, said Deborah Webb.
"It was really a burden that was lifted off him. He knew in his heart that this was what he was supposed to be doing," she said.
Webb became an ordained minister in 1998, and in 1999 became an associate minister at Harmony Baptist Church in Lakeland. In 2002, he became the pastor at New Bethel, where he leads a congregation of about 400.
As pastor, he teaches Bible study every Tuesday night, spends his Saturdays visiting sick members, and preaches on Sunday mornings — two services on the first, second and fourth Sundays of the month, and one service on the third Sunday.
Juggling his work at the College and at the church, as well as a family, is not always easy, Deborah said, but she's constantly impressed by her husband's grace under so many demands.
"Regardless of what role he's fulfilling, he's very passionate and gives it his all. He's a wonderful husband and wonderful father. You would think that he only works at Polk, or only works as a pastor, or is only a husband and father, because he puts his energy and whole self into everything he does," she said.
While Webb's two professional roles might seem totally unrelated, in many ways he is better as a pastor because of his work as a dean — and vice versa. For example, his experiences at the College have taught him the importance of using technology to connect with young people, so he had digital television screens installed in the sanctuary at New Bethel and established a Facebook page for the church.
At the same time, since becoming a pastor he is more forgiving and understanding, a change that helps him to help students.
"I see people not problems. I've learned that people react based on their situation in life," he said.
Polk State Lakeland Provost Stephen Hull agreed that while at first blush Webb's two roles seem wildly unconnected, that is really far from the truth.
"As a pastor, he must excite his congregation. As a dean, he must excite students about their studies and the opportunities they will have because of higher education. As a pastor, he helps people in times of crisis. As a dean, he encourages students to never stop working toward their goals. What it comes down to is that in both his jobs, Dean Webb connects on a personal level and makes a meaningful difference in people's lives," he said.