Polk's First Legislative Tour Highlights Programs, Budget Priorities Baccalaureate Degrees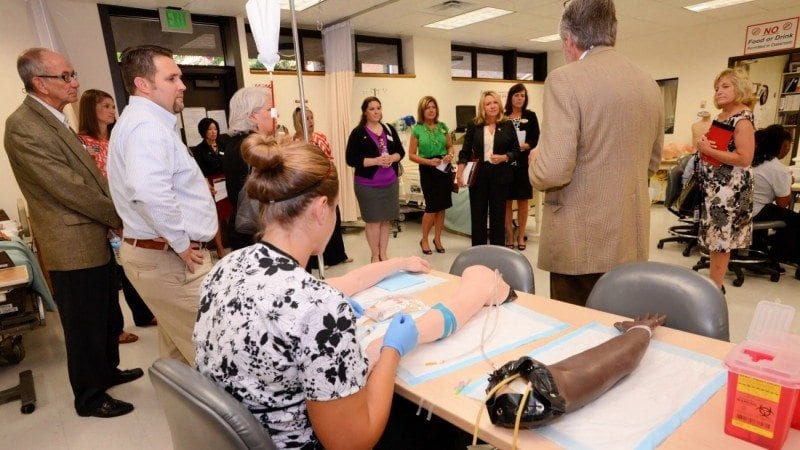 Members of Polk County's legislative delegation got an up-close glimpse of Polk State College's facilities, impact on students' lives, and priorities for the upcoming year during a special event Wednesday.
State Rep. John Wood (R-Winter Haven) and liaisons from the offices of Rep. Ben Albritton (R-Wauchula), Rep. Neil Combee (R-Polk City), Sen. Denise Grimsley (R-Sebring), Rep. Seth McKeel (R-Lakeland), Sen. Kelli Stargel (R-Lakeland) attended Polk State College's first-ever Legislative Tour.
Polk State District Board of Trustees Chair Dan Dorrell and Vice Chair Teresa Martinez also attended.
After a brief welcome by President Eileen Holden, attendees began their half-day itinerary with a tour of the Lakeland campus. Then they headed to Polk State Winter Haven for another tour and a budget briefing led by Polk State Vice President of Administration and CFO Peter Elliott.
The Legislative Tour highlighted the College's state- and nation-leading Nursing program, collegiate high schools, and facilities in line for renovation. Perhaps the most memorable portion of the event came from three students who spoke about the College's bachelor's degrees.
Earlier this year, the Legislature issued a moratorium on new bachelor's degrees offered by Florida College System institutions, including Polk State College. The moratorium is intended to give the state a chance to assess FCS four-year degree programs, to ensure there is adequate need before additional programs are approved.
The three students put it simply: Polk County needs Polk State College's affordable, accessible bachelor's degree programs.
Daniel Jaime, who earned his Associate in Science in Early Childhood Education and Management from Polk State College, said Polk State was his first choice for his bachelor's degree. The College was in the process of launching a four-year degree in his field, but those plans came to a halt with the Legislature's moratorium. Jaime had to find another option for continuing his education, a process that has taken him months and has forced him to travel outside the county.
Jaime, a center director for the East Coast Migrant Head Start Project, said his field is increasingly requiring a bachelor's degree education.
"I tell my staff and the migrant families that we serve at East Coast that if I can do it, if I was in the field and now I have a college degree and a family, then they can do it too," Jaime said. "They can do it because we have an institution like Polk State College."
Rosemary Gorman, who works as an office manager for a local electrical contractor, shared her story of having been laid off four times in three years. Gorman, who holds an associate's degree earned in 1985, decided to enroll at Polk State College.
She is now in her final semester of the College's Bachelor of Applied Science in Supervision and Management degree program.
After sharing her story with attendees of the Legislative Tour, Gorman reflected on how far she's come from her last layoff to her last semester before graduation.
"There was a time when I felt worthless and lost. What did I have to get out of bed for?" she said.
"Now I'm blessed. I'm an overcomer."
Gorman is looking into obtaining an advanced degree after she graduates from Polk State, and she's also exploring international internships. She's come so far, and none of it would have been possible if not for the chance to earn an affordable, accessible bachelor's degree at Polk State College, she said.
"I hope what the visitors took away from me today is that this community has a need for educated, quality employees. This economy is tough. Businesses need top-notch people to get ahead. Polk State College equips its students to be those high-quality employees," she said.
The third speaker was Debbie White, who said she has gained new personal confidence while studying in the College's BAS program.
Holden summed up the bachelor's degree presentation by relating background on the College's Bachelor of Science in Nursing program.
"Our five area hospitals came to us and said we need BSNs," she said. "It's important to remember that 75 percent of our bachelor's degree students come from our Associate in Arts and Associate in Science degree programs. Without us, they don't have the access to a bachelor's degree education."
Polk State College offers four bachelor's degrees — the Bachelor of Applied Science in Supervision and Management, the Bachelor of Science in Nursing, the Bachelor of Science in Criminal Justice and the Bachelor of Science in Aerospace Sciences.
The average age of Polk State's baccalaureate students is 36, and 88 percent live in Polk County. The overwhelming majority of Polk State's baccalaureate students rank the College's affordable tuition and convenient locations as the most important factors in deciding to advance their education.