Polk Students Continue Penny Harvest Tradition, Collecting $976 in Spare Change for Charity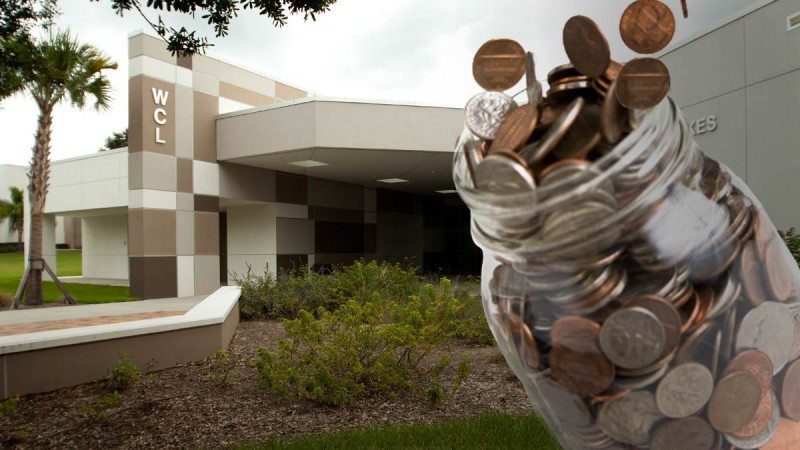 In what's become an annual tradition, students at Polk State Chain of Lakes Collegiate High School have once again gathered hundreds of dollars in spare change to benefit local good causes.
This year, the grand total was $975.67.
Each fall, members of the school's Leadership Cadre, a service-learning club, participate in Penny Harvest, a national project led by the nonprofit Common Cents, an organization that specializes in creating and managing service-learning programs for young people.
Since 1991, students all over the country have participated in the organization's Penny Harvest, collecting spare change that pays for grants that benefit community organizations.
Here a Polk State, the annual Penny Harvest has become a favorite fundraising activity among the students, who approach the project with a competitive spirit. This year, student Nicolas Redmond, a junior from Kissimmee, collected the most spare change, with 198 pounds of money to his name.
Competition aside, the students say they like getting involved for the betterment of their community. This year's proceeds, the students decided, will be divided between the Winter Haven Housing Authority and the Women's Resource Center.
"It teaches us how to be leaders and volunteer for good causes," said Gonzalo Gutierrez, a junior from Haines City, who raised $235.
Leadership Cadre advisor and English professor Laura Abercrombie said one of the major teaching points of Penny Harvest is that students have to learn about the needs of their community.
"The program is not affiliated nationally. There are no requirements for the donations we make. The students choose where to donate based on the needs they see," she said.
"It teaches the students to look at the needs of the community and instills philanthropic values."
Polk State Chain of Lakes Collegiate has existing relationships with both the Winter Haven Housing Authority and Women's Resource Center. Since 2011, students from the high school have tutored children served by the Authority, a project that earlier this year garnered recognition from National Association of Housing Redevelopment Officials. Earlier this year, students at the high school collected prom dresses that the Women's Resource Center sold at deep discounts to students who may not have otherwise been able to afford a dress.
Each year, MidFlorida Credit Union converts the change into a check that is issued back to the school.
In addition to Polk State Chain of Lakes Collegiate, Polk State operates Polk State Lakeland Collegiate High School and Polk State Lakeland Gateway to College. These public charter high schools allow students to fulfill requirements for their high school diplomas while also earning college credit — all at no cost. In many cases, students graduate with both their diplomas and associate degrees.