Polk State, Winter Haven Housing Authority Partnership Gets National Recognition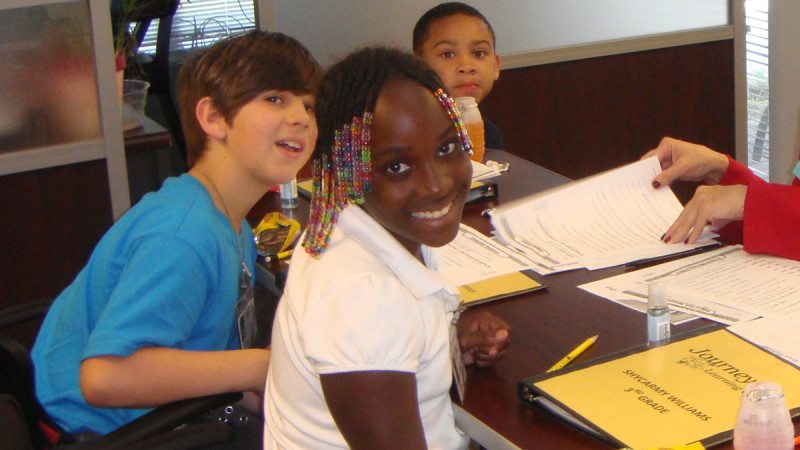 A service-learning project at Polk State Chain of Lakes Collegiate High School has garnered the Winter Haven Housing Authority its first-ever merit award from a national housing and community development organization.
"I am very grateful and thankful to Polk State Chain of Lakes Collegiate for the support they've given to our residents, which has allowed us to earn this national recognition," said WHHA executive director Lisa Landers.
The Winter Haven Housing Authority (WHHA) oversees 164 public housing units that serve approximately 400 individuals, as well as other subsidized housing.
About three years ago, Landers contacted Polk State Chain of Lakes Collegiate High School Director Bridget Fetter for her expertise and assistance in creating an on-site educational program for her youngest residents.
The result was the Journey Learning Center Initiative, an after-school tutoring program.
Polk State Chain of Lakes Collegiate emphasizes service-learning, in which students use what they learn in the classroom to make an impact in the community. The chance to partner with the WHHA was an exciting opportunity — not only for the young students, but the older ones as well — Fetter said.
"Through service-learning, something ignites in the students, and the learning quotient is improved," Fetter said. "The idea for an after-school program fit perfectly with our focus on service-learning."
Twice a week since early 2011, Polk State Chain of Lakes students have spent their afternoons at the Journey Learning Center, a computer lab and study space located at the Lake Deer Apartments in Winter Haven.
The Polk State students help the children with their homework and develop educational, age-appropriate activities to build on what they're learning in school. They've even helped arrange special events, like a 2011 visit by a Winter Haven Fire Department crew and Black History Month speakers.
"Many of our students stay here after school and work on their lesson plans," Fetter said. "They've really bonded with the children and they truly love working with them."
About 50 children, who range from kindergarteners to eighth-graders, have participated in the program since it began, with about 30 Polk State students having served as tutors.
For the difference it's made in the lives of the young students, the project earlier this summer won an Agency Award of Merit from the National Association of Housing and Redevelopment Officials (NAHRO).
In selecting winning programs, NAHRO places emphasis on innovation, whether a program could be easily replicated at other sites, affordability, and whether it has achieved successful results.
According to NAHRO, this year there were 223 applicants, with 184 selected as award recipients.
Landers added that the WHHA has never before had a formal tutoring program. Also, to her knowledge, it is unusual for housing authorities to partner with a high school for such a program.
The contact young WHHA residents have had with the Polk State Chain of Lakes students has been invaluable, she said. She's seen measurable academic gains, but also just a general realization of the importance of education.
"The children were just existing. They were coming home from school and it was playtime," Landers said.
"Through this partnership with Polk State, the children now have mentors, people they can look up to as big brothers or big sisters. They see people who aren't that much older than them who are excelling and they begin to see that they can excel too if they work hard enough."
Lake Deer resident Perry Williams has a daughter who is entering her sixth-grade year at Westwood Middle School. She'll start this next level of her education with stronger math skills developed through her work with the Polk State tutors, he said.
"She definitely improved. It's a great thing that the [WHHA] and the College is doing," he said.
"I think she respected the older kids more than she would have an adult and paid more attention to them."
Fellow Lake Deer resident and single mother Liza Liboy said two of her three children have participated in the tutoring program. Between juggling work and caring for her kids, it's sometimes hard for her to find the time to concentrate on their academics. She's appreciated having the Polk State students' help.
She said her middle son, who is in elementary school, has improved significantly with his reading.
"I think he was more comfortable practicing his reading with someone who is closer to his age," she said.
"One day, I went over to the [Journey Learning Center] and he and his tutor were sitting side by side, reading. The Polk State student would have him try sounding out a word several times before she would help him."
The WHHA may have gotten an award for the program, and the young students may have gotten personalized academic attention, but the Polk State students receive plenty from their tutoring experiences, too.
"I love helping the children. Sometimes they don't have that figure in their lives or the resources to get extra help," said Natalie Weekfall, a senior at Polk State Chain of Lakes Collegiate who participated in tutoring last year and will do so again this coming academic year.
"Just in one semester, I saw them grow in their studies."
Caroline Jackson, a pre-med student at Florida State University who earned her Associate in Arts degree while a student at Polk State Chain of Lakes, recalled the day when she watched one of the children choose to write a story rather than color.
"That showed me she'd become more enthusiastic about learning, not just playing," Jackson said.
Jackson added that she'll draw on her experiences with the children as she pursues her career goal of becoming a pediatrician.
"It taught me a lot of patience and about how to work with kids," she said.
Polk State Chain of Lakes Collegiate High School students will resume tutoring at the Journey Learning Center in the fall semester.
Polk State operates Polk State Lakeland Collegiate and Polk State Chain of Lakes Collegiate in Winter Haven. These public charter high schools allow students to fulfill requirements for their high school diplomas while also earning college credit — all at no cost. In many cases, students graduate with both their diplomas and associate degrees. A third high school, Polk State Lakeland Gateway to College Collegiate High School, will begin in August to help those facing the most difficult of circumstances complete their diplomas and earn college credits.