Polk State Thanks Its Hurricane Heroes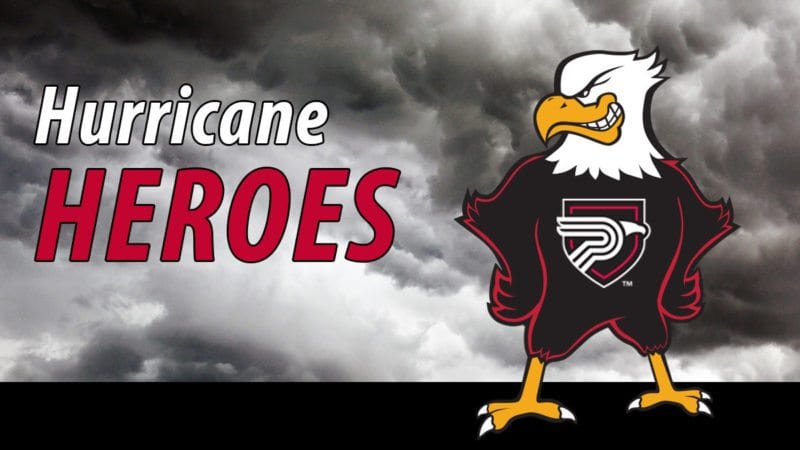 When students, faculty, and staff returned to Polk State College after Hurricane Irma closed campuses for 10 days, it was like the Category 2 storm with 115 mph wind gusts never came through.
That's because several employees, vendors, and volunteers stepped up to help Polk State prepare for and recover from the storm. Some even hunkered down on campuses during the hurricane to ensure security, mitigate damage, and begin recovery on the ground as soon as Irma's wrath subsided.
"Our Hurricane Heroes are to thank for keeping our facilities, students, faculty, and staff safe before, during, and after the storm," President Angela Garcia Falconetti said. "These men and women worked exhaustively to prepare us, keep us informed, and return us back to normal after Hurricane Irma, and I am eternally grateful for their commitment and hard work."
Cooperation and dedication
More than a handful of departments came together to navigate the College's preparation and response to the storm, including Security, Facilities, Risk Management and Safety, Central Services, Information Technology, Instructional Technology, and Administration.
Director of Facilities George Urbano functions as the incident commander, keeping nearly 30 employees part of the Crisis Team informed about preparations, assessments, damages, and repairs throughout the process.
"Preparation for any major event is nerve wracking and takes a lot of cooperation," Urbano said. "We are lucky to have had the cooperation and dedication of everyone."
While the Facilities and Security teams kept the team abreast of what was going on at the campuses and centers, Director of Risk Management and Safety Denise Andreu kept the team informed about the development of the storm from Polk County's Emergency Operations.
She spent 48 consecutive hours at the EOC from the Saturday before the storm through Monday after it passed and continued to bring the College information about restoration and relief efforts through the week.
"I'm not the one making the decisions, but I'm the one providing the most up-to-date, accurate information so that others can make the best, informed decisions," Andreu said.
'It takes a special group of people'
As Hurricane Irma approached, College administration decided it was in the best interest of students, faculty, and staff to close the campuses, but some Hurricane Heroes stayed behind.
Lt. Bobby Neil and Sgt. Bobby Brigman of the Polk County Sheriff's Office, and members of Security rode out the storm at the Winter Haven and Lakeland campuses.
"We have a dedicated ride-out team – they rode out the hurricanes in 2004," Urbano said. "It takes a special group of people to leave their families during a time of emergency for the good of others."
The ride-out team kept the rest of the Crisis Team informed of damages and conditions on the campuses via text message throughout the storm.
Lt. Neil addressed leaks at the Winter Haven campus early in the storm, for example, by using buckets and towels to collect and remove water.
"I was happy to receive constant updates from the team on not only the condition of the campuses, but also their own safety," Falconetti said. "Thanks to their commitment to stay on the campuses during the storm, they were able to mitigate the damage to our buildings."
'Spirit of the institution'
The College jumped into immediate recovery mode after the storm.
Seeing the devastation Irma caused on the campuses was just that – devastating, Urbano said.
"But everyone looked around at each other for support and went about doing their jobs – all pitching in with a sense of ownership to get the campuses back open as soon and safely as possible," Urbano said. "It's more than a job – everyone really embraces the spirit of the institution and comes together to help."
For Polk State JD Alexander Center Director Andy Oguntola, his center was his first visit after the storm.
Although Polk State remained closed through the week, Oguntola worked Monday through Friday to ensure students, faculty, and staff would return to a safe, beautiful center, he said.
"We took notes, pictures, and telephone conferenced in with leaders daily, and we had to ensure the building was able to be used in time for our students," Oguntola said. "That meant getting our bathrooms working, getting power back in our building, addressing leaks in various spots, as well as branches and debris in the parking lot."
Oguntola called the experience eye-opening.
"You understand that the relationships you build at work are more than just 8 a.m.to 5 p.m. – you understand that we are all family," he said. "Each and every person on the Crisis Team played a great part in preparation and recovery for our students at Polk State College."
The College is like our home
Lakeland Facilities Plant Manager John Sheffield returned to campus the morning after the storm.
"We got hit hard – not one of our beautiful oaks went without sustaining some damage," Sheffield said, "but my team came in and really worked hard to clean up, make roads accessible, and clear anything that could have been hazardous on campus."
Many of the people on Sheffield's team, including himself, returned to work before electricity was restored to their houses.
But to them, Polk State is like their home.
"We love the College and think of it as our home," Sheffield said. "Our main goal was to get it back up and running because we wanted it to be in operating like it should be."
As campuses and centers regained power, the Instructional Technology team got systems restored for students and faculty to return to their classrooms.
Instructional Technology Director Nathan Neuman said it was great to see the selfless teamwork of the department.
"We functioned well with other departments to come together to get the institution up and running as soon as possible," Neuman said. "It was neat to see the great character of the Instructional Technology staff."
"They rose to the occasion with the goal of student success," he added.
That's true for all of the departments and employees who were involved in Polk State's preparation for and recovery from the storm, Falconetti said.
"I can't underscore enough my appreciation for everyone involved in our response to Hurricane Irma," Falconetti said. "The levels of commitment and teamwork that were exhibited during a time of emergency illustrated to me everyone's dedication to Polk State College and our students."
"With that dedication, we can get through anything," she added.
Polk State thanks the following Hurricane Heroes:
Security
Christopher Afrasiabi
Steven Birthisel
Sgt. Bobby Brigman
Lt. Christopher Campbell
Lauren Collette
Luckner Louine
Lt. Bobby Neil
Capt. Warren Oberrath
Michael Shawver
Aron Smith
Valorie Stoneman
Matylda Thompson
Henry White
Facilities
Lyndon Belfon
Bert Bishop
Jacob Brown
John Sheffield
Bill Eberts
Don Gallagher
James Graham
Bruce Isenberg
Brian LaRock
David Long
Aaron Loudy
Robbie Manikis
Jack McDaniel
Jose Ramos
Scott Russell
Keith Smith
Dale Thompson
George Urbano
Adam Weir
Risk Management and Safety
Denise Andreu
Central Services
James Lewis
Harold Parker
Instructional Technology
John Bennett
Barry Collins
Andrew Lokken
Nathan Neuman
Connie Schuett
Glenn Smith
Information Technology
Freddie Acevedo
William DeWitt
Greg George
Kyle Kniffin
Aaron Roanne
Mathew Uzzan
Mark Wennerstrom
Metz Food Service
Star Cone
April Jackson
Barnes and Noble
Natalie Green
Vendors
AD Morgan
APG
Averett Septic Services
Cypress Plumbing
Gibson Refrigeration
US Lawns
WFF Custodial Services
WTS Construction Services
Administrative Staff
Val Baker
Corey Barnes
Naomi Boyer
William Caldecutt
Eric Crump
Howard Drake
Peter Elliott
Angela Garcia Falconetti
Madison Fantozzi
Bridget Fetter
Captain Betty Holland
Steve Hull
Rick Jeffries
Melissa LaRock
Christine Lee
Sylvester Little
Beth Luckett
Orathai Northern
Andy Oguntola
Donald Painter
Larry Pakowski
Tracy Porter
April Robinson
Tamara Sakagawa
Martha Santiago
Reggie Webb