Polk State Students Lend Talents to Art In Transit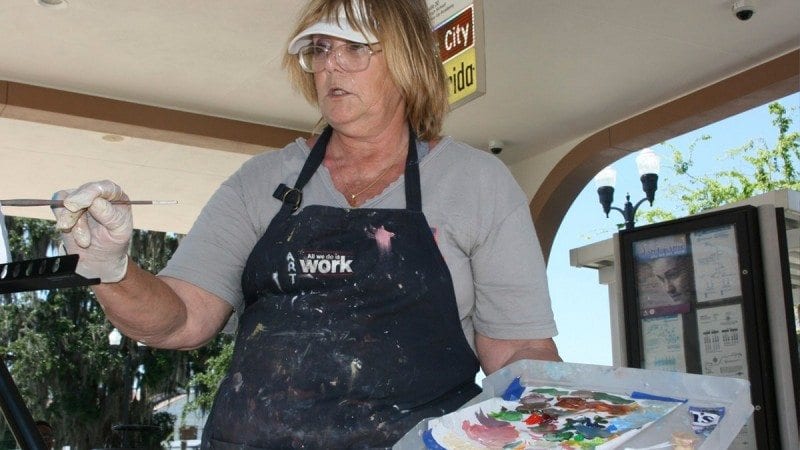 A handful of Polk State Visual Arts students spent Monday afternoon at the Winter Haven bus terminal.
They weren't there to catch a ride. They were there to expose public transit patrons to a bit of unexpected artistic inspiration.
"I hope they leave here with a little piece of me, and that maybe it sprouts their own interest in the arts," said Joyce Irwin, a Lakeland resident who is pursuing her Associate in Arts degree.
"We're too reliant on technology. We should get out of the house, get off the phone, and get some air and culture."
Irwin was one of a half-dozen students in Art Professor Holly Scoggins' Painting I course who turned out to participate in Polk Vision's Art In Transit initiative.
Launched in 2012, Art In Transit is a week-long program to encourage both the use of public transportation and an appreciation for the arts. Everything from live music to poetry readings takes place at both the Lakeland and Winter Haven bus terminals, as well as various bus stops throughout the county.
Polk Vision partners with the Polk Transit Authority and Arts Ensemble for the annual Art In Transit event.
"We want to encourage more people to use public transportation and introduce current patrons to art forms that maybe they've never experienced," Carole Saavedra, communications specialist for Polk Vision, who stopped by the Winter Haven terminal to see the Polk State students at work Monday.
"Maybe this will pique an interest for someone, or create in them an appreciation for something different and new."
Polk Vision is especially pleased to have Polk State involved in the initiative, Saavedra said, because it gives the public a chance to see the artistic talent developing right here in Polk County.
Polk State students are singing, playing instruments, giving a stage combat demonstration, and showing off other artistic talents throughout the week.
On Monday, the Fine Arts students set up their easels, picking a view or detail of the terminal to serve as their subject. They spent the next several hours working away, even amid the distractions of noisy buses and their exhaust, and regular streams of commuters.
Bus patrons stopped to watch the artists work and to ask questions. Some paused for only a moment or two. Others seemed mesmerized, losing themselves as the artists dragged their brushes across their canvases and swirled the colors on their palettes.
"I hope the people who watch us work see that they should pay attention to the little things," said student Ivan Romero, who set up across the street from the terminal to paint its rooflines, which reminded him of buildings in his native Colombia.
"Beauty is everywhere around us."
Scoggins said in addition to giving bus patrons the chance to experience art under unexpected conditions, Monday's exercise also helped her students hone their skills.
"I wanted them to get out of the studio and into the normal, everyday world," Scoggins said.
"As artists, they will paint under different conditions. In the studio, there are no distractions and you can work at any pace you like. Here, you have to work quickly to capture light and shadow that are always changing. There are also lots of distractions from the people stopping to talk to them. This is teaching them to paint faster, to talk about what they're doing, and it's also improving their acute observational skills. They had to find one small area to paint, and do it outside their comfort zone."
Polk State's other Art In Transit activities include:
May 6 — 11 a.m. to 1 p.m., Polk State Theatre students will give a stage combat demonstration at the Winter Haven terminal, 555 Ave. E N.W.
May 6 — 10 a.m. to 2 p.m. Polk State photography students will showcase their skills at the Winter Haven terminal
May 6 — 2 to 4 p.m., Polk State Visual Arts students will draw caricatures and do face painting, College Connector bus, Lakeland route
May 9 — 8:30 a.m. to noon. Polk State student-artist Joyce Irwin will paint on a Lakeland bus route 22 from Polk State Lakeland campus to Bartow and back
For more information on Art In Transit, visit polkvision.com.
Polk State Fine Arts includes Music, Theatre and Visual Arts, all of which enjoy outstanding statewide reputations.