Polk State Student Wins New Supply Chain Management Scholarship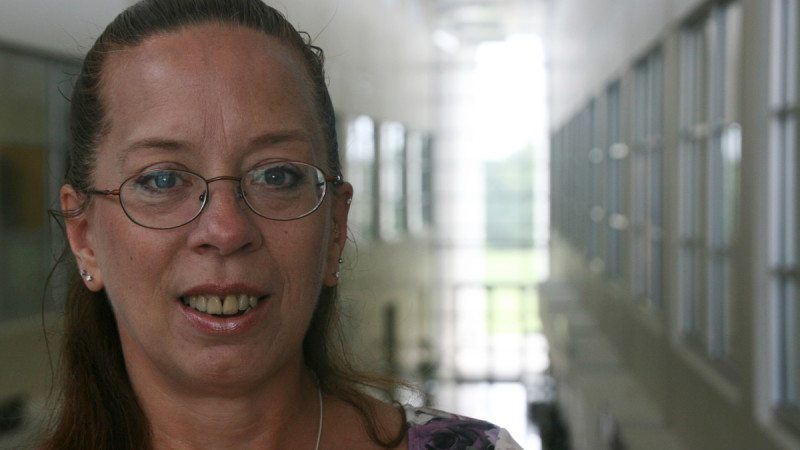 Polk State's Kathy Frey went head-to-head with students from two major universities, and emerged as the clear standout for a new supply chain management scholarship.
Frey, a resident of Lakeland studying in the College's Supply Chain Management associate's degree program, competed against students from the University of South Florida and University of Central Florida for the $1,500 prize from the Council of Supply Chain Management Professionals Central Florida Roundtable.
Rob Doyle, vice president of business development at Winter Haven-based Commercial Warehousing Inc., presented Frey with her check at Polk State Lakeland in May.
Scholarship contestants were judged based on their grade-point averages and an essay, and Frey stood out from the rest, Doyle said.
"She's a single mom, making high grades with a very impressive resume," Doyle said. "This was very well-earned and well-deserved."
Supply chain management is a wide and varied field that encompasses all the steps involved with turning raw materials into products that consumers purchase — from production to transport to distribution.
Polk County's central location makes it a hub for distributors and warehouse operations; supply chain management is a huge sector of the county's economy. According to the Central Florida Development Council, supply chain management and logistics is the second-fastest growing cluster in Polk County.
Doyle said the Roundtable has started its scholarship program to help bring attention to the numerous local job opportunities in supply chain management.
"We want to get more students involved in our career field to make sure we have a pipeline of talented, smart people to fill available positions," he said.
Polk State is a pivotal player in that pipeline, with its Associate in Science degree in Supply Chain Management and certificate training options available through the Supply Chain Management Institute at the Polk State Corporate College.
For her part, Frey said she turned to Polk's Associate in Science degree to gain a broader understanding of the supply chain.
Frey works as a dispatcher and driver manager, overseeing a team of 32 drivers who deliver bottled water as far north as Jacksonville and as far south as Miami.
"Supply chain management is really just management fine-tuned to this specific aspect of business," she said. "It's about moving products more efficiently to boost profit.
"Polk State's degree is going to give me a broader understanding of the industries and all the bits and pieces involved that I felt I was lacking. With a better understanding of the supply chain, I'll be better able to serve my customers."
Frey expects to graduate from the Supply Chain Management degree program in 2014.
In addition to Supply Chain Management, Polk State's business programs include Accounting Technology, Business Administration, the Bachelor of Applied Science in Supervision and Management, Business Operational Management, and Entrepreneurship. The Polk State Corporate College each year trains nearly 12,000 members of the Polk County workforce, equipping them with certifications and updated skills in fields as diverse as child care and advanced manufacturing.