Polk State places students on Pathways to success with guided advising model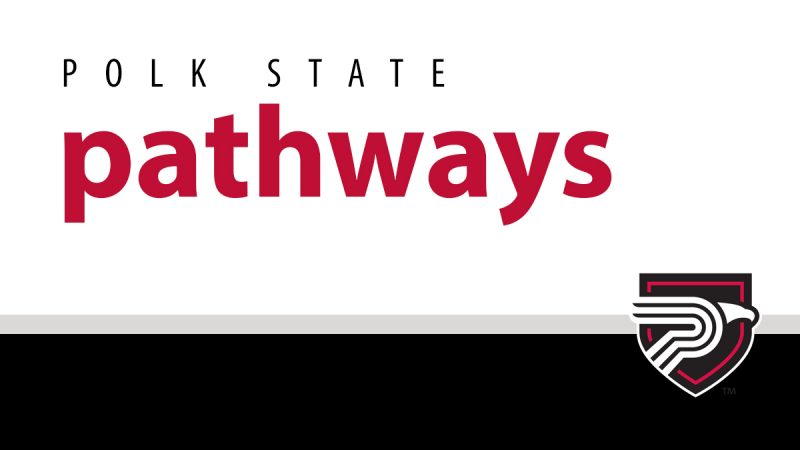 Polk State uses the Guided Pathways Model developed by the American Association of Community Colleges and students are invited to explore the Pathways available to them at the College as they enroll for the summer and fall 2021 semesters.
Simply coined Pathways at the College, this program provides step-by-step direction toward completing personal academic and career goals through degree attainment using an organized process that keeps students on time and on budget.
With more than 80 tracks under eight Pathways, students have access to specific course-based outlines or "program maps" that each provides a term-by-term completion sequence in order to achieve degrees, certifications, and the prerequisites necessary for transferring to other institutions. Individuals can learn more about Pathways during upcoming virtual open house events.
"The Pathways Program provides students with critical support early on, as well as the resources they need along their journeys to achieve their academic goals in a timely manner," Polk State President Angela Garcia Falconetti said. "I am so proud of our faculty and staff, who continue to not only open doors of opportunities for our students but who also guide them on their pathways to graduation."
To ensure students have identified targets, created education plans, and are informed about future coursework requirements at the start of their academic journeys, the Pathways Program is incorporated into advising and the First-Year Experience (FYE) Program. The FYE Program provides a comprehensive onboarding to the College, including a First Flight Freshmen Welcome, the First-Year Seminar course, academic success coaching, and peer mentoring to foster connections to key resources.
In late 2019, the Pathways Program and the College's FYE Program for first-time-in-college students collectively received the Chancellor's Best Practice Award for addressing Governor Ron DeSantis's goal to make Florida first in the nation in workforce education by 2030.
"Pathways was really at the center of the event–and being virtual, it allowed students to sample multiple pathways — #COVIDwin," Pakowski said.
Polk State's Pathways include:
Arts, Humanities, Communication, and Design
Business
Education
Health Sciences
Industry, Manufacturing, and Construction
Public Safety
Science, Technology, Engineering, and Mathematics
Social and Behavioral Sciences and Human Services
In addition to the Pathways Program and identifying academic maps, students are familiarized with resources including Career Coach and Handshake, which provide career forecasts and networking. The College also promotes its articulation agreements with the University of South Florida, University of Central Florida, and Florida Polytechnic University for their ease of transfer to specialized programs via pre-established pipelines. While Florida's state colleges enjoy a 2+2 articulation agreement with the State University System that guarantees any student with an Associate in Arts degree admittance to a state university, articulation agreements with specific universities offer students benefits such as guaranteed admittance into specific programs and access to university resources. In October 2020, Polk State and USF renewed their Memorandum of Understanding for the FUSE Program, which provides transfer pipelines for those seeking to enter Behavioral Health and Health Sciences fields.
"Polk State is proud to partner with universities to further enhance opportunities for students," Falconetti said. "These articulation agreements create pathways from Polk State to universities, complementing the College's Pathways work that supports students in seamlessly transferring and persevering toward their academic and career goals."
Students can learn more about Pathways and receive assistance with advising and registration by emailing registrar@polk.edu, calling 863.297.1000, or using the webchat in the bottom right corner of the polk.edu/admission-aid page. Services are also available by visiting the Lakeland Technology Building (LTB) on the Lakeland Campus or Winter Haven Administration Building (WAD) on the Winter Haven Campus.