Polk State to host virtual open house events in April and May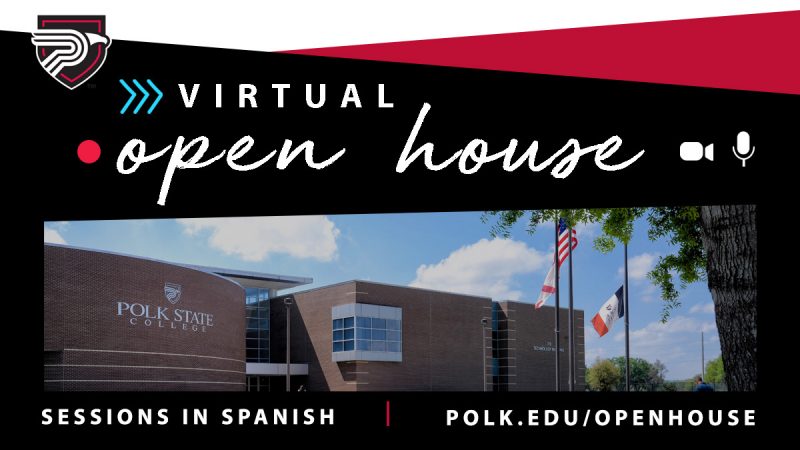 Polk State College will host live, virtual open house events in English and Spanish starting on April 16, with sessions scheduled through mid-May to provide information about admission, financial aid, programs, advising, student life, and more.
Open house events will be comprised of 20-minute virtual sessions covering different topics. Participants will have the opportunity to ask questions and connect with College representatives to receive more guidance as needed. Sessions will also be recorded and made available for viewing online at www.polk.edu/openhouse.
Enrollment is open for the Summer 2021 Semester, which will start on May 10. Current students can also register for Fall 2021 Semester classes. Open enrollment for the fall semester will start on June 1 and classes will begin on August 16.
Prospective students must submit a free online application to Polk State at www.polk.edu/admission-aid/admissionsteps. New and prospective students are highly encouraged to participate in open house sessions to learn more. The full schedule of events and more information is available at www.polk.edu/openhouse and below.
Admission / Admisiones
Friday, April 16 | 3 p.m. | REGISTER HERE
Wednesday, April 21 | 3 p.m. | REGISTER HERE
Tuesday, April 27 | 10 a.m. | REGISTER HERE
EN ESPAÑOL Wednesday, May 5 | 2 p.m. | REGISTER HERE
Friday, May 14 | 7 a.m. | REGISTER HERE
Financial Aid / Ayuda Financiera
Friday, April 16 | 10 a.m. | REGISTER HERE
Wednesday, April 21 | 5:30 p.m. | REGISTER HERE
EN ESPAÑOL Tuesday, April 27 | 4 p.m. | REGISTER HERE
Wednesday, May 5 | 2:30 p.m. | REGISTER HERE
Friday, May 14 | 4 p.m. | REGISTER HERE
Advising
Friday, April 23 | 2 p.m. | REGISTER HERE
Academic Support – Library, TLCCs, and Disability Services
Tuesday, April 20 | 10 a.m. | REGISTER HERE
First-Year Experience
Tuesday, May 4 | 1 p.m. | REGISTER HERE
Student Activities and Student Life
Tuesday, May 11 | 2 p.m. | REGISTER HERE
Succeeding Online – Canvas and Technologies
Thursday, May 13 | 2 p.m. | REGISTER HERE
Arts, Humanities, Communication & Design Pathway
Monday, April 19 | 5:30 p.m. | REGISTER HERE
Business Pathway
Thursday, April 22 | 5:30 p.m| REGISTER HERE
Education Pathway
Monday, April 26 | 10:30 a.m. | REGISTER HERE
Monday, April 26 | 5:30 p.m. | REGISTER HERE
Health Sciences Pathway
Thursday, April 29 | 9:30 a.m. | REGISTER HERE
Thursday, April 29 | 5:30 p.m. | REGISTER HERE
Undecided Majors – All Pathways
Friday, April 30 | 3:30 p.m. | REGISTER HERE
Industry, Manufacturing & Construction Pathway
Monday, May 3 | 4 p.m. | REGISTER HERE
Public Safety Pathway
Friday, May 7 | 1 p.m. | REGISTER HERE
STEM Pathway
Monday, May 10 | 5:30 p.m. | REGISTER HERE
Social & Behavioral Sciences and Human Services Pathway
Wednesday, May 12 | 5:30 p.m. | REGISTER HERE