Polk State offers variety of summer camps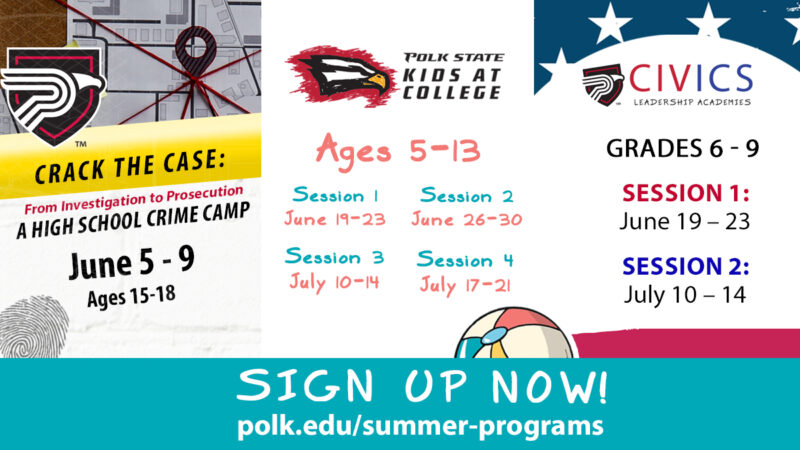 As school lets out for the summer, Polk State College will have options for youngsters when it comes to fighting boredom.
The College is offering multiple summer camps that take place in June and July. Kids at College returns with multiple sessions on both Polk State's Lakeland and Winter Haven campuses. The College will also introduce two new camps.
Kids at College
A staple of summertime activities at Polk State College for more than a quarter-century, Kids at College will offer sessions at the Lakeland Campus from June 19 through 23 and from June 26 through 30. Sessions will be available at the Winter Haven Campus from July 10 through 14 and from July 17 through 21.
"What I love about Kids at College is the variety," said Brenda Bracewell, Project Support Specialist for Kids at College. "You can send your kid to any camp that specializes in one thing, but at Kids at College, kids can take 'Ninja Warriors' one hour and 'Literacy in Motion' the next and dabble in multiple subjects."
The camp, which also introduces many children to the idea of college, is available for children from ages 5 to 13. There will be four daily classes for two hours each with topics that include 3D printing, trivia, rocketry, engineering, and more. Classes range from $65 to $75 each. This year offers a few new activities.
"We're going to build a 3D gaming computer this year, which I think the kids are going to love," Bracewell added. "We're really heavy in STEM activities this year. For the 9- to 13-year-olds, we're offering 'The Talon Games,' which is a play on 'The Hunger Games' as one of the more physical activities."
The class schedule is available here. Registration opens May 1. More information is available at www.polk.edu/kids-at-college.
Civics Leadership Academy
Polk State's brand-new Civics Leadership Academy offers hands-on learning at the leadership level. Over the weeklong camp, teams of students will identify an issue within their city, school, or community that they are passionate about and then work together to find a solution.
"This provides students an opportunity to really engage with their community," said Cathryn Goble-Smith, Program Director for Public Service Career Pathways. "It's a good opportunity to work together to sharpen their problem-solving skills."
The camp, which lasts daily from 8:30 a.m. to 5:10 p.m., is available for students from sixth through ninth grade. Session 1 takes place on the Lakeland Campus from June 19 through 23. Session 2 will be held on the Winter Haven Campus from July 10 through 14. Lunch will be provided.
Registration is open for the Civics Leadership Academy and thanks to a generous donation from the Florida Department of Education, the cost is just $100 per student for the entire week. More information is available at www.polk.edu/summer-programs/civics-leadership-academy.
"For a weeklong camp, this a very affordable price, thanks to the grant," Goble-Smith said. "This is going to be a really fun learning opportunity."
Criminal Justice Camp
The theme for the inaugural Criminal Justice Camp will be "Crack the Case: From Investigation to Prosecution." For high school students ages 15 to 18, the weeklong camp from June 5 through 9 will take participants through the entire criminal justice process from investigation through prosecution.
"If your child has an interest in a future career in the criminal justice field, Crack the Case crime camp is a real-world, first-hand look at the system in action," said Sgt. Christen Shea, Polk State Criminal Justice Program Director. "TV has portrayed that criminal cases can be solved in glamorous high-speed chases within an hour episode. The perception by the public is drastically skewed."
Students will learn how to respond to crimes, collect evidence, write reports, and more. The camp is great for students interested in criminal justice, law enforcement, forensics, or the court system.
"Students will get a realistic bird's eye view of the system in action," Shea added. "The camp includes tours of local agencies, speakers who work daily in the field, as well as hands on labs processing mock crime scenes, participating in courtroom testimony, simulated weapons, and much more."
Registration is open for the camp, which is $75 and takes place at Polk State College's Center for Public Safety in Winter Haven. Included in tuition costs are all camp materials, a camp T-shirt, lunch on Friday, a certificate of completion, and the opportunity to learn from professionals in the world of criminal justice. More information is available at www.polk.edu/summer-programs/criminal-justice-camp.