Polk State Masters of Machining: CNC Machining grad finds his path as machinist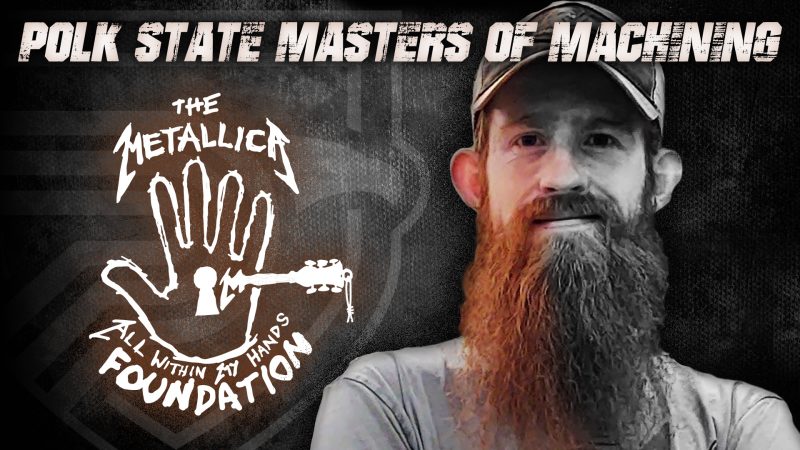 Robert Pettypiece is a successful machinist who found his path and high-wage career as a graduate of Polk State Corporate College's Computer Numeric Control (CNC) Machining Program.
He'll admit that school was never his strong suit, but opportunities abound for students who are "good with their hands" in Polk State Corporate College's workforce certification programs.
"For students like me, becoming skilled in a trade is a great path to take," Pettypiece said. "The field of machining is broad and there is something for everyone."
Thanks to a $100,000 grant from All Within My Hands through the Metallica Scholars Initiative, students will receive scholarships to become highly skilled machinists like Pettypiece.
In partnership with the American Association of Community Colleges, the initiative provides direct support to Polk State Corporate College's CNC Machining Program, including scholarships for unemployed and underemployed individuals to complete the short-term training courses, and funds for them to take the exams for six National Institute for Metalworking Skills (NIMS) certifications that will make them eligible for in-demand, high-wage careers.
Pettypiece serves as a machinist for global medical technology company CONMED in Tampa, where he operates machinery to assist in the development of surgical instruments including scalpels, drills, and endoscopes.
"I love what I do and having the opportunity to be creative," he said. "I enjoy taking a solid block of metal and figuring out how to make it into an object or a tool that will help someone."
But when Pettypiece graduated from high school in 2013, he had no idea what career path to take. He worked in retail and took general education courses when he heard of the CNC Machining opportunity through Polk State Corporate College.
"I was intrigued when I started Googling to figure out how machining works and [Program Coordinator Jamie Rowan] gave me a tour of the facility," he recalled. "I was sold."
The grant-funded training allowed Pettypiece to complete training at Polk State's state-of-the-art Clearsprings Advanced Technology Center in Bartow. Within eight weeks and at no cost to him, Pettypiece became a certified CNC operator and completed four NIMS credentials. Upon graduating from the program, he was employed by JC Machine, Inc. in Lakeland and served as a teaching assistant in Polk State's CNC Machining Program.
The program boasts a 94 percent job-placement rate and a nearly 98 percent pass rate on all NIMS certification exams, illustrating Polk State's success in creating a talent pipeline of skilled machinists.
"It's a challenging program but [Instructor James] Gibbons encourages his students," Pettypiece said. "Even as a teaching assistant, Mr. Gibbs encouraged me to take on a project of my own during my downtime so that I could continue to sharpen my skills."
He perfected a turner's cube – a classic machinist exercise that involves constructing multiple cubes inside one another. Pettypiece still uses the program he developed to achieve his best turner's cube today.
As a machinist for CONMED, Pettypiece says he is confident in his skills thanks to the training he received at Polk State, which is critical because he is now creating high-quality parts with small room for error.
"I am fine-tuning my skills every day," said Pettypiece, who aspires to pursue additional training for 3D computer-aided design and manufacturing as well as a degree in manufacturing.
"Machining and manufacturing aren't going anywhere," he added. "I know for a fact that for students like me — who aren't good in school, but they are good with their hands — learning a trade is one of the best things you can do."
Individuals who are interested in the program should contact Coordinator Jamie Rowan at jrowan@polk.edu or 863.837.5954.
About Polk State College
Located in Winter Haven, Florida, and established in 1964, Polk State College is a multi-campus institution serving more than 16,000 students with Bachelor of Applied Science, Bachelor of Science, Associate in Arts, and Associate in Science degrees, as well as 12,000 students in the Polk State Corporate College with a wide range of certificate and workforce training options. The College also operates three charter high schools.
Polk State's advantages include small class sizes; hands-on learning; dedicated faculty; day and night classes; online options; affordable tuition; excellent financial aid; and a diverse community and vibrant student life, including fine arts opportunities, clubs, and intercollegiate athletics. Visit www.polk.edu for more.
About All Within My Hands
AWMH is a non-profit, philanthropic organization created by the members and management of Metallica dedicated to creating sustainable communities by supporting workforce education, the fight against hunger, and other critical local services. 100% of donations go directly to local organizations that the Foundation supports. Please visit: AllWithinMyHands.org for more information.
About American Association of Community Colleges
As the voice of the nation's community colleges, the American Association of Community Colleges (AACC), delivers educational and economic opportunity for nearly 12 million diverse students in search of the American Dream. Uniquely dedicated to access and success for all students, AACC's more than 1,000 member colleges provide an on-ramp to degree attainment, skilled careers and family-supporting wages. Located in Washington, D.C., AACC advocates for these not-for-profit, public-serving institutions to ensure they have the resources and support they need to deliver on the mission of increasing economic mobility for all.