Polk State Lakeland Gateway to College Collegiate valedictorian, salutatorian heading to college with prestigious scholarships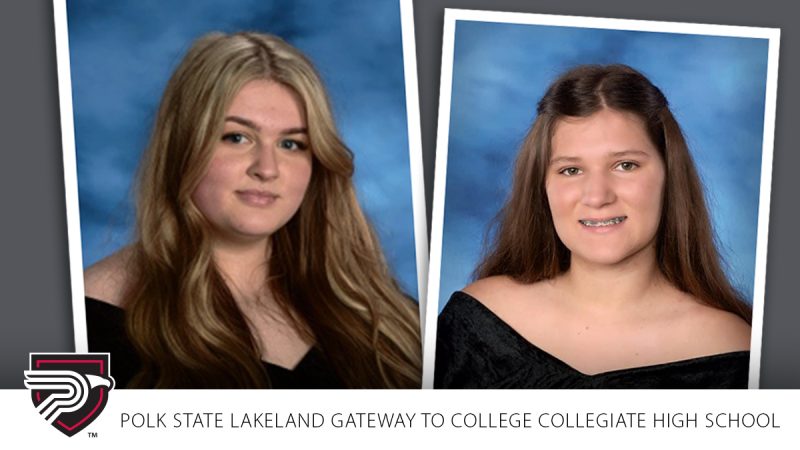 Polk State Lakeland Gateway to College Collegiate High School's valedictorian McKenna Blevins and salutatorian Abigail Matta are both celebrating milestone accomplishments, including graduation from high school with their college degrees and some prestigious scholarships to continue their higher education.
For Blevins, achieving the top spot as valedictorian of Polk State Lakeland Gateway's class of 2021 with a 4.740 grade-point average is a childhood dream realized. While recently preparing her graduation speech, she read a letter she wrote in the fifth grade to be opened when she completed high school.
"I wrote that it would be cool to be at the top of my class, so it is wild now to see that I have made it this far and accomplished that goal," she reflected.
Blevins, like many of Polk State's collegiate high school students, has also achieved her Associate in Arts degree simultaneously with her high school diploma.
She will continue her education at Florida Southern College with a Henry and Annie Merner Pfeiffer Scholarship – a merit-based scholarship that provides awardees with up to $21,000 a year toward their studies. Additionally, she is the recipient of Florida Southern College's Christoverson Scholarship and the Florida Academic Scholar Bright Futures Scholarship.
She plans to study Chemistry and is exploring the different career pathways within this subject area, from medicine to engineering. Similar to the choice of her college major, she explained that she enjoyed the flexibility of Polk State Lakeland Gateway to College Collegiate High School.
"The flexibility of the Gateway program created a better learning experience for me," Blevins said. "It has been helpful insight into how college works, how to navigate college classes and the college experience overall that I can take with me moving forward."
Matta highlighted similar benefits of attending a Polk State collegiate high school.
Not only is she salutatorian of her 2021 class with a 4.667 grade-point average; she is also Polk State Lakeland Gateway to College Collegiate's first National Merit Scholarship winner in the school's history.
"I am very fortunate and grateful for these opportunities," she said. "Gateway is great and has provided me with the opportunity to grow, not only through my high school classes but also by allowing me to achieve my associate degree at the same time."
In addition to being one of only 1,000 high school seniors nationally to be awarded a corporate-sponsored National Merit Scholarship award, Matta is heading to Florida State University with the college's University Freshman Scholarship and the Florida Academic Scholar Bright Futures Scholarship. She plans to study Business Management.
Matta offered some words of motivation and advice for her peers and future students.
"Stick to the hard work and it will pay off," Matta said. "It can be hard sometimes but if you put your best foot forward each time, you can overcome and achieve anything."
Blevins, quoting international award-winning rapper Pitbull, echoed a similar sentiment.
"'Every day above ground is a great day,'" she said. "That's the best inspiration."