Polk State Lakeland Collegiate valedictorian and salutatorian take similar paths to top of class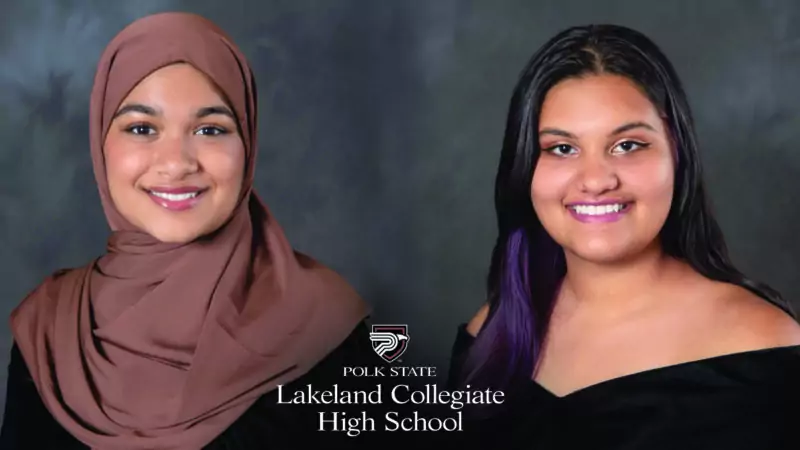 For Polk State Lakeland Collegiate High School's valedictorian and salutatorian, the path to graduation was similar, but their future plans are significantly different.
Just three-thousandths of a point in grade-point average (GPA) separated valedictorian Kriti Shah from salutatorian Jaima Chowdhury. Another commonality is that both began their high school careers in Bartow High School's International Baccalaureate program before coming to Lakeland Collegiate for their final two years. Both also received their Associate in Arts degree from Polk State College before being handed their high school diplomas.
"It's really special," Shah said of her experience at Collegiate. "Getting an AA will allow me to go straight into my major at the University of Florida."
Big plans ahead
Born and raised in Lakeland, Shah, 18, plans on majoring in Computer Science at the University of Florida. She isn't completely sure which direction she wants to go after college but is interested in cybersecurity. Shah is even flirting with the idea of double-majoring in marketing.
"Being salutatorian is very exciting," Chowdhury said. "I expected it, but there was a lot of competition. We had so many great students."
A native of Bangladesh who was also raised in Lakeland, Chowdhury, 18, will attend the University of South Florida to major in Health Science with a concentration in the Biological Sciences. She's also unsure when it comes to picking a specific career but is intrigued at the thought of working in physical therapy or as a physician's assistant.
The Collegiate experience
Polk State's three collegiate high schools allow students to complete high school requirements while earning college credits. In most cases, students graduate with their Associate in Arts degrees at no cost to them. Both Shah and Chowdhury heard about Lakeland Collegiate from a friend.
"I liked the idea of having a college schedule over a high school schedule," said Shah, Vice President of the Student Government (SGA) who graduated with a 4.792 GPA. "I really liked how we had a sense of community. Clubs helped me build a connection with other people. I liked connecting to work things like prom and homecoming."
During her time at Collegiate, Chowdhury was also a member of SGA in addition to being part of the National Honor Society. A graduate with a 4.789 GPA, Chowdhury's time at Collegiate helped her mature and prepared her to continue her academic career.
"I wanted to be part of a rigorous program," she explained. "I feel like Collegiate has given me so many opportunities. Collegiate makes you more independent and really pushes you to see what you're interested in."
Shah offered similar sentiments. She credited her parents, Ashish and Salguni Shah, for supporting and encouraging her to attend Lakeland Collegiate.
"My family really helped me, and this experience has given me a sense of independence," she added. "I definitely feel like I was able to build my character here. I would say to other Collegiate students to not be afraid to reach out to the staff. They're a big help. Also, don't be afraid to connect to other Collegiate students."
Chowdhury credited her friends and the Lakeland Collegiate staff for her positive experience. Throughout her time at Lakeland Collegiate, she had wavered on what she wants to do in the future, but the staff has been supportive through it all.
"My friends helped me make connections and the Collegiate staff has been a huge support system," Chowdhury noted. "I've made so many changes to my major and they've stuck with me along the way. The entire staff is really nice and open to helping you in any way they can. (English Professor Lee) Childree is a really good resource for students and helped me adjust to the college experience."
Advice for future students
As the top two graduates in the 2023 class prepare to continue studying in Gainesville and Tampa, respectively, they offered advice for future Lakeland Collegiate students and graduates. Shah noted that the staff is there for help and guidance, but students must be motivated and willing to take initiative.
"The biggest challenge is that everything is very much up to you," she explained. "You have to be prepared to be independent. The environment is very open. Everyone is open to new ideas and very supportive."
Lakeland Collegiate's 2023 class includes more than 180 graduates. Chowdhury urged future students to savor the experience.
"For the future classes, explore your options," she advised. "Stay open minded. It may seem strange coming from the salutatorian, but grades aren't everything. Don't make these two years too stressful. Try to enjoy it because it only gets harder from here."