Polk State Lakeland Collegiate valedictorian and salutatorian heading to USF with top scholarships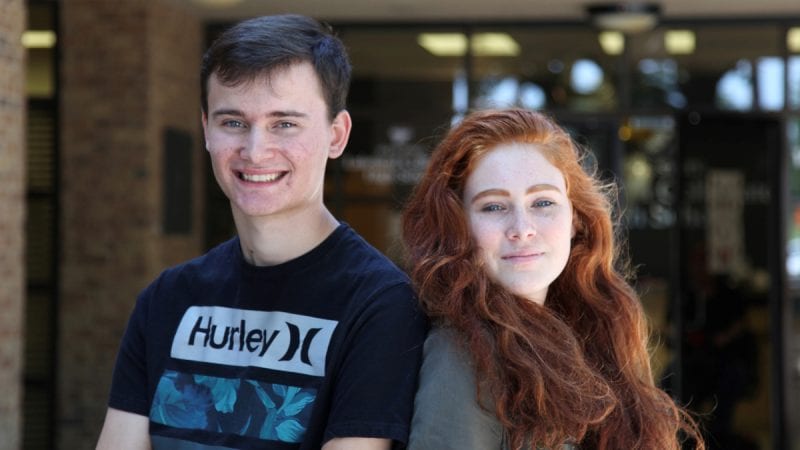 Rylan Taylor and Katherine Cossin are not only top of their class; they are also heading to the University of South Florida with top scholarships.
Like most of their peers, they already have their Polk State Associate in Arts degrees in hand and will receive their high school diplomas Tuesday with Polk State Lakeland Collegiate's 2019 class.
"Sometimes I forget I'm a high school student," said Taylor, valedictorian with a 4.703 grade-point average (GPA). "Collegiate has been a great experience, allowing us to be fully immersed in college life."
Cossin, the salutatorian with a 4.692 GPA, agreed that Polk State Lakeland Collegiate sets students up for success at both the high school and college levels.
"I really wanted to come to Collegiate because of the flexibility to pick our own classes and enroll in college courses," she said. "Collegiate gives students control over their education."
"The best part is that there's no busy work," she added. "I hate busy work but everything we learned here is valuable information we can use in the future."
That future includes pursuing bachelor's degrees at USF for Cossin, who received a $16,000 USF Directors Award and Taylor, who will benefit from a $20,000 USF Presidential Award. The merit-based scholarships serve students who have achieved GPAs 4.0 or greater, SAT scores 1340 or greater, and ACT scores 29 or greater. Taylor and Cossin also boast more than 100 and 250 community service hours, respectively.
Cossin plans to major in accounting with aspirations to work as a private accountant, while Taylor will study chemical engineering.
"We had a lot of fun in our two college chemistry classes," he said.
"You can probably tell, we're into practical stuff," Cossin laughed.
Polk State's charter high schools serve juniors and seniors, allowing them to complete courses and requirements for both their diplomas and Associate in Arts degrees.
When asked what kept them motivated during their two years at Polk State Lakeland Collegiate, Taylor and Cossin shared that they have always been determined to achieve academic success.
"You need to set a standard for yourself and strive to be the best you," Taylor said. "I got straight A's in my other schools and didn't want it to be any different at Collegiate, no matter how rigorous the program. It took a lot of studying – even for the 'easy' classes – but hard work pays off."
For Cossin, who hasn't earned less than an A since the third grade, quiet places free of distraction on the Lakeland Campus helped her remain focused while friendships with peers and relationships with faculty and staff kept her motivated.
"Those key relationships are important," she said. "When you surround yourself with people with similar goals, it helps to keep you motivated."
"Everyone here is very supportive," Taylor added. "We couldn't have done this without them."