Polk State Lakeland Collegiate High School student is heading to MIT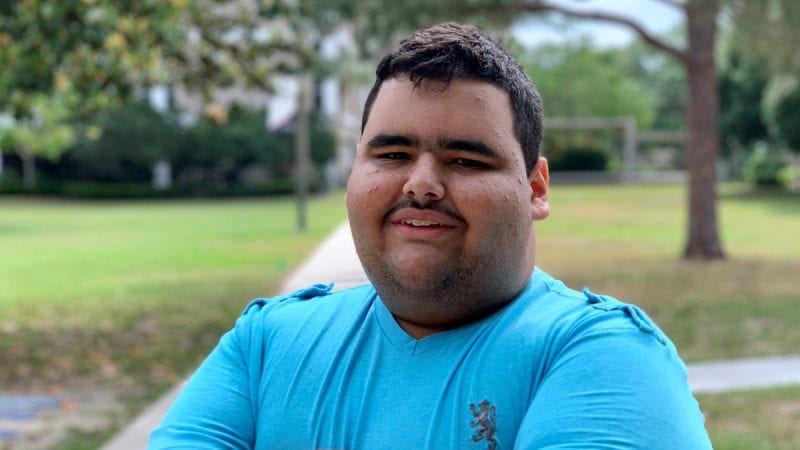 Sergio Perez will receive his Polk State Associate in Arts degree before his high school diploma is even in hand, and once he has both, the first-generation-in-college student is heading to Massachusetts Institute of Technology (MIT).
Perez, 17, plans to pursue a bachelor's degree in computer science at MIT, which ranks third among the country's universities for academic quality and where only approximately 7 percent of applicants are admitted.
"I've been preparing for this since middle school and have my mom to thank for giving me the foundation I need to achieve anything," said Perez, whose parents exiled from Cuba two decades ago. "My mom doesn't know much English, but she helped me study many nights, creating flashcards to help me with reading and writing even when she didn't know the language herself. I have her, Polk State's staff and faculty, and God to thank for this incredible opportunity."
It also took great perseverance, which will continue to propel Perez forward as he pursues his education and a career in artificial intelligence, machine learning, and software development.
He started SAT prep years ago, studying for the test between studying for his classes and taking practice exams each weekend. He has maintained a 4.484 grade-point average and achieved 1510 on the SAT — close to the MIT average at admission of 1535.
He received a perfect score in math, which continues to be his strong suit. In fact, he founded Polk State Lakeland Collegiate High School's Math Club, in which he provided SAT prep and math tutoring to his peers, in addition to working as a part-time math tutor at the College.
MIT's admissions webpage states, "Remember that there are many ways to make the world better—we're not looking for applicants to have cured all infectious disease in the world by the time they're 15. Tutoring a single kid in math changes the world."
"I saw a need for helping those of lesser means with SAT prep," Perez said. "It's rewarding to see them succeed in math after providing some help."
He also co-founded Lakeland Collegiate's Spanish Club, which focuses on outreach and volunteer opportunities in the Hispanic community.
His culture, support at home, passion for math, and hobby of playing video games led to his decision to pursue computer science at MIT.
"My family has shared stories about their lives in Cuba – things we couldn't even imagine here in the U.S.," Perez said. "Technology is helpful and can better the standard of living for people around the world. I want to be a part of that."
In the meantime, Perez will be preparing for his move to Massachusetts, where he will live on campus at MIT. His mom, who works as a housecleaner, plans to move to nearby Boston.
"This journey has been financially and emotionally taxing on my mom and me, but we are finally seeing all of our time, dedication, and sacrifice pay off," Perez said.
He encourages aspiring students to consider the opportunities available to them at Polk State College.
"The ability to get an Associate in Arts degree in high school at no cost is mind-blowing," Perez said. "Everyone at Polk State Lakeland Collegiate High School believed in me and reinforced what my mom has always told me – that I can achieve anything – and I could not be more thankful."