Polk State Gateway's top graduates earn AAs in high school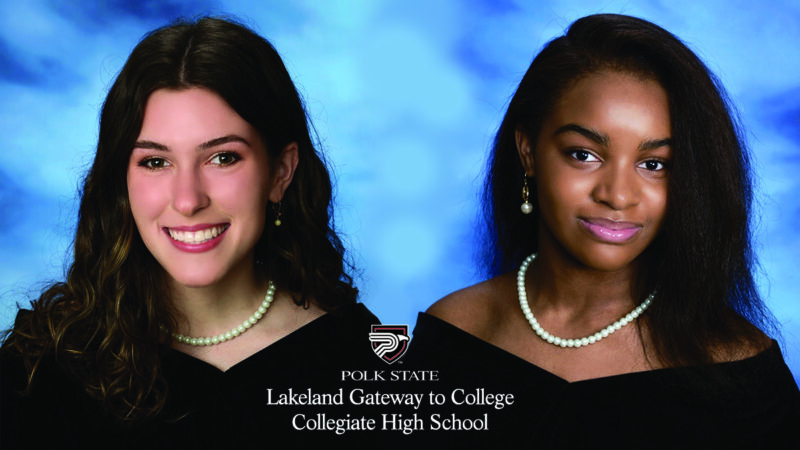 In just three years of high school, Polk State Lakeland Gateway to College Collegiate High School's Madison Dolyak and Gabrielle Anderson leave with Associate in Arts degrees and at the top of their graduating class.
The two finished as valedictorian and salutatorian and with nearly 150 combined college credits. Both spent their final two years at Gateway after just one year at another school.
"It means a lot," Dolyak, 17, said of earning valedictorian. "I've been working hard since elementary school. It's not something I expected, but it's a blessing. I'm excited to see my hard work pay off."
Dolyak transferred to Gateway after less than a year at George Jenkins High School in Lakeland. Anderson, 17, the class salutatorian, began high school at Harrison School of the Arts in Lakeland.
"My parents always had high expectations," she said. "My family supported me through it all. (To be salutatorian) means a lot."
What's next?
With a 4.692 high school grade-point average (GPA) and 78 college credits to her name, Anderson will transfer to Florida State University in Tallahassee. She plans on getting her bachelor's and master's degrees in computer science. Anderson also plans on applying for a scholarship that will help land her a job as an information specialist with the U.S. Embassy.
"Computer science has always been interesting to me," she said. "This opportunity with the U.S. Embassy sounds interesting to me and like something I would want to do."
Graduating with a 4.777 GPA and 69 college credits, Dolyak will head to Gainesville to attend the University of Florida. She expects to major in environmental engineering and hopes to work in a field where she can help the environment.
"I've always been an outdoor person," Dolyak noted. "Living in Florida, that's something you do whether it's going to the beach, fishing, or camping. I've always wanted to help restore and clean up the earth."
The Gateway experience
Both Anderson and Dolyak noted that going to a collegiate high school had its challenges. Both, however, say it was worth it.
"Gateway allowed me a lot more flexibility with my schedule," Dolyak said. "The staff was really nice. I enjoyed the classes at the College. It was a great environment."
"It was very difficult," Anderson added. "The coursework was hard, but it was worth it overall. I have my AA and a stronger academic background. I'm very proud and happy with my accomplishments."
Anderson took most of her classes online. Without transportation, she said the staff, particularly Assistant Principal Tania Chandler and Social Instructor Amy McIntosh, helped her put together a class schedule that worked for her. Principal Meesha Downing-Townsend was also quick to lend her support.
"Dr. Downing responds fast and was always helpful," Anderson noted. "Ms. Chandler was very helpful and understanding when it came to my scheduling."
Dolyak offered similar sentiments.
"Ms. Chandler was very supportive and encouraging," Dolyak said. "She made sure I had what I needed to excel in college. The whole staff was great."
To succeed, Dolyak and Anderson were fortunate to have support systems. Anderson said she could always call on her brother, Richard, who had already earned his bachelor's and master's degrees.
"He had already graduated college, so he was someone I could call any time I needed help with anything," Anderson recalled. "If ever I had a question about how to do something or just needed to talk, he was there."
For Dolyak, her go-to was her mother, April Ganier, a teacher at Sleepy Hill Middle School in Lakeland.
"As a teacher, my mom sees it from the other side," Dolyak added. "She's there for me whenever I need her. My friends have been a huge support for me as well."
Words of advice
Polk State's three collegiate high schools allow students to complete high school requirements while earning college credits. In most cases, students graduate with their Associate in Arts degrees at no cost to them. For those considering a collegiate high school, Gateway's top two graduates from 2023 offered advice.
"Work hard in your classes, study hard, but keep time for yourself as well," Dolyak urged. "Doing things outside of school is important and will help you succeed."
Dolyak volunteers in local schools and is a member of Lakes Church in Lakeland. Both she and Anderson were members of the National Honor Society during their time at Gateway.
"I think it's important to balance your classes and know your limits," Anderson advised for current and future Gateway students. "Don't let assignments pile up because it can get overwhelming."