Polk State Gateway's 2022 class topped by trailblazers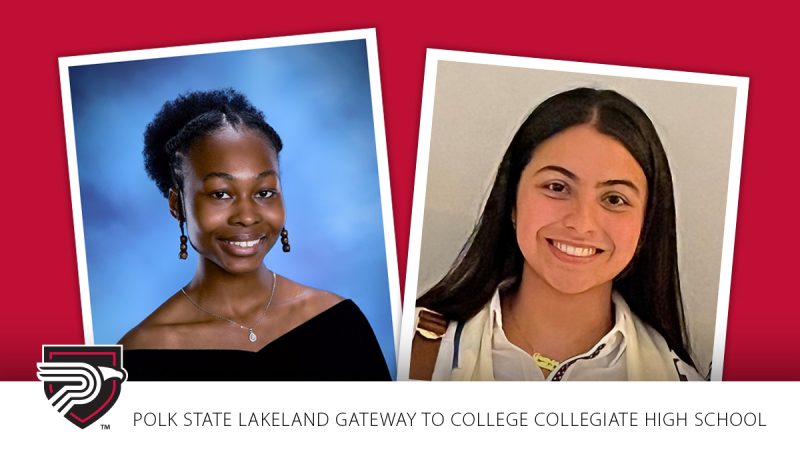 Polk State Lakeland Gateway to College Collegiate High School's valedictorian and salutatorian could probably both be described by a single word – trailblazers.
Grace Joseph is the first Black female in the school's history to earn the distinction of valedictorian. Salutatorian, Aranza Perez Najul, a native of Venezuela, is the first member of her family to apply to an American university.
"It means a lot," Joseph said. "Being African American, you don't always see people who look like you winning awards. Being the school's first Black female to be valedictorian can show others what they can accomplish."
Joseph began her high school career at McKeel Academy before spending the last two years at Gateway. She was a student-athlete at McKeel and has been a member of National Honor Society at Gateway where she graduated with a 4.61 grade-point average.
She's thankful for the support she's had along the way, particularly from her parents, Oje and Olubusola Joseph. Natives of Nigeria, both worked hard to become registered nurses. Joseph credits her parents for her work ethic. Her father and brother, Shamona Joseph, are both Polk State alumni.
"My family and friends have been very supportive," she said. "My mom has encouraged me to stay strong in the lord. My dad has provided me with words of wisdom."
Perez Najul moved from Venezuela to the United States in 2017 with her mother, Leonella Najul. Upon arrival, the two were living in a single room. With her mother working long hours and Perez Najul busy with school and extracurricular activities, the two had little time to spend together.
"I'm really grateful for her sacrifice," Perez Najul said of her mother. "At the beginning, it was really hard, but things are much better now."
Perez Najul spent her first two years at Cypress Creek High School in Orlando before moving to Lakeland and attending Gateway. At Cypress Creek, she played soccer and lacrosse and was a member of the school's Lion's Club. Since arriving at Gateway, she's sacrificed athletics for academics and joined National Honor Society.
"I played soccer my whole life," she said. "With lacrosse, I just fell in love with it. At Gateway, I focused on school and getting my college credits."
Both Joseph and Perez Najul have already earned Associate in Arts degrees. Come August, they'll be heading different directions down Interstate 4.
Joseph will be attending the University of South Florida to major in Health Sciences. She hopes to become either a physician's assistant or a doctor. Perez Najul, who graduated from Gateway with a 4.56 GPA, will be heading back to Orlando to attend the University of Central Florida. She plans on majoring in Mechanical Engineering or Spatial Engineering and to one day work in robotics or for NASA.
"I want to inspire girls to go into the STEM field," Perez Najul said.
Both students appreciated their time at Gateway. Joseph was happy she was able to earn her associate degree and appreciated the flexibility the school provided.
"The school really helped me mature," she said. "I feel like I've grown independently and in a way that I wouldn't have been able to at a regular high school."
Perez Najul's appreciation is for the staff.
"The faculty is really focused on the students," she said. "Mrs. Tania Chandler really took me under her wing and helped me."
Perez Najul offered similar sentiments for Principal Meesha Downing-Townsend.
"She was so helpful and understanding," Perez Najul said. "Every time I saw her, she smiled at me. It just felt so warm and welcoming."
Joseph, the valedictorian for the 2022 class of 123 students, encouraged prospective Gateway students to weigh the pros and cons. At Gateway, students have access to a plethora of College resources and the ability to complete their associate degree in high school at no cost to them. Having a support system, she said, was also important.
"Staying organized and having a group of friends to talk to really helps you through those classes," Joseph said. "It's good to have people who understand what you're going through, and it allows you to keep each other accountable."