Polk State College's top headlines from 2022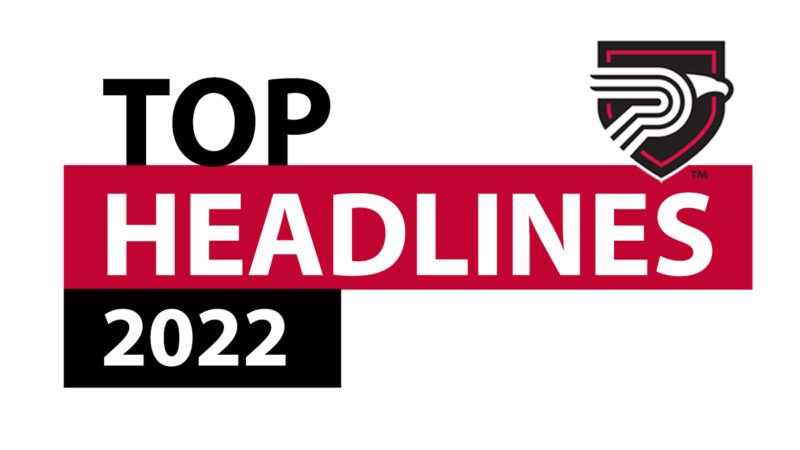 Polk State is celebrating a historic year full of success for students, the College, and the greater Polk County community.
Thanks to the foundation of excellence established in 1964, and the accomplishments made in 2022, Polk State is excited to soar to even greater heights in 2023 and beyond.
Here are some highlights of Polk State's 2022 successes:

Polk State celebrated a historic legislative session that resulted in the largest appropriation in the College's history — $53.1 million. Funding includes $13.8 million for phase one of construction for the Polk State Haines City Campus, a new college campus on U.S. 27; $16.7 million for renovations to the science building on the Winter Haven Campus; and $10.1 million for much-needed deferred maintenance across all campuses. Additionally, the College received $7.5 million in recurring operational support and $5 million in nonrecurring funds to expand the College's critical health sciences programs including Respiratory Care, Diagnostic Medical Sonography, Nursing, and more.

The results of a study by Emsi Burning Glass asserted that Polk State's credit programs add $215.5 million in total income annually to the Polk County economy. Of the College's total economic impact, 55% or $118.3 million is a direct result of the increased earnings students and alumni receive because of their Polk State College education. For every $1 a student invests in Polk State in the form of out-of-pocket expenses and forgone time and money, they will receive a cumulative value of $5 in higher future earnings.

Polk State graduated its first cohort of the National Public Safety Innovation Academy (NIA) in partnership with the Polk County Sheriff's Office. The NIA launched in September as an executive-level, STEM-based program that will adapt to meet changes in trends and technology. Over eight weeks, participants are given the knowledge to meet and address high-liability situations that agencies face.

AdventHealth generously donated $1.7 million to endow the Dean of Nursing position at Polk State. The AdventHealth Dean of Nursing at Polk State will provide support for the expansion of the College's limited-access, highly sought-after Nursing Program, as well as ensure the College keeps its finger on the pulse of industry needs in direct partnership with AdventHealth.

Polk State's Health Sciences programs unveiled the Center for Human Simulation. The Center spans multiple campuses to allow Polk State students exposure to real-life clinical scenarios. The Center is made possible by the College's investment of more than $2 million in new funds with the help of grants from the U.S. Department of Education Higher Education Emergency Relief Fund (HEERF) and the Florida Department of Education Prepping Institutions, Programs, Employers and Learners through Incentives for Nursing Education (PIPELINE).

The Polk State Flight Team earned a spot in the 2023 National Intercollegiate Flying Association (NIFA) Safety and Flight Evaluation Conference (SAFECON). Polk State placed second in flight events and third overall in the qualifying regional competition hosted by the Aerospace Center for Excellence from October 31 through November 5 at Lakeland Linder International Airport. The team will compete in May in Oshkosh, Wisconsin.

Chase Roberts, a December 2022 graduate of Polk State's Occupational Therapy Assistant Program, made headlines for his inspiring story. He was told he would never walk again after breaking his neck in a car wreck, which left him wheelchair-bound as a quadriplegic. He walked across the graduation stage with Polk State's 127th class and is completing his final clinical rotation at Orlando Health (Orlando) Regional Medical Center Institute for Advanced Rehabilitation, the place where he recovered from his paralysis.

Polk State Soccer earned a regional title and went to the national NJCAA tournament for the first time in 13 years. The 16 victories for the No. 10 Eagles (16-1) are the second-most in a season in program history. When Coach Jess Belli took over at Polk State prior to the 2020 season, the Eagles were coming off an 0-9-1 season and had not finished with a winning record since 2014. Coach Belli was named NJCAA South Atlantic District Coach of the Year.

Polk State celebrated the graduation of its inaugural President's Leadership Institute class in August comprised of faculty and staff who expanded their learning and experiential skills through this new professional development opportunity. The President's Leadership Institute provides faculty and exempt staff with the opportunity to develop a deeper understanding of how personal and professional decision-making can drive successful outcomes.

Governor Ron DeSantis awarded Polk State College, Broward College, and Florida State College at Jacksonville (FSCJ) with $6.5 million to launch the Career Pathways for Public Service Initiative, which will develop a national model for preparing students for public service and careers in local or state government. The three colleges will partner with their school districts to implement civics career academies in their communities, anticipating more than 1,000 students enrolled in the 2023-2024 academic year.

Governor Ron DeSantis appointed Polk State President Angela Garcia Falconetti to the Education Commission of the States alongside Florida Department of Education Senior Chancellor Henry Mack. Falconetti and Mack will represent Governor DeSantis and Florida Department of Education Commissioner Manny Diaz as an extension of the state's education policy team. Governor DeSantis also appointed Falconetti to the Juvenile Justice and Delinquency Prevention State Advisory Group.

The Association for the Promotion of Campus Activities (APCA) presented Polk State with the 2022 Marjoree Harper Event of the Year Award for the Polk State College Block Party hosted in November 2021. The APCA award celebrates outstanding success in the planning, production, and successful execution of a campus activities event, and Polk State's was one of dozens of applications reviewed for recognition.

Miracle Toyota established an endowed scholarship fund to provide support for Black and minority students at Polk State. The Haines City dealership and Polk County's largest-serving higher education institution announced this partnership in honor of Black History Month and to provide support in the form of scholarships through the Polk State College Foundation.