Polk State Flight Team soars to nationals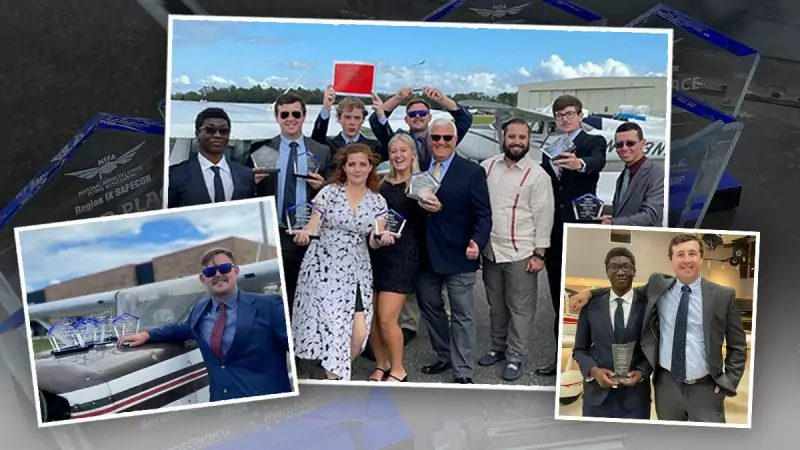 The Polk State Flight Team has earned a spot in the 2023 National Intercollegiate Flying Association (NIFA) Safety and Flight Evaluation Conference (SAFECON).
Polk State placed second in flight events and third overall in the qualifying regional competition hosted by the Aerospace Center for Excellence from October 31 through November 5 at Lakeland Linder International Airport. The team will compete in May in Oshkosh, Wisconsin.
"We are very excited about our flight performance and to be going to nationals," said Team Captain Daniel Bontrager, a Polk State Bachelor of Science in Aerospace Sciences student. "We have one of the toughest divisions here in Region IX. We outscored Auburn University, which was something we were very happy about."
Students themselves were also standouts, with Autumn Richarz taking the top spot in power-off landing and third place in short-field landing. Richarz, who is pursuing a Polk State Associate in Science in Professional Science, also participated in the NIFA Region IX SAFECON competition in 2021 and represented Polk State as part of The Red Eagles in the Women's Air Race Classic in 2022.
Pierce Cody placed third in power-off landing and third in preflight inspection; Isaac Castellanos and Alex White placed third in message drop; Ryan Main and Dan Bontrager placed third in traditional navigation; and Cody and Michael Franklin placed fourth in unlimited navigation.
"I'm proud of our team," Bontrager shared. "One of the things I have focused on as captain is having fun. Fun equals more involvement, more involvement equals more practice, and more practice means we become better as a team. We have healthy competition, and we are a very diverse team with many different strengths, which will benefit us in the national competition."
The Polk State Flight Team took to social media shortly after the results were announced to express gratitude to their supporters, including sponsors Law Offices of Robert Strumor, Aviation Careers Podcast, Atlantic Blue Capital, Lakeland Linder International Airport, Double M Aviation, Gulf Coast Avionics Corp., Sunrise Aviation, and Sheltair Aviation.
Polk State Aerospace is a Federal Aviation Administration (FAA)-accredited aviation program offering Associate in Science and Bachelor of Science degree options in Aerospace Sciences, Professional Pilot Science, Aerospace Administration, and Aviation Maintenance.
Interested supporters can donate to the Polk State Flight Team through the Polk State College Foundation.