National award highlights Polk State's outstanding student leadership & activities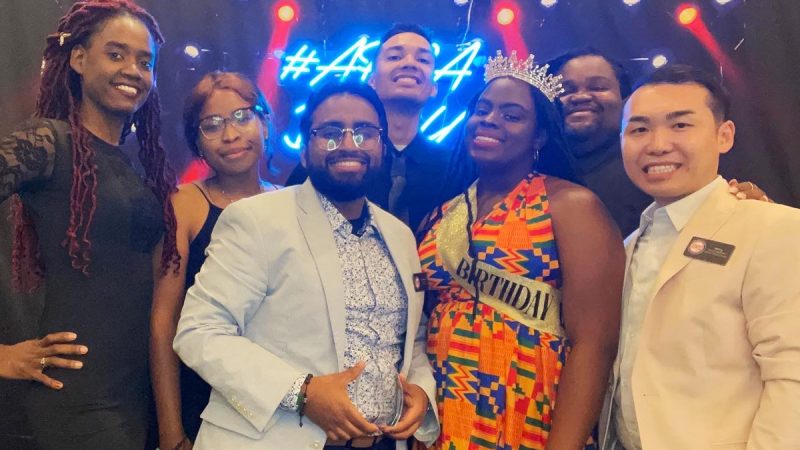 Polk State College's Student Activities and Leadership Office and the student leaders behind SALO's awesomeness were recently honored with a national award, highlighting the College's robust student life and the opportunities available to students at Polk State.
The Association for the Promotion of Campus Activities (APCA) presented Polk State with the 2022 Marjoree Harper Event of the Year Award for the Polk State College Block Party hosted in November 2021 – the first major on-campus event hosted by SALO since the COVID-19 pandemic began. More than 150 students enjoyed free food, live music, giveaways, laser tag, dodgeball, and a surprise birthday celebration for SALO Director Melvin Thompson.
"This award means a lot and validates all the hard work of our organization, not only for this event but in general, for the entire academic year," said Blessen Jacob, Vice President for the Lakeland Campus Student Government Association (SGA). Jacob is graduating in May with his Bachelor of Applied Science in Supervision and Management. "With the block party specifically, we wanted to bring a sense of normalcy back for the students after the impacts of COVID. The ability to do that with everything going on in the world and the challenges we all have had to overcome feels good."
The APCA award celebrates outstanding success in the planning, production, and successful execution of a campus activities event, and Polk State's was one of dozens of applications reviewed for recognition.
"The exceptional effort by your staff and students was easily apparent," APCA Executive Director Eric Lambert said. "You should be very proud!"
The APCA Event of the Year Award was established in 2003 to recognize an outstanding event for campus programming excellence. This year, it was named after APCA Lifetime Achievement Award recipient Marjoree Harper, who personally presented the renamed award to Polk State's students and SALO advisors onstage during the APCA National Conference in Hershey, Pennsylvania, in March.
"I literally jumped out of my seat," said Alex Gonzalez, Vice President for the Winter Haven Campus SGA who is graduating in May with his Bachelor of Science in Criminal Justice. "The event was truly a team effort across our campuses and our ability to put on an event like this for the students in this environment [impacted by COVID] is truly remarkable."
"The award is something we will cherish forever," he added. "Personally, you remember all the hard work that went into something like this, but something like this that recognizes that on a larger scale is a nice reminder of why we do what we do for the students."
The block party was Kaery Salazar's first event when she joined SGA. Now she serves as Student Engagement Specialist for the Winter Haven SGA and is pursuing her Bachelor of Applied Science in Supervision and Management.
"My first thought when I attended the event was 'wow, people needed this,'" Salazar recalled. "To see the joy on people's faces was refreshing and my favorite thing about it was seeing all the interactions among the students – something we hadn't seen since COVID."
Jonasia Hilliard, Winter Haven SGA Secretary and Associate in Arts student, echoed this sentiment.
"It was such a hit that we are thinking about hosting another block party next semester," she shared. "We encourage everyone to get involved in student life because being more involved on campus is great for your emotional intelligence, sense of engagement, and accomplishment here at the College."
Students who are interested in getting involved with SALO and SGA can visit www.polk.edu/SALO, email SALO@polk.edu, or visit the Virtual Student Center in Canvas.