Polk State graduates inaugural President's Leadership Institute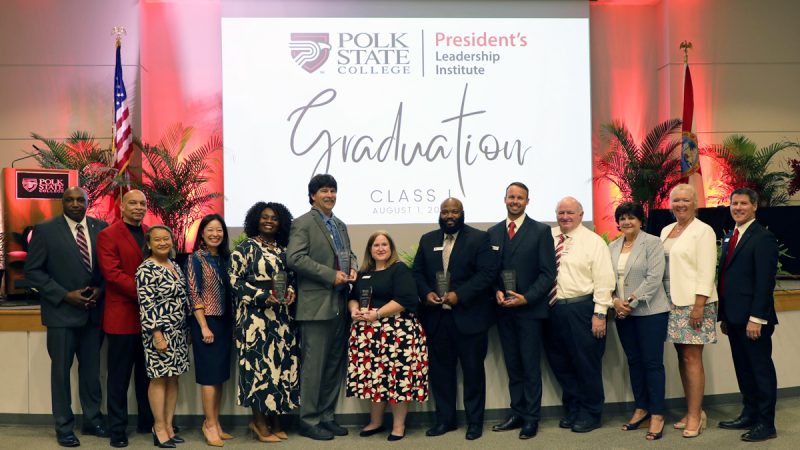 Polk State College celebrated the graduation of its inaugural President's Leadership Institute in August comprised of faculty and staff who expanded their learning and experiential skills through this new professional development opportunity. The program is accepting applications through September 15 for its second class.
The President's Leadership Institute was developed from the foundational elements of the former Exceptional Leaders with Innovative Talents and Excellence (ELITE) Program which served Polk State employees since 2007. The President's Leadership Institute provides faculty and exempt staff with the opportunity to develop a deeper understanding of how personal and professional decision-making can drive successful outcomes.
"Investing in the professional development of faculty and staff not only benefits employees but also our students and their success," Polk State President Angela Garcia Falconetti said. "The President's Leadership Institute strengthens skillsets, fosters communication, and provides networking opportunities that create empowered professors, advisors, mentors, and more for our students."
Full-time employees in a professional position and possessing a bachelor's degree, in addition to faculty and former ELITE Ambassadors, are welcome to apply to Class II of the President's Leadership Institute.  Participants take part in site visits to statewide conferences and the Florida Legislature and engage in activities that foster the development of strong interpersonal relationships with classmates and mentors.  The program provides participants with the requisite leadership skills and confidence to excel in the workplace and beyond. Participants will develop unique perspectives relative to the requirements and opportunities afforded by the program, particularly the College Impact Project, which requires participants to research, evaluate, and address specific needs within the College by creating targeted solutions via carefully crafted proposals.
For those who may not be eligible for the President's Leadership Institute, the Office of Corporate and Leadership Development also coordinates the Empowering Leaders Professional Series (ELPS).  This program aims to coach and grow new leaders within the College. The program is open to full-time Polk State career employees who have less than seven years at the College. ELPS promotes entry-level growth and leadership concepts that can be continued and developed through the employees' experiences at the College with the ultimate goal of embracing opportunities to further their careers and advance to the next level.
The application deadline for both programs is September 15, 2022. More information and the applications are available by visiting the Office of Corporate and Leadership Development at www.polk.edu/lead.