Polk State College's top headlines from 2018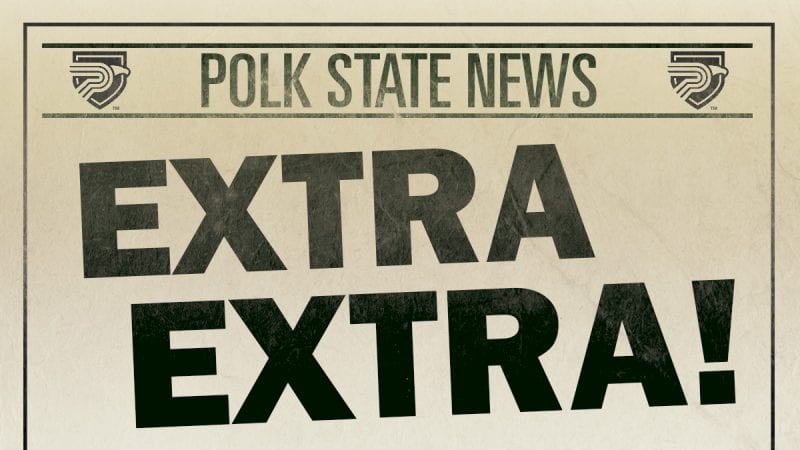 Polk State College enjoyed another year full of success for students, faculty, staff, and the Polk County community.
Polk State has proudly served the community since 1964, transforming lives by providing residents with quality higher education opportunities that are affordable and close to home because We are Polk.
By establishing partnerships, implementing innovative ideas, and creating invaluable opportunities for students, Polk State continues to provide highly relevant education programs and cutting-edge workforce training.
Here are some highlights from 2018.

Polk State inaugurates Dr. Angela Garcia Falconetti as College's fifth President
Polk State inaugurated Dr. Angela Garcia Falconetti as the College's fifth president Nov. 15, culminating a week-long celebration, Falconetti's first year of service, and raising $155,830 for student scholarships. More than 400 students, faculty, staff, alumni, community members, and representatives from colleges and universities across Florida and the U.S. convened for the investiture ceremony in the Polk State Winter Haven Campus Health Center, where Falconetti was formally sworn into office.

Polk State celebrates first Education baccalaureate class
Polk State celebrated nearly 400 graduating students, including the first Education baccalaureate class, Dec. 14 during the College's 119th commencement ceremony. Each of the Education baccalaureate graduates have accepted teaching positions in Polk County Public Schools. The class maintained a 3.94 grade-point average (GPA) and each student passed all exams for Florida Professional Educator certificates.

Polk State holds largest graduation yet
Polk State celebrated its largest commencement ceremony yet on Thursday, May 3, at the RP Funding Center in Lakeland. A sea of nearly 630 students filled the arena for Polk State's 118th graduation, which broke a record set in May 2013 when 580 students participated in the College's 108th ceremony.

Polk State and Polk County Public Schools launch program to create teacher pipeline
Polk State and Polk County Public Schools announced a new program in August that will address the statewide teacher shortage by creating a pathway from high school, to college, to employment for aspiring educators. Establishing Leaders in Teacher Education – or ELITE – allows students to earn Polk State associate degrees in high school and to seamlessly transition into Polk State's Education baccalaureate program. Students who graduate from ELITE will be immediately eligible to teach with Polk County Public Schools.

NASA partnership to send student work to space
Polk State students are fabricating hardware for NASA (National Aeronautics and Space Administration) to send to the International Space Station – a valuable experience, as well as an attractive resume addition, for those pursuing careers in machining and manufacturing.

Polk State expands services in Northeast Polk at Ridge Community High School
Polk State expanded its services in Northeast Polk County at Ridge Community High School, where the College increased its afternoon, evening, and weekend courses for adults seeking Associate in Arts degrees. While Polk State partners with Polk County Public Schools to provide on-site dual enrollment at most high schools, the partnership with the Northeast-area school goes a step further to offer college courses for non-dual enrolled students.

SALO celebrates 10 years of engaging Polk State students
The Student Activities and Leadership Office – or SALO – is a pillar of Polk State's culture that allows students to have the full college experience. SALO has grown from 17 student clubs to 47; from two Student Government Associations (SGAs) to three; and to two Student Activities Boards (SABs) that coordinate hundreds of events with more than 15,000 student visits in 2017-2018.

Nursing programs achieve reaccreditation by meeting standards of excellence
Polk State's Associate in Science in Nursing and Bachelor of Science in Nursing programs received reaccreditation from the Accreditation Commission for Education in Nursing (ACEN) for exceeding standards and meeting criteria that determine educational quality.

Polk State, United Way of Central Florida launch Destination: Graduation
Polk State and United Way of Central Florida launched a pilot program to assist students on their path to graduation by connecting them to resources they need to stay in school – from financial and housing assistance, to food and transportation. Destination: Graduation targets low-income students who show an increased risk of dropping out for non-academic reasons but have demonstrated positive academic progression and promise of graduating.

LEGOLAND Florida Resort launches Polk State College Network
LEGOLAND Florida Resort launched the Polk State College Network for employees who are Polk State students and alumni to create connections, foster mentorship, and further enhance the strong partnership between Polk County's premier theme park and local state college.