Polk State celebrates graduates and first Education baccalaureate class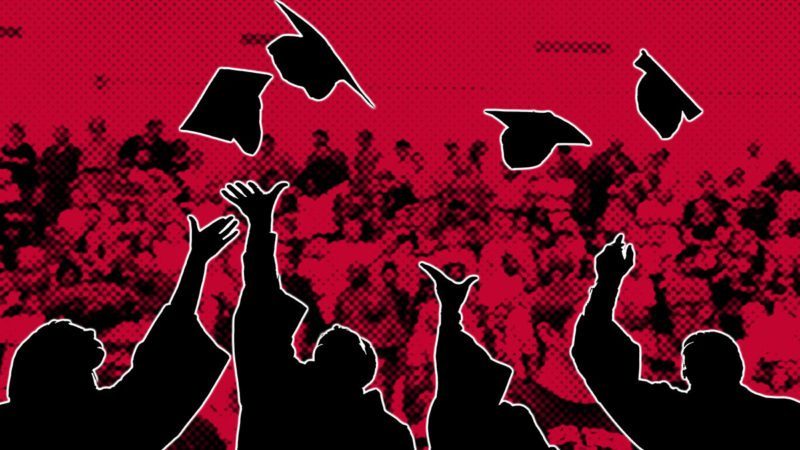 Polk State celebrated nearly 400 graduating students, including the first Education baccalaureate class, on Thursday during the College's 119th commencement ceremony.
Graduates heard inspirational messages from Polk State President Angela Garcia Falconetti and Distinguished Alumnus Paul Lewis Hughes.
"For many, the path to a degree has not been easy, but through hard work and perseverance, you have succeeded," Falconetti said. "I want to give special recognition to six students who make up the Polk State Education baccalaureate program's first graduating class. They are shining examples of the quality of Polk State's graduates."
Each of the Education baccalaureate graduates have accepted teaching positions in Polk County Public Schools. The class maintained a 3.94 grade-point average (GPA) and each student passed all exams for Florida Professional Educator certificates.
Graduates across the College's programs continue to succeed. Polk State's 96.93 percent job placement and continuing education rate is the second highest in the Florida College System and, on average, the wages of Polk State's graduates are 2.3 times greater than the average entry-level wage in Polk County.
"Whether you plan to further your education or begin a meaningful career in the workforce, your experience at Polk State and your commitment to your education has created the foundation for success," Falconetti said.
Graduates heard firsthand the extraordinary heights they can reach with their Polk State degrees from the Polk State College Foundation's December 2018 Distinguished Alumnus. Hughes received his Associate in Arts degree from the College in 1977 and went on to achieve a Bachelor of Arts in Theatre from St. Leo University.
He credits the opportunities he received at Polk State with changing the course of his life. He enjoyed a rich career in the arts, directing more than 400 productions and working closely with school systems throughout Florida, building theatre programs at Harrison School for the Arts and All Saints Academy.
"College is a place where you discover yourself, and as you prepare to graduate, you may find that the path you are on takes you on an unexpected turn," Hughes said. "Which path is the right one? What do you do? Well I say, either you do it, or you don't, and the only bad choice is to not make a choice."
A detailed look at Polk State's 119th graduating class is available here.