Polk State celebrates largest graduation yet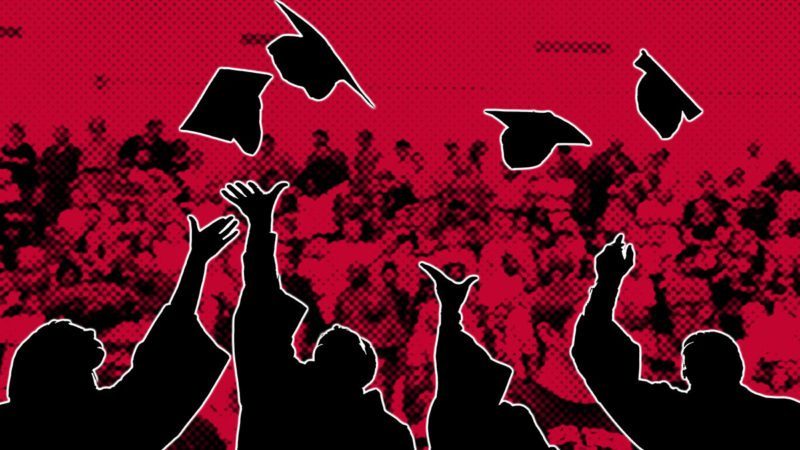 Polk State College celebrated its largest commencement ceremony yet on Thursday, May 3, at the RP Funding Center in Lakeland.
A sea of nearly 630 students filled the arena for Polk State's 118th graduation, which broke a record set in May 2013 when 580 students participated in the College's 108th ceremony.
They listened to words of encouragement and congratulations from Florida's Commissioner of Agriculture, Adam Putnam; Polk County Sheriff's Office Chief of Staff Steve Lester, Polk State's May 2018 Distinguished Alumnus; and Polk State President Angela Garcia Falconetti.
"It was a significant moment for so many students, their families, and their supporters, who came out in record-breaking numbers to celebrate the success of our graduates," Falconetti said.
Felicity Ruiz, Student Government Association President for the Lakeland Campus, gave a motivating invocation before Falconetti shared her welcome address.
"Graduates, each of you have worked hard to get to this point," Falconetti said. "Each of you have your own unique stories of courage and determination that have emboldened you along this journey, and these experiences have provided you with some of the most valuable skills that you will take with you as you embark on the next chapter."
"We celebrate your resilience and drive – and we rejoice in your enormous accomplishments," she added. "Congratulations to each of you."
She thanked the District Board of Trustees, faculty, and staff for the positive impact they have on students. She also expressed her sincerest gratitude to Commissioner Putnam for his continued support of Polk State and the Florida College System.
Commissioner Putnam inspired with his remarks.
"This recognition is a part of finding your piece of the American Dream. It is the key to a great paying career, providing for your family, and the satisfaction of knowing that you persevered and finished the task," he said.
He noted the 1.5 million jobs created in Florida in the last eight years.
"We've seen the changes in our own backyard here in Polk County, and we are expected to see many hundreds of thousands of more jobs created throughout our state," Commissioner Putnam said. "More than half of those jobs will require the skills and talent that you have honed and developed as a student at Polk State…"
Chief Lester, who received the May 2018 Distinguished Alumnus Award,  shared with students just how far a degree from Polk State can take them.
The Associate in Science degree he earned in 1982 and the Associate in Arts degree he earned in 1983 from the College gave him the foundation to further his higher education and career, he said.
"My advice to you is simply these two things. One, as you go through life you're going to be presented with windows of opportunity. When those windows open, do whatever you have to do to take advantage of them before they close," Chief Lester said. "Two, at some point in your life, you're going to get a chance to pay it back. When that happens, do it, because in our never-ending quest for self improvement, it is more important to help those around us, than it is to help ourselves."
"Thank you for this extremely humbling recognition and congratulations to you, the 2018 Polk State College graduating class, on all of your awesome achievement," he added. "I am certain this is only the first of many."